Delegates at the annual SPG conference heard about problems unregulated legal providers are causing the profession and their clients. But there was better news on PII
Joanna Connolly's priorities for her stint as chair of the Sole Practitioners Group (SPG) will resonate throughout the profession.
The group's annual conference in Cheshire last weekend heard repeated examples of the unfairness that arises when qualified and regulated professionals, paying often crippling insurance premiums, compete for business against fly-by-night operators.
In her opening address, Connolly, whose Liverpool practice specialises in consumer credit problems, said she would campaign for:
A ban on paying referral fees to estate agents. The only people to benefit are 'conveyancing factories' which get the work as a result, she said.
Regulation of will writers. 'Anyone dealing with wills should be regulated and insured,' she said, recalling personal experiences of handling the consequences of incompetently drafted wills.
Stopping the same solicitor being instructed by both the buyer and the seller in a property transaction. 'It is totally wrong. That's got to be banned,' Connolly said.
Whether much progress will be made on any of these long-running issues over the next year remains to be seen.
Fair trial concerns
In the meantime, another concern is looming: the latest phase in courts reform, the civil courts online pilot. Under this scheme, judges may direct that civil claims up to a value of £10,000 be dealt with on the papers rather than by a hearing.
Connolly noted that parties do not have to give their assent and there is no appeal against such a decision. 'It's atrocious, they're removing the right to a fair trial,' she said.
The issue of unregulated providers resurfaced when Stephen Gowland of the Legal Services Board previewed the findings of research on the sector. He said the research shows 'high levels of satisfaction' among the clients of such providers, noting that they tended to make more use of technology and were more likely to offer fixed fees.
'But who did you ask?' retorted Penny Raby, SPG executive committee member. 'My experience is that unregulated providers in probate and trusts are causing enormous problems, but of course the client has no idea of the chaos caused.'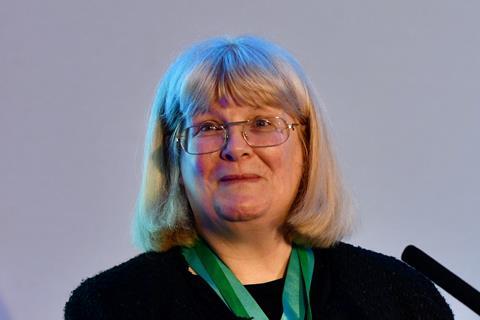 By definition, she said, the client will not be around when the shortcomings show up.
Gowland – himself a former high street principal – conceded that research is 'only as good as who you ask'. And, taking off his LSB hat, he said he had personal experience of this 'real area of concern'.
One piece of good news was brought by Brian Boehmer of insurance broker Lockton: reasons for optimism about PII premiums thanks to improved market conditions.
'That does not mean that premiums won't go up,' he said, but that there will be single-digit increases rather than the steeper hikes of recent years.
Boehmer also held out the hope of more competition in the market: 'You're a profitable sector, so it's possible that new entrants will be attracted to your group.'
His advice, in the meantime, is to get your renewal process started two months in advance; if you have made a claim, document what you have done to prevent it recurring; and remember that insurers look at review sites. Most of all: 'Make your presentation stand out. Sell your firm to the insurers – it does make a difference.
'It's still a seller's market, but it's moving positively,' Boehmer added.
Indemnity Fund closure
Frustration among sole practitioners was most palpable over the Solicitors Regulation Authority's (repeatedly postponed) decision to close down the Solicitors Indemnity Fund, the temporary measure set up to protect retired solicitors from claims after their six-year run-off cover expires.
SPG honorary secretary Clive Sutton presented a report which, at best, accuses the SRA of inertia and, at worst, of cherry-picking figures to justify its decision. Most startlingly, he revealed that the SRA's 'dire prediction' that the fund would wither away ignored investment income of £3.3m in 2021.
A study by accountants for the SPG found that the fund has been running 'with hardly any depletion of its reserves for the past 10 years'.
'We see no reason why that cannot continue,' with the occasional top-up from the profession, Sutton said.
The SRA now appears to be reconsidering its position on this. In a pre-recorded video message, SRA chair Anna Bradley said the regulator 'is in the process of looking at some further options before we come back with conclusions'.
Sutton urged the SRA 'to accept that protection of the public beyond six years is one of its responsibilities'. But he claimed that the regulator regards the issue as a minor matter, as 'they didn't need to worry about retired solicitors sleeping easy at night'.
Commending the SPG's work on the issue, Robert Bourns, chair of the Law Society's board, assured the conference that Chancery Lane is on the case.

News Editor