A campaign to safeguard the future of a pioneering substance-abuse problem-solving court scheme has stepped up a gear after £280,000 was pledged to create a new support hub.
A group of private backers and philanthropists has agreed to fund a new partnership to support and grow family drug and alcohol courts (FDAC) after the FDAC National Unit was forced to scale back operations last year due to a lack of government support.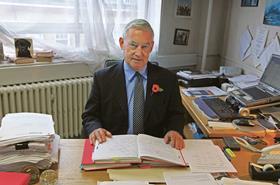 Family drug and alcohol courts aim to tackle parental substance misuse when it is behind local authority decisions to bring care proceedings. They were pioneered in London by the late district judge Nicholas Crichton in 2008. There are now 10 specialist teams working in 15 courts covering 23 local authorities.
The Centre for Justice Innovation, a London-based justice reform charity, will host and direct the national team. The partnership also includes the Tavistock and Portman NHS Trust and RyanTunnardBrown, a consultancy specialising in social policy, law and education, which have helped FDACs to grow over the last decade.
The national unit was set up in 2015. News of its closure, revealed by former family division chief Sir James Munby, prompted Manchester family law firm Hall Brown to spearhead a fundraising campaign. The campaign has been backed by financial consultancy LCM Wealth, which advises high net worth families, London-based Family Law in Partnership and AddCounsel, which provides bespoke one-to-one care for behavioural health issues.
They, along with other supporters who wish to remain anonymous, have agreed to cover the costs of a six-month trial starting in April. If the trial is successful, they will part-fund the new partnership's first four years of operation. The Centre for Justice Innovation says it will lead the push to secure further sources of funding. The NHS trust will help train new FDAC teams and judges, as well as advise on setting up new courts.
Phil Bowen, the centre's director, said: 'There is no dispute about the value of the work undertaken by the FDACs since they were first established. They get to the root of difficulties faced by parents struggling with substance misuse using a therapeutic, problem-solving approach, giving vulnerable children a better start in life, keeping families together and saving taxpayer money.
'The FDAC National Unit was instrumental in growing the FDAC network from one pilot court in London to 13 such courts across the UK during a decade in which the number of applications to the family courts for care proceedings actually doubled. We now have the means to reinvigorate efforts to spread the benefits of the model far wider and to work with others in both national and local government as well as in the judiciary to secure additional funding and support for FDACs to carry out their work well into the future.'