The judge who pioneered the substance abuse problem-solving court to help reunite families has died. The FDAC National Unit, which supports family, drug and alcohol courts, today announced the death over the weekend of district judge Nicholas Crichton CBE. He was 75.
It is with great sadness that we have learned of the death of Judge Nicholas Crichton CBE. He inspired the FDAC model and believed FDAC meant better justice for families and for society. The FDAC community will continue his work and will miss him greatly.https://t.co/l8fWrc8Zbh pic.twitter.com/rflc13D8dy

— FDAC National Unit (@FDAC_NU) December 17, 2018
Family drug and alcohol courts (FDACs) aim to tackle parental substance misuse when it is behind local authority decisions to bring care proceedings. Crichton pioneered the first court, in London in 2008.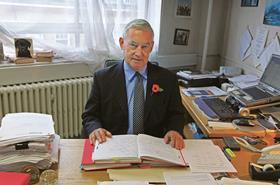 Former family division president Sir James Munby described FDACs as 'one of the most important developments in family justice in the last 40 years'. In June he revealed that the national unit, which was set up three years ago, would close in September due to a lack of government support.
Despite independent evaluations showing that FDACs save local authorities who support the problem-solving model £2.30 for every £1 spent, Crichton told the Gazette that it was a challenge to get the government to understand that a family justice system 'that removes the fourth, fifth or sixth child from families without doing anything about the reasons for removal is a failing system'.
In July, Crichton told a meeting convened by the Earl of Listowel (Francis Michael Hare) in the House of Lords that FDACs 'are not a soft option. We work these people extraordinarily hard. We tell them at the beginning we cannot do it for them - they have to find the strength within them to turn their lives around'.
Steve Bambrough, of the FDAC National Unit, said today: 'When I first met Judge Crichton in 2003, I remember how strikingly and passionately committed he was to a justice system that gave families the best chance of overcoming their difficulties. He believed in people's capacity to change. He was horrified at the suffering he saw in other countries where children were left forgotten in institutions, without the care they needed and deserved. We in the FDAC family will greatly miss him and we will continue to work to see that the FDAC programme continues to grow as he would have wanted it to and which is a remarkable legacy to his life.'
While funding for the national unit ceased in September, material developed by the support hub remains on its website, as well as advice and information. The unit's website states that it will run at a minimum operational level while discussions continue about its long-term future.
There are now 10 specialist FDAC teams working in 15 courts covering 23 local authorities.
Crichton practised as a solicitor in private practice in north west London, with particular interest in child protection from 1971 to 1986. He was appointed as a district judge in 1986, and in 1995 appointed to sit full time in family proceedings. In 2014 he was named Law Society Gazette Legal Personality of the Year.