The government wants to make judicial review a 'more subtle tool', lord chancellor Robert Buckland has said, in his first public comments on the controversial Judicial Review Bill since it was announced in the Queen's speech earlier this month.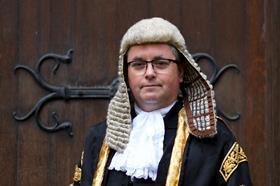 Public law specialists were taken by surprise when the Queen declared that legislation would be introduced 'to restore the balance of power between the executive, legislature and the courts'. Appearing on ITV's Peston last night, Buckland defended the government's motivation behind the legislation.
Asked if the bill would have made it impossible for the Supreme Court to tell the prime minister he was wrong to prorogue parliament, Buckland said: 'What I want to do is try to do something for the long term. I've described it as constitutional plumbing. I take my role as guardian of the judiciary very, very seriously. I don't want to see our judges, particularly those in the Supreme Court, being drawn into a political arena increasingly in a way frankly they wouldn't want to be and [which] would be bad for the balance of the constitution.'
It sounded like the government would tie the Supreme Court's hands in circumstances such as the prorogation, interviewer Robert Peston suggested.
'What I want to do is actually deepen and widen the range of remedies that are available by way of judicial review,' Buckland replied. 'At the moment, the court can either take a sledgehammer and say "Look, what you've done is unlawful. Therefore it has no effect and therefore you have to remedy everything". Or it says "Well… we make a declaration it was unlawful but the stable door is open and the horse is bolted".
'I want to actually increase the range of remedies here so the court can do other types of things, like suspending orders, looking at orders prospectively, and try to make judicial review a more subtle tool.'
Peston said in response: 'Maybe. It does sound as though what you are saying is you wish the Supreme Court hadn't done that and you're going to stop them next time.'
Buckland replied: 'It's not as crude as that. I operate I hope with subtlety and as a Conservative lord chancellor I believe in incremental change. That's what I'm going to be proposing in the measures to come.'