Lawyers are failing to demonstrate the leadership needed to address the defining global crisis of our time, former president of Ireland Mary Robinson declared this morning. Too many are yet to adopt the right 'mindset', she told a climate conference hosted by the Law Society of Scotland ahead of the UN Climate Change Conference of the Parties in Glasgow.
Robinson alluded to a report this week from the UN Environment Programme, The Emissions Gap: The Heat Is On. This reveals that current pledges to reduce greenhouse gas emissions and rein in global heating still put the world on track to warm by 2.7 degrees celsius above preindustrial levels by the end of the century. According to news reports this morning, a draft G20 communique is in preparation that will commit world leaders to take urgent steps to reach the goal of limiting global heating to 1.5 degrees.
'We're on track for a 2.7 degree world which would be disastrous,' said Robinson, who is adjunct professor for climate justice at Trinity College Dublin. 'There is a madness in all of this, and lawyers should wake up.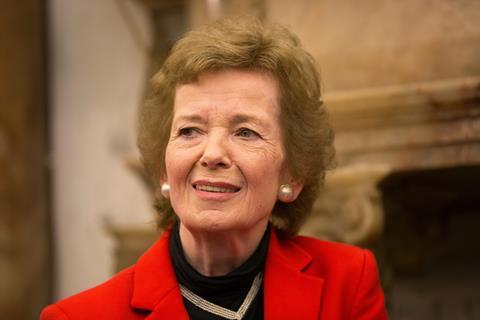 'So what's my verdict on where lawyers are? Are they really leaders? My verdict is lawyers are not leaders yet. Because far too many lawyers still don't have the mindset that we're in a crisis. And it's important that we all have that mindset. It's particularly important that lawyers do, because you can be very effective in so many different ways. Not just in [climate] litigation but in policymaking and advising.'
Lawyers need to make the climate crisis 'personal in their own lives' by changing their behaviour and 'get angry' with governments and other actors who 'aren't doing enough', she added.
Robinson was asked if she supported of the establishment of an international energy tribunal to enforce the commitments that come out of Cop 26 and take big polluters to task.
'France has been behind that, and others and lawyers in different international lawyers have spoken about it,' she commented. 'I think it's a good idea. But it's difficult with the current lack of leadership at the international level, the lack of multilateral solidarity, to get new treaties or new institutions of that kind.'
This article is now closed for comment.