The government's criminal justice reforms moved to the centre of the political stage this week as Labour announced it would vote against the Police, Crime, Sentencing and Courts Bill, which has its second reading in the Commons this afternoon.
Among the bill's proposed measures are new police powers to manage protests where they threaten public order. However, shadow justice secretary David Lammy MP said that the 'unacceptable' policing of a vigil for Sarah Everard in London on Saturday night showed that 'this is no time for the government to impose disproportionate controls on the right to protest'.
Lammy said that in the 20 schedules, 176 clauses and 296 pages of the bill, 'women' are not mentioned once and called the proposed legislation 'a missed opportunity to tackle violence against women and girls that has been endemic in the UK'. The bill could lead to harsher penalties for damaging a statue than for attacking a woman, he said.
Lammy said: 'We are calling on the government to drop its poorly thought-out proposals and instead work with Labour to legislate to tackle violence against women which is forcing so many across the country to live in fear. As well as to deliver the important areas that are long promised, like tougher sentences for attacks on frontline workers and increased sentences for terrorists.'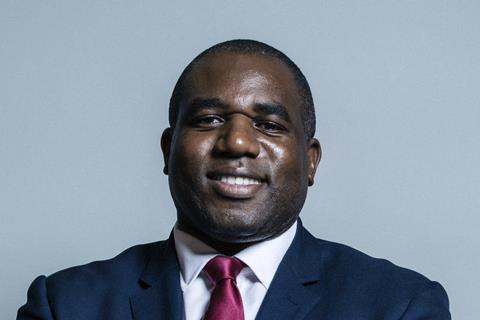 Labour's position prompted a war of words with both main parties trying to claim the high ground in law and order ahead of May's local elections.
Amanda Milling MP, chair of the Conservative Party, said: 'Shocking [that] Labour's trying to block tough new laws to keep people safe, including many vital measures to protect women from violent criminals. Labour are voting against tougher sentences for child murderers, sex offenders, killer divers and measures that protect the vulnerable.'
Responding, Jess Phillips MP, shadow minister for domestic violence and safeguarding, said: 'This is a disgusting and untrue statement. The Conservative government's bill does absolutely nothing currently to increase sentences for rapists, stalkers, or those who batter, control and abuse women. It does nothing about street harassment and assaults.
'Under the Conservatives, rape convictions have fallen to an all-time low, and domestic abuse conviction rates are dropping off a cliff. The bill is full of divisive nonsense like locking up those who damage statues for longer than those who attack women. Now is a moment to change the criminal justice system so it works for women, not to try and divide the country.'
Announcing today a Survivor Support Plan for victims of rape and serious sexual violence, shadow solicitor general Ellie Reeves said a Labour goverment would introduce legal advocates for alleged victims of rape from the moment a crime is reported through to trial.
This article is now closed for comment.