The government has been urged to support a 'Hillsborough Law' that would prevent public bodies being able to spend 'near limitless' amounts of money on legal representation at inquests.
A 'Hillsborough Law Now' campaign was unveiled today by Labour mayors Andy Burnham and Steve Rotheram after ITV premiered Hillsborough drama Anne earlier this week. The four-part series focuses on the life of Anne Williams, who fought for justice for the 97 victims of the 1989 Hillsborough tragedy, including her son Kevin.
Writing on Labour List, Burnham and Rotheram said the drama had been a 'difficult and painful watch'.
They said: 'The bereaved were given no access to legal funding. They had to scrabble, save and fundraise to afford any legal representation. In the opposite corner was the leviathan of the British state, with limitless supplies of funds to hire the nation's top QCs.'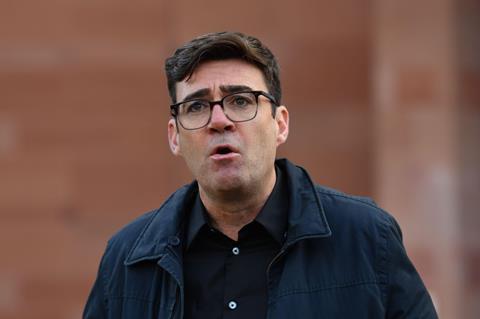 Hillsborough Law would ensure proper participation of bereaved families at inquests, through publicly funded legal representation, 'and an end to near limitless legal spending by public bodies'.
The proposed law would also introduce a Charter for Families Bereaved Through Public Tragedy, a statutory duty of candour on public servants during public inquiries and criminal investigations, and a public advocate to act for families of the deceased after major incidents.
Burnham and Rotheram said: 'We believe that a comprehensive Hillsborough Law bill based along the foundations set out above should be brought forward with cross-party support - including that of the government - and full parliamentary time allocated for debate.
'This government likes to talk a lot about levelling up. But that cannot only be about big spending announcements and shiny infrastructure projects. Levelling up must also apply to the scales of justice.'
Calls for new legislation followed a two-year second inquest into the 1989 tragedy. Burnham secured a parliamentary debate on a Public Authority (Accountability) bill in March 2017.
A Home Office spokesperson said: 'The Hillsborough disaster was a devastating tragedy, and the families of the 97 people who died have shown tremendous courage.
'Bishop James Jones identified the Hillsborough Law as one of the 25 points of learning in his 2017 report on the experiences of the Hillsborough families which span a number of departments and organisations.
'The Home Office has been working closely with its partners in the relevant government departments and organisations to carefully consider the points of learning made by Bishop James Jones. Our focus now is engaging with the Hillsborough families and publishing the government's overarching response to the Bishop's report in due course.'
From next week, bereaved families at inquests will be able to apply for legal representation through exceptional case funding without going through a means assessment.