Labour has called for 'community courts' to tackle the increasingly disproportionate number of black, Asian and minority ethnic people in the criminal justice system.
David Lammy, when he was a backbencher, recommended giving communities a greater role in hearings involving first-time offenders in his government-commissioned race review. Now, as shadow justice secretary, the Tottenham MP has reiterated the need for community courts.
Lammy was speaking at an event hosted by the Centre for Justice Innovation, a legal thinktank, on the state of the youth court.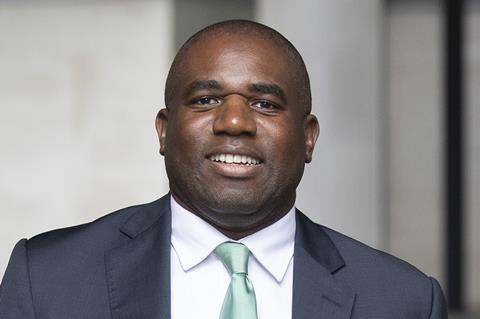 The event heard that when Lammy completed his review, 41% of the children in prison were black, Asian or minority ethnic in a country where these groups make up only 14% of the population. The prison figure is now 51%.
Lammy said: 'We have got a lot of young people from BAME communities who have very low trust in the criminal justice system. Their perceptions of magistrates and judges is [that they are] a very long way from the communities they represent. The real issues are where are the working-class magistrates and judges? Where are the BAME magistrates and judges? There are significant parts of the country, with significant BAME populations, where there is no BAME judge or magistrate in sight.'
The shadow justice secretary said a problem-solving approach was needed. 'We need community courts, particularly for first and second-time offenders.' He mentioned other countries that have adopted a community-based approach, such as New Zealand's Rangatahi courts, which feature in his review.
Lammy highlighted another recommendation - to seal criminal records. Pointing out that people may have committed offending behaviour when they were young, he said it was a tragedy that 'our system condemns young people to a life of crime because they cannot get a job or they have to declare their criminal record to every employer at every single stage of the process. I do not understand why our system is doing this.'
The event also heard the challenge that police powers to release suspects under investigation is having on young defendants.
Youth justice expert adviser Kate Aubrey-Johnson, a barrister at Garden Court Chambers, said RUI made it difficult for lawyers to keep track of cases, which they might assume have been dropped or dealt with by diversion, not realising that the young person may later receive a postal requisition to appear in court.
Aubrey-Johnson added that it was 'completely unacceptable' that very junior lawyers can go into the youth court without any specific training in understanding the children they will be representing.
She said: 'When I was a junior barrister the phrase was "you cut your teeth in the youth court". It's unacceptable. The youth court should be considered as having far greater status – lawyers have to acquire the skills and expertise to represent children.'
This story has now been closed to comments.