Tenants with safety concerns about their homes are eligible for legal aid to take action against their landlords, David Lidington MP has said in his first interview since being appointed lord chancellor and justice secretary.
Lidington was discussing the Grenfell Tower tragedy in West London with Gazette columnist Joshua Rozenberg on BBC Radio 4's Law In Action programme this afternoon. He told Rozenberg that the Legal Aid Agency cannot find a record of Grenfell Action Group applying for legal aid to raise concerns about safety, nor is the agency aware of applications from individual tenants.
Prime minister Theresa May has pledged funding for legal representation for residents to ensure their voices are heard during the forthcoming judge-led public inquiry into the tragedy.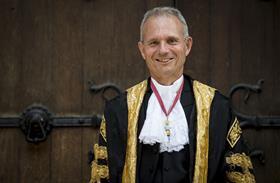 Lidington said the inquiry process is underway as set out in the Inquiries Act 2005. Draft terms of reference will be shared not only with the designated judge but also with the families of the victims.
'After the experience with the Hillsborough families it's really important to make sure those who have been absolutely traumatically affected by this disaster have utter confidence that the inquiry will get to the truth,' Lidington said.
The government wants to announce the name of the judge as soon as possible, Lidington said, with the matter 'being pursued with the utmost urgency'.
Lidington gave little away on the government's review of the Legal Aid, Sentencing and Punishment of Offenders Act 2012, 'which will form the basis for any decisions I have to take about future policy'.
He said: 'There was a need to reduce the overall legal aid bill in this country. The objective my predecessors strove to achieve was that people who really needed support should be able to get it. We have to take account of the overall cost to the taxpayer.'
Asked about the courts bill, announced in this month's Queen's speech, Lidington said politicians can often fall into the mistake that legislation is the only measure of getting things done. 'It's implementation of stuff that you have the power to do that is equally important,' he said.
He added: 'What we're looking at is using digital technology to provide for swifter justice, to signpost people sometimes towards disputes resolution in civil justice proceedings which might lead to a quick out-of-court settlement, and to avoid the need for people - whether they're prisoners under escort or someone turning up to plead guilty to a summary offence - from the hassle of having to turn up in court sometimes.
'If this can be done online, if there are safeguards so people do, at the end of the day, have the right to a hearing if they insist on it, this has to be the way to go.'