London lawyers representing Russian clients are facing a barrage of criticism following the imposition of sanctions. The attacks may be wrong and unjustified – but is that a message anyone wants to hear?
Populist attacks on lawyers are nothing new. Just ask an immigration solicitor, or even a Supreme Court justice. But never before have solicitors and barristers advising foreign clients been subject to such high-profile and sustained public vituperation.
The die was cast last weekend, when foreign secretary Liz Truss accused London law firms of delaying the sanctions levelled against their Russian oligarch clients by threatening to challenge the measures announced by the government.
Suddenly, it was feeding time. The opposition, which has been keen to match or even surpass the government's rhetoric on Ukraine, also weighed in. Labour MP Ben Bradshaw called for the law firms in question to be named in the first instance – but also potentially subjected to sanctions.
The full-frontal assault was sustained in incendiary fashion on Tuesday. Conservative MP Bob Seely took advantage of parliamentary privilege to identify 'amoral' lawyers allegedly working for Russian clients to silence rivals and critics. He named Harbottle & Lewis and its solicitor John Kelly, Geraldine Proudler of CMS, Nigel Tait at Carter-Ruck and Hugh Tomlinson QC of Matrix Chambers.
The legal system had become 'corrupted', said Seely, adding: 'You have got to wonder about the reputations these people are going to end up with in a few years' time, even if they are behaving as well as maybe they might, and I am careful what I say. Maybe they are really lovely people but maybe… their amorality is going to bite their reputations in a way that will be uncomfortable.'
Seely said a free press should be intimidating kleptocrats and criminals but suggested that those roles had been reversed. 'We have a coalition not of the willing but of the woeful,' he added.
PM Boris Johnson picked up the baton yesterday, telling MPs at prime minister's questions: 'The legal profession and everybody involved in assisting those who wish to hide money in London and in assisting corrupt oligarchs have been set on notice that their actions are under scrutiny. If they break the law, and if they undermine the interests of this country and advance the interests of Putin's war machine, they will pay a price.'
Countering this powerful coalition of the indignant has not been easy for those who would defend the right to representation. Gazette columnist Jonathan Goldsmith, a former secretary general of the Council of Bars and Law Societies of Europe, cited UN principles on the role of the lawyer; the right to lawful representation; and the fact that lawyers are permitted to undertake whatever is lawful on behalf of their clients (see p3). But Goldsmith admitted in his weekly Gazette blog that even though the attacks are 'wrong and unjustified', such protestations are presently akin to wielding a pea-shooter on a battlefield. 'Article 18 of the Basic Principles is not going to persuade anyone at the moment,' he said.
The Law Society has offered its support to firms representing Russian clients and in particular those working to ensure sanctions imposed by the UK government are lawful. Society president I. Stephanie Boyce said: 'It's the job of solicitors to represent their clients, whoever they may be, so that the courts act fairly. This is how the public can be confident they live in a country that respects the rule of law – unlike Putin's tyrannical regime.
'Solicitors are highly regulated and are not allowed to bring spurious objections to processes – if they challenge the government's actions, it's because they think the government is at risk of breaking its own rules.'
Boyce added that if the government wished to change the rules on sanctions, this should be done democratically.
The City of London Law Society did not refer directly to the question of whom its members choose to represent. In a statement, however, chairman Edward Sparrow stressed: 'The Society condemns the Russian invasion of Ukraine as an egregious breach of international law and of the international rules-based system, both of which underpin our peace and prosperity. The CLLS stands ready to assist HM Government in its response to Russia's actions. All sanctions applied by the UK and our international partners should be complied with in full.'
As the week has progressed, many firms with Russian clients would seem to have yielded to politicians ratcheting up the pressure on them by announcing reviews of their client rosters.
Among Seely's named targets, John Kelly of Harbottle & Lewis and Geraldine Proudler of CMS did not respond to a request for comment. A spokesperson for Tomlinson said he had acted properly throughout and complied with all his professional and regulatory obligations. Carter-Ruck said: 'The claims made against Carter-Ruck are misconceived and are rejected entirely. In addition to other matters, we are not working for any Russian individuals, companies or entities seeking to challenge, overturn, frustrate or minimise sanctions.
'We have never acted for Russian individuals, companies or entities seeking to challenge sanctions. We condemn the Russian government's decision to invade Ukraine. We are not acting for, and will not be acting for, any individual, company or entity associated with the Putin regime in any matter or context, whether sanctions-related or otherwise, and will continue to conduct all "know your client" checks in accordance with applicable laws and regulations, as we have always done.'
One prominent barrister was even more outspoken, dubbing Seely's comments 'outrageous'.
'He was basically saying that they were law firms who were deliberately ignoring their regulatory obligations in order to act for crooks,' the barrister said. 'I'm not saying such a thing does not exist – I mean, maybe it does – but the idea that Harbottle & Lewis and CMS [do] … it is just absolutely not the case.'
The barrister added: 'Who I act for in cases is entirely public. There's no secret as to who I act for: people instruct me to act and I act – that's my professional obligation.'
For Gazette readers, Seely's allegation that City firms are consciously avoiding 'know your client' checks is perhaps the most pertinent aspect of this affair. 'Whistleblowers' were the source of this information. Yet Seely does not seem to have passed it on to the Solicitors Regulation Authority, notwithstanding his assertion that the SRA needs to be 'toughened up'.
An SRA spokesperson said: 'Solicitors and the firms we regulate must be fully committed to preventing money laundering. These are serious allegations. We are writing to Bob Seely to understand the detail behind them. We will take action if we find evidence of wrongdoing.'
We stand with Ukraine
The situation in Ukraine has rightly caused outrage as we watch a fellow European nation being invaded by its neighbour in a very clear breach of international law, writes I. Stephanie Boyce.
As the death toll mounts – particularly among the civilian population – we condemn the decision of the Russian president and praise the brave defence of the Ukrainian nation by its armed forces and its civilian citizens. I also want to express solidarity with our fellow lawyers and their families in Ukraine and pledge to do what we can to help in the coming days, weeks and – I fear – months.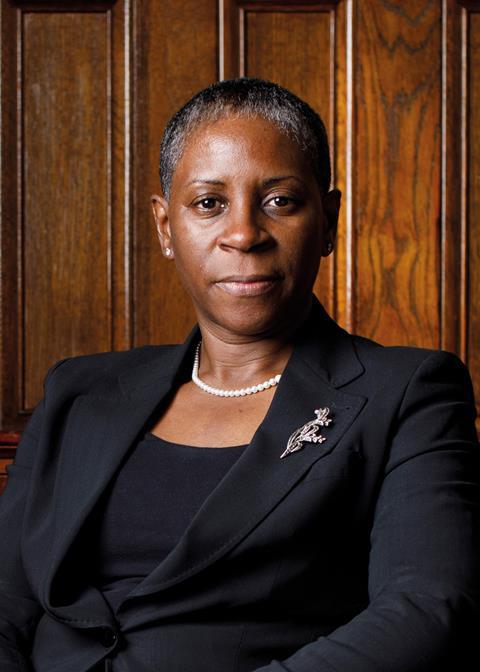 As president of the Law Society of England and Wales I have reached out to the Ukrainian National Bar Association and the Ukrainian Bar Association. But it is very important to stress that we also stand with the Russian people who oppose their government's illegal invasion of Ukraine, and lawyers who are defending the rule of law in the region.
Ever since the collapse of the Soviet Union the UK – like other nations around the world – has increasingly traded with Russia. In recent times our members have helped clients understand sanctions so they stay within the law. Even as I write, it will be solicitors drawing up the new sanctions regime.
And, of course, the rules – which have increased in severity amid escalating Russian aggression – apply to our profession too as well as to our clients. The notion that members of the profession are trying to hold up the implementation of sanctions is baseless.
Solicitors are rightly highly regulated and are not allowed to bring spurious objections. If they challenge the government's actions, it's because they think the government is at risk of breaking its own rules. If parliament wishes to change those rules, they have the power to do so democratically.
We will continue to communicate with our members – and with government – on a regular basis as the UK response to the current crisis develops. In the meantime, I know you will want to join in sparing a thought – perhaps a prayer – for Ukraine, its leaders, its armed forces, its lawyers: all its people.
I. Stephanie Boyce is president of the Law Society
Sanctions guidance
All firms regulated by the Solicitors Regulation Authority must have appropriate policies and practices in place to make sure they comply with sanctions legislation. This includes carrying out regular and appropriate checks of sanctions lists. Law Society guidance on the UK sanctions regime sets out:
the criminal offences under the regime
how to carry out a risk assessment
obligations to check clients against sanctions lists
how to apply for a licence to act for a client on a sanctions list
reporting obligations
The SRA has also published information to remind solicitors of their professional obligations regarding sanctions.