Inexperienced solicitors who want a career on the bench should spend time in a court public gallery, a judicial appointments commissioner has suggested.
As her second three-year term as a commissioner approaches its end, solicitor and recorder Alexandra Marks told the Gazette that a lack of judicial experience should not deter solicitors from applying for their first judicial role.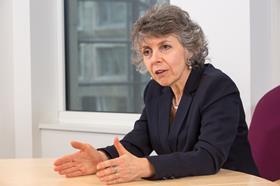 Marks, a former real estate partner at magic circle firm Linklaters, said: 'Unlike many barristers, many solicitors do not spend lots of time in court. They need to find out ways to understand what the job involves. For example, an easy thing to do is go and sit in the public gallery. It's what I did.'
Highlighting skills developed in non-solicitor roles, Marks said: 'If you have [sat on a] professional conduct committee, you have had to assess evidence, had to understand what the evidence shows, and explain why you have made that decision on the basis of your findings. That kind of approach is not something that solicitors necessarily have to do in their day jobs but there are lots of other roles you can do which build these kinds of experience and that you can draw on.'
Solicitors bring 'different perspectives' to the bench, Marks observed. As well as having direct relationships with clients, they have more experience than barristers of managing a practice and teams of people.
The Judicial Appointments Commission is today advertising three commissioner vacancies. Candidates for the two professional member posts must have at least five years' post-qualification experience. Candidates for the circuit judge member post should be serving circuit judges with three years' judicial experience.