A body representing EU judiciaries has carried out its threat of action against Poland after the country refused to back down over a new law which critics say will politicise the judiciary. The General Council of the European Network of Councils for the Judiciary (ENCJ) yesterday agreed to suspend the membership of the Polish National Judicial Council, the KRS.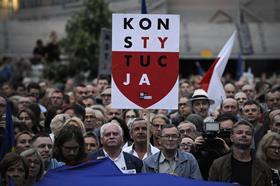 A statement noted that: 'It is a condition of ENCJ membership, that institutions are independent of the executive and legislature and ensure the final responsibility for the support of the judiciary in the independent delivery of justice.' Following recent reforms, the Polish national council no longer meets this requirement. 'Therefore, the KRS is, for the time being, stripped of its voting rights and excluded from participation in ENCJ activities.'
The statement added: 'It was felt that it was a very sad day, as the KRS was one of the founding fathers of the network and their representatives to the network were very much respected and contributed highly to the work of the network.'
International concern about the position of judges in Poland has been mounting for several months. In July the Law Society warned that the country's global position would be at risk if it implemented legislation empowering the president to determine how the Supreme Court is constituted and to dismiss 40% of the court's judges under a new retirement age.
The ENCJ said it will continue to monitor the situation and looks forward to the time when the KRS can be welcomed back as active member.