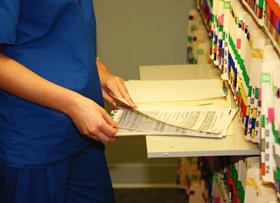 Civil legal aid cuts should be reversed and advisers stationed in GP surgeries and libraries to help people access justice, a cross-party think tank has urged.
In a new briefing, the Social Market Foundation says that legal support for issues such as debt, family breakdown, or disputes over housing or employment can better reach those in need if located in places people go to when in distress. Over two-thirds of people have had a civil justice issue in the last four years, it notes, while one in five have faced multiple issues. Yet 500,000 fewer cases are taken on by legal aid, largely as a consequence of the scope cuts imposed by the Legal Aid, Sentencing and Punishment of Offenders Act 2013.
The briefing comes as the Health and Social Care White Paper emphasised the need for 'joining up' services to address people's health needs. The consequences of civil justice issues include stress, financial loss, and problems with drugs or alcohol – issues that place a burden on the NHS.
Experts at a SMF-convened seminar noted that 'timely' intervention, through medical-legal partnerships, is urgently needed to 'avoid crises occurring' due to the 'snowball effect'. But past attempts to better coordinate legal assistance in England and Wales under a Labour government were scrapped, despite inspiring similar initiatives in Australia.
In addition to co-locating and coordinating services, SMF recommendations include reversing cuts to civil legal aid, which some estimates suggest would save the government money across public services for future issues; and collecting better and more timely data through a biannual Civil Justice Survey for England and Wales. The last government survey on the topic was carried out in 2014/15.
Dr Aveek Bhattacharya, SMF chief economist, said: 'Civil justice is less attention-grabbing than criminal justice, but that shouldn't lead us to underestimate its importance. Most of us will experience some form of civil justice issue in the next few years, be it debt difficulties, a dispute with neighbours, a problem with housing or being mis-sold a good or service.
'These issues have a tendency to escalate, so we shouldn't expect people just to muddle along, at a cost to their health, wellbeing and financial security. Instead, it is critical to provide accessible and timely interventions, available to people where they are.