Regulators are to demand that hundreds of firms explain exactly what they are doing to comply with money laundering rules - with tough penalties promised for those falling short.
The Solicitors Regulation Authority today reveals plans to write to an initial 400 firms asking them to demonstrate compliance with the government's 2017 regulations.
There remains the suspicion that many firms have yet to get to grips with their responsibilities, and are an attractive and easy target for criminals and terrorists to process their dirty money.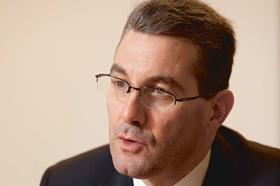 Writing today in the Gazette, SRA chief executive Paul Philip said firms falling short of requirements can expect to follow the 60 or so recent cases that have ended up before the Solicitors Disciplinary Tribunal linked to potential improper money movements.
Philip says: 'The stakes are too high for solicitors to be anything but fully committed to preventing money laundering and the crimes it supports. That means taking every opportunity to alert the National Crime Agency of suspicious activity - it is a professional duty.
'Many are already stepping up to that challenge, but many is not enough. Compliance is not optional.'
More than 40 solicitors have been struck off, suspended, or voluntarily come off the roll in the last five years, following allegations relating to money laundering regulations.
The SRA has already begun a review to assess how well the legal sector is doing to tackling the risks of money laundering, with the results expected to be published later this year.
Around 7,000 firms fall under the scope of 2017 money laundering regulations and are required by legislation to have a risk assessment in place.
Enforcement authorities have identified the legal profession as an obvious target for people who fund terrorism and may be involved in drug trafficking and people smuggling.
Yesterday, NCA director Donald Toon suggested lawyers have not been forthcoming in reporting suspected suspicious activity related to money laundering.
Anti-money laundering annual conference 2019
26 November 2019, ETC Venues 155 Bishopsgate, Liverpool Street, London
We're pleased to announce that this year's conference is now open for bookings. Join us for an exciting mix of plenaries, breakouts and panel sessions on the latest developments in anti-money laundering.