Staff and students' commitment to pro bono is essential.
Exeter University's law school has appointed high profile law and ethics professor Richard Moorhead as its new head of law. Moorhead joins from University College London.
Moorhead is a member of the data and evidence science board at the Ministry of Justice. He has regularly appeared to give evidence at select committee hearings, including the women and equalities committee on the misuse of non-disclosure agreements. His publications include In-House Lawyers' Ethics: Institutional Logics, Legal Risk and the Tournament of Influence.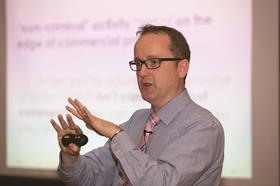 Moorhead said he hoped his time at Exeter would see the law school confirmed as providing, 'a globally engaged, digitally-aware, evidence-based focus to legal education and scholarship'. He added: 'Law School values are important. The academy has a job to do in maintaining trust. Exeter's staff and students build great bridges with local communities through their pro bono and outreach work. Access to justice is vital. And universities and law schools need to lead on diversity at all levels, especially those within our own control. I am absolutely committed to that.'
He joins, in his own words, 'at a time of unparalleled change in the legal and educational worlds'.
'It's unusual for an academic so interested in practice, innovation, and professionalism to take on a head of school role,' he reflected, 'and I am really looking forward to applying my particular perspectives on practice and academia in an excellent university with ambition.'
Moorhead joins Exeter in September.