The UK's sole remaining representative at the European Court of Justice is taking legal action over a decision to terminate her appointment early because of Brexit.
Belgian newspaper La Libre reported on Wednesday that Eleanor Sharpston QC, an advocate general who sits with the court and delivers advance opinions to help the judges decide difficult cases, has lodged two claims. Legal commentator Joshua Rozenberg, who revealed the possibility of action in the Gazette earlier this year, said that the newspaper's report had been independently verified.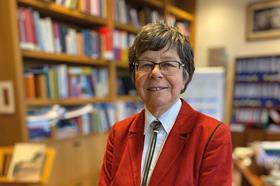 By law, the post of advocate general is not attached to any particular member state and Sharpston, unlike the UK judges in the Luxembourg court, kept her job when the UK left the EU. However the EU's 27 member states issued a declaration on 29 January that Sharpston's mandate would terminate two days later. The court's president, Koen Lenaerts, wrote a letter to the Council of the EU declaring a vacancy from 1 February.
Sharpston has now lodged two claims at the EU's General Court, whose responsibilities include staffing matters. She argues that the assertions made by the EU 27 and in the president's letter are unlawful because they bypass safeguards contained in the court's statute, which is primary EU law. That says the mandate of a serving member can be terminated only by the court itself for specific, mainly disciplinary, reasons.
Sharpston told Rozenberg in February: 'It may be that the very last service I can render to my court is to see whether there is something I can do to push back against the member states intruding into the court's autonomy and independence.'