Shadow justice secretary David Lammy MP has defended his party's controversial call to the government to temporarily cut the size of juries from 12 to seven to clear the Crown court backlog.
Speaking at the latest evidence session of the Westminster Commission on Legal Aid today, Lammy said: 'What are we to do with this problem we're seeing? Some would suggest that the backlog has existed before, it's not a problem people suggest, frankly we should do nothing. I personally do not accept that.
'When we had a backlog we have in place like this in the past, thinking back to the early 2000s, the truth is there were substantially more sitting days in the system. There were substantially more magistrates' courts and Crown courts in the system. Not just buildings but courtrooms. There were more judges in the system, so the system could deal with a backlog of that size.
'At the same time, the government has committed to an extra 20,000 police officers, which means more criminals passing through the system.'
Highlighting the disproportionate number of young people from black, Asian and minority ethnic people on remand, Lammy said a suggested pause on Crown court cases would be 'catastrophical'.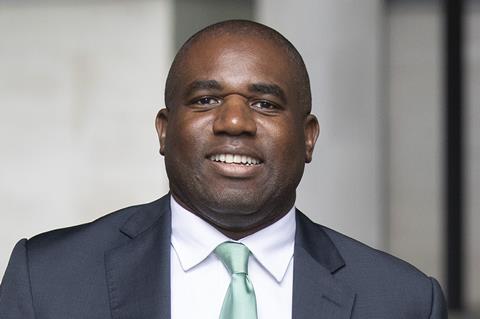 Lammy said he was against the suggestion of moving to a judge-led system and suspending juries altogether, which he said would be a 'fundamental departure from our democratic system'.
He added: 'We do need more Nightingale courts and need way more than the 19 we have got, but the system has been slow to provide them. That's why we have suggested, for a short period of this pandemic on those volume cases but not serious cases, we move to a system similar to the war.'
A 12-jury system would remain for murder and rape cases, Lammy said.
Labour's proposal has been widely criticised. Baroness Helena Kennedy, a member of the commission hearing evidence today, told Lammy US research on jury systems suggested 12 is an important number.
She added: 'I do not think that your suggestion will save much time. Cleaning, setting [the court] up, will be the same. It's not going to make much difference. You're opening the door to sacrificing the precious way people in our communities contribute to something really important. Serving on a jury is one of the vital things people contribute to society.'
Kennedy added that Labour's proposals would be opposed 'by virtually everyone' at the bar. 'I do not think it's a sensible proposal,' she added, urging Lammy to look at the research.
Responding, Lammy said his landmark race review found that the jury system was vital in dealing with disparity issues in the treatment and outcomes of black, Asian and minority ethnic people in the criminal justice system.
He said: 'But you will accept my review found widespread disparity across the system. Juries did not fix that problem. It's a significant problem that exists in the system. What would make the problem worse is a judge-led system. That is being considered. Barristers would be up in arms about that. That's severe.'
Lammy said estimates suggested the jury proposal would change capacity by an estimated 15%-20%.