Law Society Gazette 23 May 1979
Contempt and the European Convention
Of all of the reforms of the general law mentioned in the Queen's Speech, including those of company law, the law on picketing and the closed shop, the law of landlord and tenant and the law relating to official secrets, the promise of a bill 'to reform the law of contempt of court' was probably the least unexpected.
17 May 1989
Audience rights best hope for CPS lawyers
The Crown Prosecution Service (CPS) got off to a hopelessly bad start with the Home Office seriously underestimating the manpower and financial resources it would need. And, three years later, the service, set up to improve accountability, efficiency, effectiveness and consistency is weighed down with severe problems, according to the National Audit Office.
19 May 1999
Too soon for fixed costs, lawyers warn
Solicitors this week expressed alarm that the government is to press ahead with plans to set fixed costs for fast-track cases less than a month after the civil justice reforms were introduced. Last week the Lord Chancellor's Department published a consultation paper on interim measures ahead of introducing pre-trial costs for fast-track cases between £5,000 and £15,000.
21 May 2009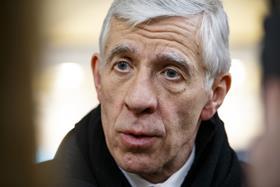 Straw takes aim at employment lawyers
Justice secretary Jack Straw has announced a crackdown on 'irresponsible' employment lawyers who he says are exploiting vulnerable clients by taking a large proportion of the damages they win in 'excessive' legal fees.