The personal injury sector seemed to suffer a social media meltdown following the appearance of Lord Keen of Elie before the Commons justice committee last week. Hardly surprising, when he wants to put the small claims limit up a level that could sideline many practitioners.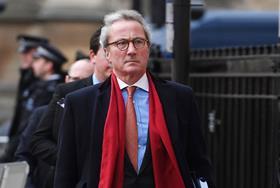 Keen was sent out to bat on behalf of the government's reforms, although he hinted at a lack of enthusiasm for what is a very sticky wicket.
Chair Bob Neill opened: 'I get the sense, Lord Keen, that you are retaining responsibility for this area of work?'
'That appears to be the case,' sighed Keen.
The minister was then read a list of detailed health and safety regulations by Labour MP David Hanson, who finally asked how unrepresented claimants might be expected to understand them.
The unions? Keen offered.
And what of those without a union?
A Citizens Advice bureau? ventured the minister.
Had Keen or his department actually spoken to Citizens Advice to let them know they were about to add 95% of RTA victims to their workload? Apparently not.
Keen was pressed on the possibility that claims management companies (CMCs), described by an earlier witness as 'shameless' in their pursuit of profits, might move into the gaps.
Normally, this is the cue for ministers to dismiss such notions, but Keen shed his pads and flung down a googly: he described 'good' CMCs as being 'extremely beneficial', presumably hoping the bad ones would not notice a lawyer-less business opportunity.
The true coffee-spitting moment was the moment Keen said 'many' whiplash claims were fraudulent.
'How many?' queried Hanson.
'I don't know,' said Keen, with disarming – albeit exasperating – honesty.