Courts began to sit at Newcastle's new Civil, Family and Tribunals Centre in January 2020, but the centre officially opened just last week. Why the delay? 'Covid', explained lord chief justice Lord Burnett of Maldon at a virtual ceremony attended by lord chancellor Robert Buckland. Several dates were arranged for cutting the ribbon and drawing back the curtains, but all proved impracticable.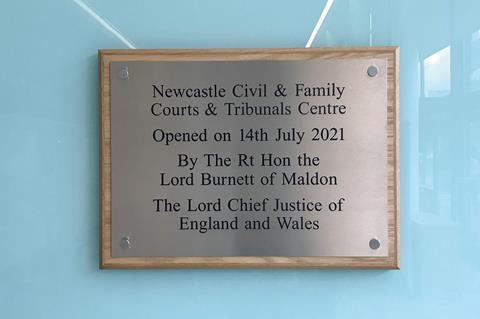 Based in Newcastle Civic Centre, the centre comprises 25 courtrooms for civil, family and tribunal hearings, all equipped with remote hearing facilities. Doubtless grateful to be able to dispense some unequivocally positive news, acting HMCTS chief Kevin Sadler proudly declared that the project was delivered on time and to budget.
Under normal circumstances, the LCJ would have ended the ceremony by unveiling a shiny plaque. Instead, it was left to a mysterious helper off-screen to draw open the velvet drapes. A shame the plaque didn't actually point out that the centre took its official bow virtually, thereby reminding future generations of the extraordinary circumstances of its birth.