A trainee solicitor is combining his studies with a burgeoning career in the elite echelons of women's football. Aaron Ford, 28, (pictured above) is now qualified to referee Women's Championship matches and run the line in Women's Super League games. Last season he was fourth official in the FA Cup quarter final between Lewes and Manchester United – screened live on the BBC – and has officiated at the likes of Villa Park and Birmingham City's St Andrew's.
In September Aaron started a training contract in the Birmingham office of Irwin Mitchell, focusing on employment, after working for the national firm as a paralegal.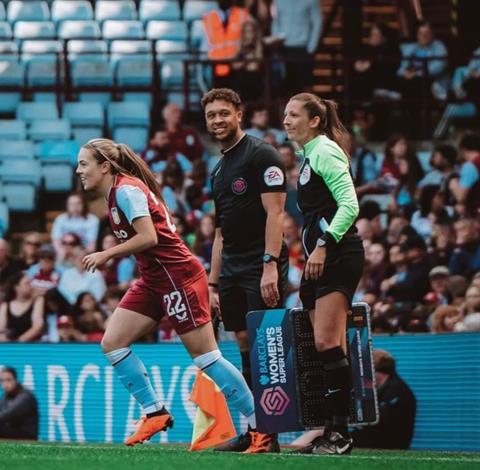 Some may balk at the prospect of leaving work to face scrutiny and – occasionally – abuse from thousands of people, but Ford says he is embracing the twin challenges.
'There is a lot of pressure to refereeing these games and you need to make big decisions, but it is my way of getting out of work mode and getting paid to do something I enjoy,' he said. 'It is great for fitness too – you come away from a game doing seven or eight kilometres. That feeling coming out of the tunnel is such a buzz when everyone is cheering. I have gone from 50 people at games to 6,000 last week.'
And are there any similarities between the roles?
'You never stop learning in both and there is always something to develop and push yourself. We have created a bond in refereeing where we rely on each other and support each other. That is the same in my work – if you make a mistake you don't hide away but you deal with it as a team.'