Sir Andrew McFarlane, president of the family division, revealed a surprising royal connection in a recent judgment on the Duke of Edinburgh's will.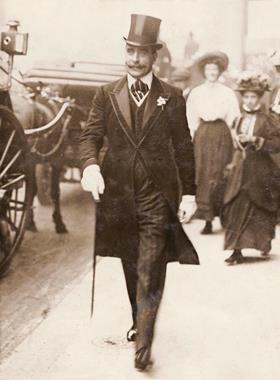 McFarlane's decision to seal the document for 90 years coincided with the revelation that the president is custodian of a safe containing 30 envelopes bearing the sealed will of a deceased royal. Where this safe is located – behind an arras at Balmoral? – has not been disclosed, unsurprisingly.
The earliest will belongs to His Serene Highness Prince Francis of Teck (pictured), younger brother of Princess Mary of Teck. Upon marrying King George V, the latter became Queen Mary in 1910. The wills of HRH The Queen Mother and HRH The Princess Margaret, Countess of Snowdon, were added to the safe in 2002.
McFarlane proposed to publish a list of the sealed wills placed in the safe but has postponed this to enable potential appeals of his decision. Even if the president decides to publish, however, tabloid journalists are likely to be frustrated. Royal watchers reckon any application to unseal the wills is doomed to fail.