With election fever gripping the country (stay with us) the question on everyone's lips is: who will be lord chancellor in the new government? With four holders of the post in five years, the ancient office of state has become a bit of a hot seat. Assuming the PM achieves her object of being returned with an increased majority, Obiter's shirt is going on Liz Truss being replaced by someone with a bit more legal knowledge.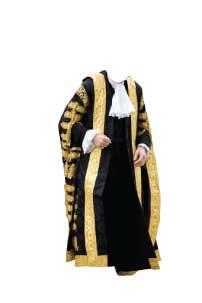 But who? Although barrister and current minister of state Sir Oliver Heald might be seen as a safe pair of hands, the competition is wide open. There could be a chance to rehabilitate solicitor Nicky Morgan, or former junior minister Shailesh Vara, who had to carry the can for so many unpleasant announcements during the Grayling era. From the younger generation, Obiter's friend Alberto 'smiling Albert' Costa is surely due a foothold on the ministerial ladder.
And if both parties are in a forgiving mood over human rights (a big 'if') perhaps former attorney general Dominic Grieve, who turns 61 next month, could yet be in the frame. Or at least be a better bet than another veteran, Kenneth Clarke, sacked from the post in 2012, but standing again as an MP at 76.
Of course, there is also the prospect of the other lot winning. Shadow Richard Burgon would cut an unmissable figure in the black and gold robes, though former director of public prosecutions Sir Keir Starmer would also be in with a shout. Or a triumphant Jeremy Corbyn might be persuaded to fill the post from the upper house. Baroness Chakrabarti of Kennington could presumably be persuaded to clear her diary for the gig.