Barra McGrory was in his early thirties when judgment in a case he took to Strasbourg produced 'anger and incredulity' in Downing Street. It concerned the killing of three IRA operatives in Gibraltar by the SAS. By the narrowest of margins, the court ruled the killings had been unnecessary and that Daniel McCann, Sean Savage and Mairead Farrell – all unarmed – could and should have been arrested.
Biog:
BORN Belfast, 1959
EDUCATION read ancient history and Celtic languages, Queen's University Belfast
ROLES solicitor QC, 2007; barrister, 2009; advocate in numerous criminal cases and public inquiries
KNOWN FOR director of public prosecutions, Northern Ireland,
2011-2017 (December)
'The case was taken to the European Court of Human Rights in Strasbourg by my firm and I decided to argue it jointly with a Dutch lawyer,' McGrory recalls. 'We split the issues in the case and argued it before the commission and the grand chamber of the court. That was a turning point in my career… a very significant legal milestone at the time.
'For me as a young advocate to have achieved this at that age,' he says, 'made me realise that my preferred role in the legal profession was in advocacy in the longer-term.'
As a jurisdiction, Northern Ireland presents lawyers with just such opportunities. If law firms instructed on its most high-profile criminal cases look like average high street solicitors' practices, that is because they often are. Personal injury, conveyancing and family law are there alongside cases related to accusations of terrorism and murder.
McGrory's father was an established criminal lawyer before the Troubles and had been involved in the civil rights movement in the 1960s: 'So, when the Troubles came along he developed a significant criminal practice in terrorist legislation and the cases brought [to] the courts through that legislation.'
The family were security conscious but it was, he observes, 'otherwise an ordinary upbringing for a north Belfast Catholic teenager'. Nevertheless: 'Even though I lived at the leafy end of the Antrim Road, north Belfast, it was still a place that was quite scary to grow up in during the 1970s because there were a lot of sectarian killings and sectarian attacks on young people.'
After a degree from Queen's University Belfast in ancient history and Celtic languages, he joined his father's firm. 'The profile was that of a general practice, but with a significant specialism in criminal law, in the context of the Diplock courts and the counterterrorism legislation that underpinned many of the cases.'
The firm was 'in the middle of the "supergrass" cases when I joined in 1984 as a trainee', he recalls. By the time he qualified in 1987 the caseload was 'very significant'. He adds: 'We would have had 20-30 prisoners in Crumlin Road prison on remand, and something like 12 murder cases at any one time.' It was 'a pretty intense work situation… a baptism of fire as a young solicitor'.
McGrory began to hone his advocacy in the magistrates' court, where Northern Ireland's committal system meant 'many contested committals', and allowed him to learn from some of the country's best advocates, including high-profile unionist lawyer and politician Desmond Boal QC.
After the Gibraltar case, he developed a role as a solicitor-advocate in the Belfast courts and appeared in a number of significant tribunals of inquiry, notably Bloody Sunday, as an advocate. He took silk in 2007, the first Northern Ireland solicitor to do so, and was called to the bar in 2009.
Inquiries, McGrory believes, 'are enormously important legal processes'. They offer 'an opportunity for searching and far-reaching investigation of the facts… the criminal process isn't about necessarily fact-finding or determining a range of issues. It's about one thing and one thing only – the guilt or innocence of the accused.'
They remain controversial though. The Saville (Bloody Sunday) Inquiry in particular came in for heavy criticism for its cost and the time it took to report. A common allegation is that the examination of events which took place decades before undermines the ability of all to 'move on'.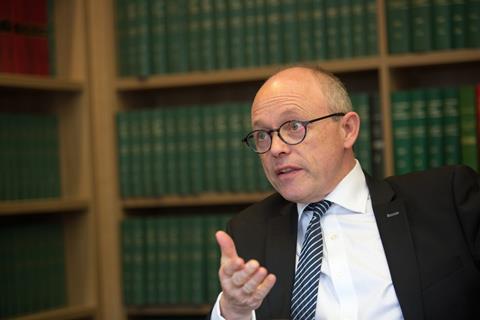 'They should be used sparingly as a result of that,' McGrory concedes. 'They should only be used in circumstances where there is alleged serious state misconduct that needs to be investigated to a considerable degree, to ensure that it might never happen again or maybe to clarify whether it happened at all… You need some mechanism to reassure the public and to learn lessons.'
The result of Saville, he argues, met that test: 'Look at the damage that was repaired in the Bloody Sunday [Inquiry]. Not just as a result of the inquiry and its findings, but in the open and accepting attitude of David Cameron.'
As an advocate, and latterly as Northern Ireland's director of public prosecutions, McGrory's record is seen by some as controversial. Much criticism comes in private websites and blogs, the contents of which could be summaried as 'ex-lawyer to the IRA is now going after retired British soldiers'. But a bigger headache for McGrory has been criticism in parliament.
On 2 November last year Richard Benyon, Conservative MP for Newbury, proposed a bill to time-limit the liability of members of the armed forces. Benyon's description of 'extreme nationalist-leaning individuals in the Northern Ireland justice system' engaged in 'lawfare' was clearly intended to include McGrory, whose clients have included Gerry Adams and Martin McGuinness.
Such a portrayal, McGrory, notes, omits the fact that he has also represented unionist politicians, loyalist paramilitaries and police officers. It clearly rankles: 'Decisions which came during my tenure as DPP had to be taken. They're not matters I sought out.' Lawyers, he points out, do not choose their clients, and as DPP he was asked to make a decision on cases sent to his office by the Northern Ireland attorney general concerning soldiers.
'I get annoyed when I think about the criticism in the House of Commons, which appeared to suggest some sort of vendetta on my part,' he says. 'Nothing could have been further from the truth, and in fact none of this would have been necessary had the British Army been subject to the rule of law, as it should have been contemporaneously with the incidents happening.'
These 'rather derogatory comments' prompted McGrory to write to attorney general Jeremy Wright MP, who McGrory hoped would use his 'good offices' to explain his position to critics in his own party.
In fact, his journey to DPP was preceded by instructions where he was acting for victims.
He had completed a year of hearings in the Hamill Inquiry as senior counsel for the family, during which he 'developed quite an interest in the prosecutorial process from the point of view of a victim'. The inquiry was set up to examine the role of the Royal Ulster Constabulary with regard to the death in 1997 of Robert Hamill, a 25-year-old Catholic man who was killed by loyalists in County Armagh.
A year later the DPP post became vacant. 'Had it not been for the experience of representing the family of a victim in a public inquiry, it might never have occurred to me to apply. But because of that experience I thought, "There's a significant role within the criminal justice system that I could bring a perspective to that hasn't previously been experienced in the job".'
He started in 2011 and describes it as a huge change: 'There's an isolation from the rest of the profession, which you don't appreciate… You're no longer part of the lawyer community that does battle for clients day in and day out. You're removed from the circles you have inhabited all of your life.'
The community of lawyers can transcend cultural and political differences.
In Northern Ireland, 'you go from driving yourself to work and walking about the town unaccompanied, to being under strict security. You're picked up in an armoured vehicle every morning'.
But he has no regrets: 'I had the benefit of joining an organisation of lawyers deeply dedicated to their prosecutorial task… and joining it as one of them and as their leader. That compensates for all of the losses of daily practice.'
He served six years (longer, for example, than Keir Starmer in England and Wales), a period that covered 330,000 prosecutorial decisions, and mounted five times the number of cases against alleged paramilitaries as soldiers.
Under the terms of the Good Friday Agreement, Northern Ireland's DPP has been independent and free from 'superintendence and direction' from the attorney general for England and Wales. 'That independence has maybe led to some of the concerns expressed in Westminster', he reflects, 'and that didn't go down too well in certain quarters.'
What now? McGrory has accepted an associate tenancy at human rights-focused Doughty Street Chambers: 'I'm open for business and interested in broadening my scope and hopefully undertaking cases of a criminal nature, or public inquiry nature, even of a public law nature, and to get away from the domestic situation in Northern Ireland.'
Northern Ireland is, of course, the focus of close attention as the UK moves to leave the EU: 'Brexit is going to have the most significant impact on Anglo-Irish relations since the 1921 treaty… some very agile legal and political minds need to address these problems,' he says.
McGrory declares himself 'an eternal optimist' in this context – an optimism that is perhaps fuelled by his professional experiences. Desmond Boal was a friend of both McGrory and his father: 'Those relationships are a good indicator of how the law can cross political boundaries… The community of lawyers can transcend cultural and political differences,' he concludes.