The spotlight, in the legal market, is on increasing diversity at senior levels. Lady Hale is the first female President of the Supreme Court and we are celebrating the centenary of women being allowed to enter the legal profession. I welcome the progress that has been made with regard to women and diversity since I began my career, however I appreciate there are still a number of challenges and offer a little advice from my own experience, to those just starting their careers.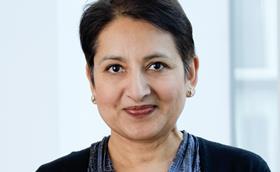 Have confidence in your abilities
My own lack of self-confidence was a particular challenge at the start of my legal career. When I was given career advice at university I was effectively told that it was perhaps best not to pursue a career in the legal profession as I was Asian and female – advice I should have ignored (and did eventually). As a result, after getting a law degree, I did not go straight into the legal profession. Instead I worked in a number of other fields before finding my way back. However, these years weren't wasted – they provided me with valuable experience and helped to provide me with the self-confidence I was lacking earlier. Fast-forward to 2017 and I was appointed as the first female senior partner at Wedlake Bell following 14 years at the firm where I joined as only the fourth female partner in 2003.
Take advantage of opportunities to improve your skills

Both legal and interpersonal. Successful lawyers need to be more than merely people who give legal advice to clients – they need to be able to forge bonds with clients (and colleagues) at a personal level and be team players. Mentoring opportunities should be taken advantage of, and if you feel that there is something in particular that would help you to improve, then discuss it with the person or persons who can ensure that it is available. If there is someone in the firm who you consider to be a role model, see if they can spare some time to talk to you about how they got there and what makes them successful. I have had very supportive mentors at all stages of my career, and strong role models (both male and female), who influence me to this day.
Value a work/life balance
Work/life balance and flexibility in terms of working hours, is important to retain valued people in our profession and help them to succeed, particularly for those with young families or with other family responsibilities. At Wedlake Bell, we recognise that creating and maintaining this is key for an individual's wellbeing, and we place a strong emphasis on this through our 'Wellbeing at Wedlake Bell' initiative. Through this initiative we have introduced; Pilates, the gardening club, meditation sessions and a mixed netball match to name a few. The introduction of our Working Families Network has played a fundamental role in supporting those with young families or with other family responsibilities. In addition, we are increasingly embracing agile working to ensure that all individuals have the opportunity to work in a way that helps them to juggle their responsibilities and interests, outside of the workplace. We are also supporting the Matthew Elvidge Trust as our charity of the year. The Trust aims to increase awareness and understanding of the importance of wellbeing and good mental health, and reduce the stigma of mental illness, especially amongst young people.
I would urge any individual in the profession to take full advantage of any wellbeing initiatives their workplace may have in place – they are there for a reason and will be beneficial in helping to achieve the work/life balance which will help you to achieve success in a way which works best for you.
Thrive in a diverse environment
Creating a diverse and supportive workplace environment and encouraging an equal opportunities culture where there is opportunity for all members to fulfil their career aspirations – at all levels – has been a particular focus in my career and in my position as senior partner. A diverse workplace can only be positive for our profession and our working environment, and I think this is now widely recognised and progress has already been made in changing the landscape of the legal profession. With this in mind, Wedlake Bell strives to build and maintain a culture that values and gathers strength from diversity and we are signatories to the Law Society's Diversity and Inclusion Charter. This is manifested through the firm's Social Mobility initiative which has seen Wedlake Bell implement a number of placement programmes and mentoring schemes. This, alongside the success of our apprenticeship scheme demonstrates the firm's commitment in maintaining diversity as a core value. I am also delighted to be able to say that the firm leads the market in diversity in its representation of women in senior positions; across the firm as a whole 61% are female and three out of seven voting members on the board are women. The firm is ranked 9th in the Lawyer Top 100 survey 2016 in terms of the percentage of equity partners who are female.
Establishing relationships
Establishing strong relationships, with both clients and colleagues, regardless of your position in the firm enables you to deliver the best possible service. The camaraderie found in a positive working environment plays an important role in our wellbeing.
As for client relationships, if you can understand your client's objectives in any transaction and work with them to deliver the desired outcome, this is something that in my experience, clients recognise and value. I always endeavour to be a part of the client's team and view myself as such – I hope that they do too!
Do things your own way
My main advice for success to any woman entering the legal profession would be to have confidence in your own ability and never doubt this or measure yourself against your male counterparts – do things in your own way rather than in theirs. Also, it is not uncommon for women to think that their hard work and achievements will be recognised without the need to raise the issue of promotion themselves, however, this is not always the case, so do not be afraid to make it clear when you feel you are ready for the next stage in your career.
Kim Lalli is senior partner at Wedlake Bell
In June the Law Society is holding a two-day symposium: the power of gender equality to transform the business of law.
Visit the Gazette's Women in the Law page for more history, profiles, opinion and news