An upturn in M&A activity and growing interest from Asian investors are enhancing the longstanding appeal of the UAE to international law firms.
The United Arab Emirates escaped the upheavals of the 2011 Arab Spring, but the region did feel the effects of the global financial meltdown and was hit hard by its own financial and real estate crisis in 2008/09. Dubai, one of the seven city states in the federation and the Gulf region's most prominent financial hub, had to be bailed out in 2009 by its oil-rich fellow emirate Abu Dhabi to the tune of $20bn.
This prevented its state-owned property developers from defaulting on billions of dollars of debt.
But there is renewed confidence in the UAE. Dubai's property market and tourism industry are getting back on track, with new hotels, shopping centres, theme parks and even a $1bn replica of the Taj Mahal among the development projects planned. Adding to this momentum, last year Dubai won its bid to host the 2020 World Expo trade convention, which will boost the economy and the real estate sector with $4bn of infrastructure investment.
This is good news for UAE-based international law firms, which are also capitalising on the increased importance of Islamic finance in the Middle East and elsewhere, and an increase in merger and acquisition activity.
Baker & McKenzie established an office in Abu Dhabi in February 2009 and last year gained a presence in Dubai through a merger with local firm Habib Al Mulla & Co. Borys Dackiw, the Abu Dhabi-based managing partner of the firm's Gulf offices, says there are several reasons to feel 'robust' about the UAE. One of them is that pension funds and other institutional investors, mainly from Asia, are now looking 'seriously' at Dubai, whereas previously they viewed it as too risky. 'That is a vote of confidence in the market, and I think this trend is going to continue,' he says.
Baker & McKenzie's confidence is shared by a number of firms which have entered the UAE or expanded their presence over the past year, among them CMS Cameron McKenna, Addleshaw Goddard, Morgan Lewis and Stephenson Harwood.
Dubai v Abu Dhabi
When setting up in the UAE, the choice is between Abu Dhabi, the largest emirate and the federal capital of the UAE, and Dubai, which is where banks, insurance, financial and legal services firms are based.
Dubai has risen in prominence as a global financial centre since the Dubai International Financial Centre (DIFC), a financial free zone, opened for business in September 2004.
In the DIFC there are no taxes on income or profit, no customs duties and 100% foreign ownership is permitted. The DIFC has its own independent financial regulator and laws, which are based on the English common law system, and its own courts (see box, below). To establish an office in the DIFC, firms must obtain a licence from the Dubai Ruler's Court in addition to a commercial licence from the DIFC.
With more than 1,000 registered businesses, the DIFC is also attractive because 22 of the world's top-30 banks and six of the top-10 insurance companies operate there. 'It was a strategic decision to be located in the DIFC because this is where our existing and potential client base was going to be,' Andrew Greaves, head of the Dubai office of Addleshaw Goddard, says.
But not all international law firms choose to be based in DIFC, which is a more expensive place to run a business than 'onshore' Dubai, some argue.
Clyde & Co, which has been licensed onshore in Dubai since 1989, added an office in the DIFC in 2009, but closed it last year, relocating 30 fee-earners to its existing base in the Rolex Tower building, outside the DIFC.
Morgan Lewis, which established its Dubai office in 2013 operating in association with the UAE firm Mohammed Buhashem Advocates & Legal Consultants, is currently awaiting a Dubai Ruler's Court licence to operate on a standalone basis. Ayman Khaleq, managing partner of Morgan Lewis' Dubai office, sees no disadvantages in being outside the financial free zone, not least because the international law firm is still close to clients. 'We are in the Emirates Towers, which is an iconic building that is across the street from the DIFC.'
Furthermore, access to DIFC courts is not exclusive to businesses and lawyers operating in the financial free zone. There are no nationality restrictions on the right of audience before the DIFC courts, and since expanding their jurisdictions in 2011 the courts can now hear disputes from any country. 'You move between the two systems,' says Khaleq. Although financial free zones are exempt from UAE civil and commercial laws, he adds: 'UAE criminal laws apply equally outside and inside the DIFC.'
But there are other options. For example, CMS Cameron McKenna set up an office in 2012 in the Dubai Multi Commodities Centre (DMCC).
'There are a lot of free zones in Dubai that are aligned with particular sectors,' Dubai managing partner Matthew Culver explains, citing the DIFC, Internet City and Jebel Ali Free Zone (JAFZA). 'The DMCC is more focused on commodities, but also on energy, and oil and gas. When we were looking at where our existing and target clients were based, a very large number were in the DMCC.'
CMS's clients include OMV of Austria, Italy's Eni and Russia's Gazprom. The DMCC is also very close to JAFZA, which tends to be the base of the firm's oil-field services clients, owing to its vicinity to the Port of Jebel Ali. Moreover, with fewer than a handful of international law firms registered there, the DMCC is a much less crowded market than the DIFC, where more than 30 law firms are present.
Culver adds: 'The regulatory authority [DMCCA] is very positive and open to ideas about how to bring business into this particular free zone.' This includes lending support to networking initiatives such as the recently launched Energy Club, of which CMS is a founding member and which is supported by Thomson Reuters, Euro Petroleum Consultants, and Arabian Oil & Gas.
Whether inside or outside any of its free zones, many law firms choose Dubai over Abu Dhabi. 'The reason we moved into Dubai first is because it is a regional hub for legal services,' says Greaves, noting that from Dubai law firms can serve clients based in the Gulf Cooperation Council, north Africa and India.
Morgan Lewis' three largest classes of client – investment banks, private equity firms and US Fortune 100 companies – were more likely than not to have their regional headquarters in one of Dubai's free zones. Dubai also offers good transport links. Khaleq, who acts for international investors raising funds in the Middle East, including German venture capital firm TVM Capital, says: 'Proximity to an airport that gets you direct to other places in the world such as Munich, London and New York is very important.'
If Dubai continues to attract international law firms, Abu Dhabi is gaining traction too. A number of law firms – including Allen & Overy, Clyde & Co and Reed Smith – have a presence in both emirates, while others such as Addleshaw Goddard are considering a move into the oil-rich city state. 'Abu Dhabi is the capital of the UAE and the centre of various sovereign wealth funds,' Greaves notes.
Allen & Overy has been in the UAE longer than most – the magic circle firm opened an office in Dubai in 1978 and Abu Dhabi in 2007. Middle East regional managing partner Simon Roderick says that while there was an 'explosion of international law firms' in Dubai after the opening of the DIFC in 2004, in Abu Dhabi the turning point came three years later when a new licensing regime eliminated a requirement for international law firms to find a local sponsor to set up.
'That was the impetus for firms moving into Abu Dhabi,' he says. 'Prior to 2007 it was extremely difficult to obtain a licence to operate in Abu Dhabi unless you did a joint venture with a local firm.'
For Roderick, the two city states serve very distinct purposes. While in Dubai business is much more regional, 'Abu Dhabi work is Abu Dhabi-centric,' focusing on government-related entities such as sovereign wealth fund Mubadala Investment Company, renewable energy company Masdar (a subsidiary of Mubadala), and the Abu Dhabi National Energy Company – all clients of Allen & Overy.
Dackiw says: 'If you want to work in Abu Dhabi you need to have an office there. The [Abu Dhabi] government have made it very clear they do not want you to be serving Abu Dhabi out of Dubai. And it makes sense, it's the capital after all.'
In an effort to encourage foreign businesses to locate staff in Abu Dhabi, the capital is to launch its own financial free zone, Abu Dhabi Global Market (ADGM). Allen & Overy has been acting as the sole legal counsel, advising on all the legal aspects of establishing the ADGM. Similarly to the DIFC, the free zone will have its own laws and courts. Roderick notes the ADGM will have a focus distinct from the DIFC, acting as a centre for the trading, storage and transport of commodities.
Renewed growth
So what has occupied international law firms over the past 12-18 months? Roderick says: 'Our capital markets practice is very strong and has developed extremely well over the last couple of years with the recent focus on sukuk [Islamic bonds] issuances.' Other 'thriving' areas are arbitration and dispute resolution, and M&As, fuelled by renewed investment in real estate. For example, Allen & Overy recently represented majority state-owned Aldar Properties, Abu Dhabi's biggest property developer, on its $4.5bn merger with rival Sorouh Real Estate, also of Abu Dhabi.
Law firms' M&A practices are also gaining from expansion in other areas of the economy.
In the healthcare sector the government is enlisting private groups to improve the quality of services. Last year, Clyde & Co acted for LSE-listed Al Noor Hospitals Group, the biggest private health provider in Abu Dhabi, on its Dh98m (£16m) acquisition of Gulf International Cancer Center.
In education, the UAE considers the UK a partner of choice. Clyde & Co has recently advised independent Cranleigh School on the legal aspects of developing an elite campus in Abu Dhabi that is a partnership with Abu Dhabi-based Royal Group and Abu Dhabi's Tourism Development and Investment Company.
Greaves says: 'With the broader investment in hard and social infrastructure planned around the region, and given the success of Dubai in securing the Expo 2020 and the World Cup taking place in Qatar in 2022, coupled with the renewed confidence in the global economy, we see significant growth in real estate, projects and construction. We are actively recruiting in those sectors.' The Muscat, Doha and Dubai offices work closely together.
International conference 2014
The International Marketplace Conference 2014 will take place on 8 July at the Law Society in London. It will help you to:
Create opportunities for business growth by understanding how to work with and influence governments, regulators and investors to produce modern and efficient regulatory and business-friendly frameworks.
Discover the commercial benefits of contributing to public policymaking, economic growth and prosperity.
Explore the international opportunities to lay the foundations for growth in key sectors such as the extractive industries, technology and green innovation, and the development of financial centres.
Harness the benefits of ethical business growth to establish a thriving, sustainable commercial enterprise.
To book your place visit: www.lawsociety.org.uk/international
Greaves' firm acts for government-owned developers in Dubai. He says that unlike Abu Dhabi, where virtually all the UAE's oil and gas reserves are, 'Dubai is very much anchored to its financial and tourism industries'. Greaves points to a flagship theme park currently being developed in the outskirts of Dubai by Meeras Holding, owned by the ruler of Dubai, as an example of the city's fresh efforts to promote its tourism-based economy.
The real estate and construction boom has not escaped new arrivals. CMS's expansion into Dubai is a natural consequence of the firm's work in the oil and gas sector in the Middle East, including in the Rumaila oilfield in southern Iraq for Italy's ENI, according to Culver. But in Dubai, CMS is also selling its existing know-how in the hotel and leisure industry. '[UAE] clients are becoming more sophisticated,' Culver says. 'They are looking for advisers who understand their business and are able to hit the ground running.'
Reed Smith, the product of the 2007 transatlantic merger between US Reed Smith and City law firm Richards Butler, acts for a UK and US clientele from its offices in Abu Dhabi and the DIFC.
Middle East managing partner Vince Gordon says the firm's dispute resolution practice saw 'significant growth' in 2009/12. Last year transactional work picked up again, above all internationally, with outbound transactions from the Gulf states, and inbound predominantly from the US, into the Middle East and Africa. Gordon has been representing Dubai private group Range Developments on the acquisition financing of its Park Hyatt hotel development in St Kitts in the Caribbean. It was also recently instructed by Range on a new Kempinski luxury hotel development on the Island of Dominica.
Islamic finance is another big growth area. Last year Sheikh Mohammed Bin Rashid announced plans to make Dubai a centre for Islamic bonds.
Morgan Lewis's Khaleq, a prominent Islamic finance lawyer, says: 'Within the Middle East market the majority of investors would prefer to invest Islamic, so you need to come up with Islamic solutions for them.' But sukuk are an increasingly popular financing method for Western investors too, he adds.
'After the credit crunch most companies figured out that you cannot rely on one source of funding, so if you are a US company with international operations it's good to have access to other capital markets. It could be Europe, it could be Asia, and it could be the Middle East.' Morgan Lewis recently advised European insurer FWU Group on a $100m fully sharia-compliant Islamic bond.
DIFC courts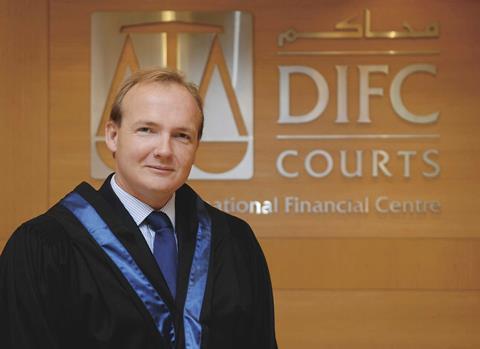 The DIFC courts, established in 2004, have jurisdiction over civil and commercial matters and operate under an English-style common law system.
They comprise an English-language Court of First Instance and a Court of Appeal, and since 2009 a Small Claims Tribunal (SCT) which has jurisdiction over commercial claims worth up to AED100,000 (£16,000), and employment disputes not exceeding AED200,000.
A new law passed in October 2011 significantly extended their jurisdiction. Mark Beer (pictured), registrar and CEO of the DIFC Courts, says: 'Under the new rules, any UAE, Gulf Co-operation Council and global companies can choose to resolve their disputes in the DIFC courts, provided both parties agree to the jurisdiction. Contracts should include a simple clause binding both parties to use the DIFC courts in the event of a disagreement.' This has 'significantly increased' the cases heard, particularly in the SCT, where 90% of cases are resolved within four weeks, according to Beer.
As a forum for mediation, the DIFC courts are also performing well, with 95% of cases resolved before trial in the Court of First Instance.
DIFC courts actively support practitioners' professional development. An 'English-style' advocacy training programme was launched in March 2013 through the courts' academy. Beer says: 'It has been developed primarily to give UAE-based legal practitioners operating in the civil system the opportunity to develop the skills necessary to present cases in common law courtrooms, such as oral submissions, cross-examination and the use of skeleton arguments.'
Over-lawyered?
The bad news for international firms active in UAE is that the legal market has become overcrowded, or as Roderick puts it, 'over-lawyered,' leading to significant fee pressure.
'We have seen some predatory pricing practices, but we are certainly not going to engage in a race to the bottom,' says Niall O'Toole, managing partner of the Abu Dhabi office of Clyde & Co and regional head of the firm's corporate practice.
'We react to increased competition in the market by getting closer to our clients and by working harder to demonstrate the value that we add. You have to be able to add value [in the UAE], and to evidence that you are doing so.'
Not only does Clyde & Co advise on English and international law, but also on UAE law. One-third of the firm's 145 fee-earners in the UAE are Arabic speakers who have been in the Emirates for many years; they have considerable experience in the country's civil law system, which is also heavily influenced by Islamic law.
Dackiw says: 'When we establish a practice in a new market we will always look at practising local law.' Baker & McKenzie merged with UAE law firm Habib Al Mulla & Co in April 2013 in what was a first in the UAE.
Although foreign lawyers can practise local law, only Dubai nationals can appear before Dubai's Arabic language courts. 'The merger was a terrific opportunity,' Dackiw says. 'It gives us not just the local law capability, but also access to the UAE courts – and that is really what is so unique about it. The combined firm [Baker & McKenzie Habib Al Mulla] has the ability to provide advocacy as well as legal consultancy services.'
It helped that, before the merger, Dr Habib Al Mulla's litigation team had handled a number of litigation matters on behalf of Baker & McKenzie clients, which consequently 'got to know the firm quite well,' Dackiw says.
There are other ways firms can stand out from the crowd. Roderick, who has over 23 years' experience in the UAE, says: 'Clients place a lot of reliance on long-term relationships. They like dealing with people who have been here for a long time. One of the challenges with operating here is that an awful lot of how things get done is not actually written down. It is just practice and experience over many years.'
When it set up in Dubai, Morgan Lewis hired an experienced team from US firm Vinson & Elkins, including Khaleq, a dual-qualified Jordan and New York lawyer who has been in Dubai for almost 10 years. He argues that foreign law firms need regional lawyers with the same pedigree, and 'who can bridge the divide between practising in the region and internationally'. With experience and expertise so highly valued, law firms are not just going head to head over clients, but also talent.
'There is a significant amount of competition for good people out there,' notes Greaves.
But Dackiw says that it is getting easier to attract and retain top lawyers: 'Dubai tends to be a very transient place, but I do think that people are planting roots more than they may have done in the past. You are finding very talented people now, but five years ago that was a challenge.'
So an unqualified thumbs up to UAE? Not quite. 'There has been a "gold rush" of law firms in the last five years or so. There are many law firms in the market,' says Gordon, who questions whether there is enough work for all players. Some have already downsized over the past 18 months, including Hogan Lovells, which closed its Abu Dhabi office to focus on Dubai.
But few are in any doubt about the opportunities. 'The UAE is not necessarily an easy place to do business, but it is extremely worthwhile,' says O'Toole.
'Like anywhere else, one has to approach this market in a sensible way,' says Dackiw. 'There is a right size for everything. You have to have a very clear focus on your business plans and your growth model.'
Marialuisa Taddia is a freelance journalist