The four members of the Pacific Alliance trade bloc are attracting growing interest from international firms, writes Marialuisa Taddia.
Latin America has traditionally been a tricky market to crack for international law firms, but the emergence of a pro-business economic bloc called the Pacific Alliance is changing this perception. Comprising Chile, Colombia, Mexico and Peru, the alliance aims to attract investment into the region by easing the flow of goods, services, capital and people across borders, and to help its members strengthen investment ties with Asia.
Together, these four countries account for 45% of foreign investment in Latin America, half of its international trade, and more than a third of the region's GDP. They have free-trade agreements with markets representing more than 85% of global GDP, and are regional leaders in the latest World Bank Ease of Doing Business report.
Formed in June 2012, the bloc has already eliminated tariffs on 92% of products and services, and tourist and business visas, while the stock exchanges of the four members are linked through the Integrated Latin American Market (Mila). The alliance's market-led approach contrasts sharply with the more protectionist Mercosur, a long-established customs union including Brazil, Argentina and Venezuela.
'The Pacific Alliance recognises a reality that Chile, Colombia, Mexico and Peru are the countries within Latin America that share similar principles, values, and a long-term vision,' Yves Hayaux-du-Tilly, a London-based partner at Mexican firm Nader, Hayaux & Goebel, says. 'The alliance has become an extraordinary marketing tool. It helps people focus on the advantages that the four countries offer to foreign investors, and it makes it easier for them to do business in this region.'
Quentin Poole, head of international and senior partner at Wragge Lawrence Graham & Co, says: 'It has been quite striking that the active engagement of international law firms in Latin America is way behind what is going on in most of the rest of the world. You really haven't got a lot presence of US, UK or other international law firms. That is just starting to change.' Poole describes Chile, Colombia, Mexico and Peru as 'well-organised, politically stable and regulatorily sensible. They all share an ambition to thrive in the international world, which perhaps other Latin American countries are more ambivalent about'.
There are already signs the new bloc is fomenting greater co-operation – or integration – among native and international law firms. Colombia's Prietocarrizosa and Philippi Yrarrazaval Pulido & Brunner Abogados of Chile recently merged to create one of the region's largest firms, with Spain's Uría Menéndez acquiring a 30% stake. The new firm started operating as Philippi, Prietocarrizosa & Uría in January.
Martín Carrizosa, a member of Prietocarrizosa's executive committee, says: 'Entrepreneurs and many multinationals view Latin America in general, and the countries of the Pacific Alliance in particular, as a new and distinct legal market where added-value legal advice is required. Many of our clients are already present in several Latin American countries, or are in the process of expanding their business in the region. This initiative is a response to their needs.' The aim is to expand to other markets, including Peru and Mexico, and achieve full integration with Uría Menéndez.
Chile, Colombia, Mexico and Peru all share an ambition to thrive in the international world

Quentin Poole, Wragge Lawrence Graham & Co
Other Spanish firms such as Garrigues are making inroads within the alliance, aided by common language and a shared civil law tradition. But despite linguistic, legal and cultural differences, US- and UK-based international firms are also capitalising on opportunities to provide advice on large mining deals, infrastructure projects, and inward and outbound investment.
Among them are Hogan Lovells, now in Mexico, and Norton Rose Fulbright in Colombia. Insurance specialists DAC Beachcroft, the first UK law firm to open an office in Mexico in 2003, is also in Bogotá and Santiago. Kennedys has associated offices in Colombia, Chile and Mexico. And Baker & McKenzie has offices in all four jurisdictions.
Colombia
One Pacific Alliance economy generating a buzz among international lawyers is Colombia, which is booming through oil and mining, and foreign direct investment (FDI) in the commodity sector. Latin America's fourth-largest economy received $16.2bn FDI in 2013. GDP grew 4.9% in 2014, according to the Organisation for Economic Co-operation and Development, compared with average growth of 1.3% in Latin America, and is projected to expand by 4.4% this year.
Power generation, transmission projects and transport infrastructure are thriving too. Last year, president Juan Manuel Santos' government launched a road infrastructure plan worth $25bn, which will be part-financed by the private sector.
The insurance market is growing by more than 10% a year, aided by a rapidly expanding middle class, according to UK firm Clyde & Co, which hosted a well-attended Colombia insurance market seminar in February. In a country with very lengthy court proceedings, Bogotá is also a rising centre for arbitration, both within Colombia and the region, according to partner Neil Baresford.
Against this backdrop, the Colombian legal sector is expanding strongly, faster indeed than the general economy, says Andrés García-Arias, who manages the British-Colombian Lawyers Association.
The country has a relatively strong presence of international firms: Baker & McKenzie is the longest-established – and largest – with 70 lawyers in Bogotá. But the legal market is still dominated by home-grown outfits, chief among them Colombian 'magic circle firms' Brigard & Urrutia; Philippi, Prietocarrizosa & Uría; Posse Herrera Ruiz (PHR), and Gómez-Pinzón Zuleta.
Jaime Herrera, founding partner of PHR, says the 110-lawyer firm has benefited 'considerably' from operating within the pact. 'Our foreign trade practice group is growing very fast, thanks to increased trade between Colombia and other members of the Pacific Alliance,' he says. The firm's M&A and corporate practice, headed by Herrera, has also been thriving thanks to 'considerable investment' in Colombia from Peruvian, Mexican and, above all, Chilean companies.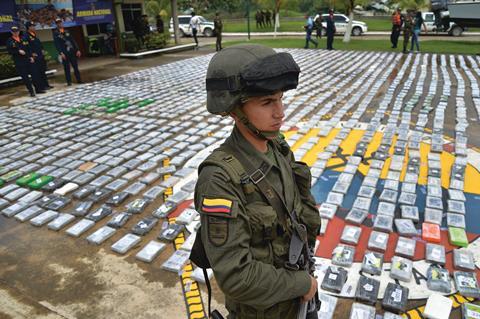 Herrera highlights Chilean investment in a range of sectors, including finance, retail, energy and mining, manufacturing and infrastructure.
Although PHR has a well-established clientele from the US and Europe, Herrera says: 'Clients from the Pacific Alliance have been increasing exponentially over the past five years.' They include Latin American multinationals or 'multilatinas', including CorpBanca, Copec, and Luksic Group from Chile; Alicorp, Graña y Montero and others owned by local tycoon Carlos Rodríguez-Pastor in Peru; and Femsa from Mexico.
Colombian companies (the country has its own multilatinas – Bancolombia, Davivienda and Ecopetrol among them) are expected to increase outbound investment, including into Mexico and Peru, over the next two to five years, according to Herrera, who is upbeat about prospects of closer economic ties with the Asian members of the Pacific Rim.
'It is a huge opportunity for Colombia because Chile, Mexico and Peru have a larger trade platform with Asia than Colombia,' he says. Not only have the other Pacific Alliance members concluded more free trade agreements with Asian countries, they are also in negotiations over the proposed Trans-Pacific Partnership, a much larger trade bloc between 11 Pacific Rim countries, including the US, Canada, Australia, Singapore and Vietnam, and Colombia could soon be among them.
Herrera adds: 'Colombia is the flavour of the month. While I believe some [more] international firms will come, whether they will be here for the long haul I am not so certain.' He warns of the lack of infrastructure and there is, of course, the reality of drug-fuelled violence, although recent peace talks between the government and armed groups could lead to the end of five decades of civil war, according to an OECD survey.
Chile
It only has a population of 17 million, but Chile's stable economy and political environment make it an attractive place to do business. Herrera says: 'Chile is as close as any other country can be in this part of the world to a developed country. Its market is growing but the population is not, so companies in Chile need to grow abroad.'
Among them are retailers – including Cencosud, Falabella and Ripley – that have built strong brands across Latin America. But Chile is still heavily dependent on its copper industry; it is the world's largest producer of the metal and this has been a boon for two decades, although the heat is coming off the economy. GDP expanded by 4.2% in 2013 but slowed to 1.9% in 2014, according to the OECD, which predicts moderate recovery in 2015 and 2016.
The size of the mining sector means it is still generating work for lawyers, but because Chile suffers from energy shortages and high prices, firms are also seeing opportunities deriving from investment by the likes of Spain's Abengoa, SunEdison and Pattern Energy Group from the US, to develop wind and solar farms. Last year, the government of newly elected president Michelle Bachelet awarded green energy concessions worth $7bn to international energy groups.
Andrés Chirgwin, a partner at Santiago-based Chirgwin Larreta Peñafiel Abogados, says: 'We are seeing a lot of foreign energy companies coming into Chile, and renewable energy companies in particular.'
In numbers
GDP (US$)
Chile: $277,199m
Colombia: $378,415m
Mexico: $1,260,915m
Peru: $202,350m
Total Pacific Alliance: $2,118,879m
Population
Chile: 17.6m
Colombia: 48.3m
Mexico: 122.3m
Peru: 30.4m
Total Pacific Alliance: 218.6m
Source: World Bank (2013)
Thanks to its 'solid institutions', low security risk, and investor-friendly approach, Chile is cementing its position as investment gateway into Latin America, according to Chirgwin. 'We are now seeing foreign mid-sized companies which are interested not just in Chile, but in the Pacific Alliance as a whole, and are using Chile as the starting point.'
The firm, which already has a strong international focus with 70% of clients based outside Chile, has banded together with other medium-sized commercial and corporate law firms in Colombia, Peru, Mexico and Panama (which has applied for membership of the alliance). The Pacific Legal Alliance (PLA), established last year, also includes Mexico's Cuevas y Lugo Mexico; Panama's Mendoza Arias Valle & Castillo; Colombia's VGCD – Valbuena Gamboa Garcia Cardona; and Peru's Berninzon & Benavides Abogados.
'The aim of the PLA is to provide added-value legal services to foreign companies who want to invest in and do business with the Pacific Alliance as a whole,' Chirgwin says. This means advising on cross-border infrastructure and renewable energy projects; and on tariffs and tax matters.
Peru
With annual growth averaging 6.4% between 2003 and 2013, Latin America's fifth-largest economy has seen a string of foreign law firms establish a presence on its home turf. Despite a slowdown in 2014, when GDP increased 3.5%, Peru's economic growth remains higher than the regional average.
'Until four years ago there was no international law firm with a relevant presence in our legal market,' says Eduardo Benavides, a partner at Lima-based Berninzon & Benavides Abogados. He points to Garrigues – which last year bolstered its Peruvian practice by poaching the banking and finance team of Peru's Estudio Rubio – and Baker & McKenzie. The Chicago-headquartered firm formed a joint venture with Estudio Echecopar, one of Peru's largest firms, in October 2012.
'We still have a relatively small legal market, which is less sophisticated than London and other European jurisdictions, but we certainly expect more competition,' says Benavides.
That is one reason why Benavides' own firm (with 30 lawyers, including seven partners, it is considered mid-size) is forging closer ties with counterparts across the bloc. It is a PLA member and has 'very strong relations' with a group of firms with 'similar practices and styles of law firm management', Benavides says. These include Lloreda Camacho & Co and Castro Leiva Rendón Criales Abogados in Colombia; and Prieto y Cía and Alessandri & Compañía in Chile.
'We will see stronger co-operation, or integration, between firms in the three countries,' predicts Benavides. 'Chile, Colombia and Peru are very complementary,' he says, noting that even before the alliance was formed there was much cross-border work between firms in the three jurisdictions in the areas of M&A, finance, infrastructure, and energy and mining. Activity related to Mexico has been more limited but Benavides expects that to grow too.
Despite a cooling economy, due to a slowdown in mining investment, firms remain busy with a variety of work, including inbound and outbound M&A and corporate instructions. Berninzon & Benavides Abogados is advising a large French food company on setting up operations in Lima which, because of its central location, eases the distribution of products to customers in Colombia and Chile as well as Peru. It is also advising a leading British tobacco company on establishing management functions for the three countries in Santiago, which has a relatively large skilled workforce.
Meanwhile, infrastructure projects are booming – among them the $6bn second line of the Metro in Lima and a $4bn gas pipeline in the south of the country, which has substantial reserves of natural gas. 'In the infrastructure sector, inbound investments within the alliance have been increasing,' says Javier Tovar Gil, a partner at Baker & McKenzie's member firm Estudio Echecopar.
From its Lima office, which has more than 115 lawyers, Baker & McKenzie has been advising Colombian civil construction company Conalvias on toll road concessions applications in Peru; and Mexico's Azteca Comunicaciones on a fibre spine project for rural areas, a public-private partnership to promote internet access to small villages in Peru.
With Mexico joining the stock-exchange tie-up between Chile, Colombia and Peru in June last year, Mila now rivals Brazil's Bovespa as Latin America's largest stock market with a combined value of more than $1.1tn. Although Mila's cross-border trading is in its infancy, owing to the challenges of harmonising tax and regulatory regimes, Latin American financial institutions are bulking up to get ready for much higher volumes. Baker & McKenzie has
been advising some of them. This includes Peru's largest bank, Banco de Crédito del Perú, which has created Credicorp Capital, an investment bank dedicated to corporate finance; Credicorp has acquired companies in Chile and Colombia to boost its business capabilities in the alliance territory, according to Tovar.
Lima-based Tovar is betting on a boost to business with the continent on the other side of the Pacific. 'Asian investment is a challenge,' admits Tovar, who explains that Asian companies and investors are not as present or active in Latin America as they are elsewhere in the world. 'Now that we are creating a bloc we are more attractive. We are bigger than Brazil and now we can tell them a different story.'
Baker & McKenzie now has more than 440 lawyers in the four countries, including nearly 220 in Mexico; it also has offices in Argentina, Brazil, Venezuela and Asia Pacific. Tovar says: 'We'd like to be the must-go law firm for the Pacific Alliance. We feel that we are in a very good position.'
Mexico
Mexico represents more than half of the alliance's population and about 60% of its GDP, although the country has experienced decades of slow economic growth. But a recently introduced package of structural reforms in energy, finance, telecommunications and broadcast, among other sectors, 'has already helped to improve confidence and bodes well for 2015 and beyond,' according to an OECD economic survey of Mexico that forecasts growth of nearly 4% in 2015.
After more than seven decades of state monopoly, in August 2014 the government of president Enrique Peña Nieto passed secondary legislation to open up the oil and gas sector to foreign investors. Latin America's second-largest economy nationalised its oil industry in 1938 and since then only state-owned oil giant Petróleos Mexicanos (Pemex) has been allowed to exploit Mexico's oil and gas resources.
'There is a huge oil industry waiting to happen on the Mexican side of the Gulf of Mexico,' Poole says, referring to the deep waters of the Gulf of Mexico that offer the greatest promise for exploration within the Mexican oil fields. Mining and natural resources specialist Wragge Lawrence Graham & Co has seen increased interest from clients in Mexico and the rest of the alliance, although the firm does not have any plans to open offices in Latin America. 'We are very well served by "best friends" there,' Poole says. These include Santamarina y Steta in Mexico, as well as Philippi, Prietocarrizosa & Uría in Colombia.
Mexico's deregulation drive is, however, leading to the establishment of offices by the larger international firms – adding to an existing foreign contingent which includes Holland & Knight, White & Case, Jones Day, Curtis, Mallet-Prevost, Colt & Mosle and DLA Piper.
One of the newest entrants in the market is Hogan Lovells, which merged with Mexican law firm Siqueiros y Torres Landa (BSTL) in August to form Hogan Lovells BSTL. The Anglo-American firm has about 70 lawyers across two offices, including in Mexico City.
'The main goal is to create the leading global firm in the region,' says Monterrey-based partner Jorge Yáñez. Energy and natural resources are clearly a pull but, Yáñez says: 'One of the practice areas within Hogan Lovells that will gain the most out of the combination is trade.
'International trade regulation, regional preferred treatment, custom procedures, dumping and subsidies investigations, and trade fostering programmes, are some of the areas of opportunity that Hogan Lovells identified and where our clients in the US, Mexico and elsewhere have responded positively to the combination of both organisations.' Yáñez adds: 'Our clients are among [a] group of companies that are growing their presence in the region to capitalise on the preferential trade treatment among the members of the Pacific Alliance.'
Despite the newcomers – with more foreign firms, including from the UK, expected to arrive soon – Mexico has a sophisticated legal market with well-established local firms.
With 150 lawyers, including 26 partners, Besham is one of the oldest and largest full-service firms in Mexico. Partner Daniel Del Rio is upbeat about the business prospects the structural reforms will bring but he reckons major benefits will not be felt until 2016 or 2017. The firm is sanguine about the Pacific Alliance.
'Eighty per cent of Mexico's trade is with the US. That gives us a very good advantage, which means that we are very close to the the largest market in the world, but we need to develop other markets,' Del Rio says, adding: 'We have a lot of opportunities in infrastructure projects in Chile, Colombia and Peru. We are also looking to expand our trade with countries within the alliance.' The alliance also provides a platform for Mexico to reach out not just to Asean countries, but also to China, Del Rio says.
Mexican firm Nader, Hayaux & Goebel has seen growth in trade and investment, particularly from Colombia and Chile, and increased interest from US clients in the region. NHG recently advised Grupo Sura, one of Colombia's biggest financial groups, on the acquisition of Mexican life insurer Primero Seguros Vida; and US insurance group Assurant on an equity investment in Mexico's Iké Asistencia, which also has operations in other Latin American countries, including Colombia.
'If you are a foreign investor who wants to do business in Latin America, it makes sense to start with one of these four countries than any other country in Latin America,' says Nader's Hayaux-du-Tilly, adding: 'The Pacific Alliance is extremely well-placed to serve North America, South America and, through the Pacific, the Asian market.'
Latin American independence
Indigenous firms, for their part, remain proudly independent. Colombia's PHR, for example, has rebuffed approaches by global firms to be part of its group. Those with an international outlook clearly need to work with foreign firms: but to avoid a squeeze on income they have opted for networks of 'best friends'. 'I don't see how we can maintain the same level of work and revenues without being able to work with different firms in the world,' Herrera says.
So how enthusiastic should UK international firms be about the new economic bloc in Latin America? Security will remain an issue to varying degrees in Colombia, Mexico and Peru. The whole region is slowing down because of falling energy and commodity prices and a cooling China, adding to uncertainties in what are very cyclical economies. And, as in any developing region, rates are significantly lower than in the UK. Nevertheless, there is no doubt that the Pacific Alliance has made the region more attractive for investors and law firms alike.
Marialuisa Taddia is a freelance journalist