In-house Solicitor of the Year Chris Fox runs a team of deal-enablers who 'don't sit in an ivory tower', hears Jonathan Rayner
BIOG
BORN
Southampton
EDUCATION
Durham University, Ancient History, 2001-04
BPP Law School: GDL, 2005-06; LPC, 2009-10
ROLES
Business consultant and derivatives trader, 2005-09
Eversheds: training contract, 2010-12
Vodafone: legal counsel and senior legal counsel, 2012-16
Kambi: group head of legal and regulatory, then chief legal officer and general counsel, 2016-present
KNOWN FOR
Law Society Excellence Awards In-house Solicitor of the Year, 2019
The best in-house lawyers, according to the judges of the 2019 Law Society Excellence Awards, demonstrate a 'unique blend' of skills that bridge the gap between a company's legal and commercial responsibilities. They also go 'above and beyond' their roles in securing 'outstanding achievements' on behalf of the company.
In a word, the judges imply, the most successful in-house lawyers are versatile. And Chris Fox, chief legal officer and general counsel (GC) at global technology business Kambi, and Law Society In-house Solicitor of the Year 2019, has versatility in spades. Since 2016 he has rebuilt Kambi's governance processes and managed a series of deals worth more than £600m. On the way he has grown Kambi's legal team from one to 13 lawyers.
His lawyers 'don't sit in an ivory tower,' Fox says. 'They are deal-enablers, not deal-blockers, but are still unafraid to say "no" to the boss when necessary.
'There's a fine line between legal and commercial advice. My team of lawyers contribute more than legal knowledge. They are recognised and valued as generators of commercial propositions.'
Versatility apart, Fox breaks the mould of the stereotypical lawyer. He was a derivatives trader, managing to make enough money to put down a deposit on a house, but 'stepped back' from trading in 2009 because it was 'high-risk'.
He has tried his hand at writing a children's fantasy book, volunteered at a play school and is currently working on a volume of poetry for children (in part inspired by his two-year-old daughter). After completing university, he took a gap year to improve his national ratings in sword fencing. And, in place of the de rigueur business suit, he favours the informality of a hoodie for meetings with fellow GCs and clients.
'My team of lawyers are recognised and valued as generators of commercial propositions'
So what type of company is Kambi? Fox explains: 'Kambi provides sports betting services to licensed business-to-consumer gaming operators, such as bookmakers in Europe and, as they are called in the US, sportsbooks. Our services are built on a software platform, one that was developed in-house, and include the computation and compiling of betting odds, the harnessing of customer intelligence and the handling of risk management.
'It means our customers do not need to go to the trouble and expense of providing their own in-house system, but can rely on our own proven online system instead. By amortising the cost of developing the programme, we are able to provide gaming operatives with a cost-effective solution.'
Kambi's customers include 888 Holdings, a Gibraltar-based online gambling company that reported 2018 revenues of more than £414m, and ATG, a Swedish betting and gambling operator with 2019 revenues of more than £355m.
Kambi's own turnover in 2018 was £4.6bn. It employs more than 800 staff across offices in Malta (where it is headquartered), Australia, Romania, the UK, Philippines, Sweden, Australia and the US.
Fox's path to Kambi – and, indeed, to a career in the law – was not straightforward. After graduating in ancient history at Durham University and taking a gap year to concentrate on fencing, he spent four years as a business consultant. How did this contribute to his future success at Kambi? 'I gained experience of pitching for business with multiple online and high street retailers, leading on from there to implementation and project delivery. Also strategic review and programme design. It was all valuable and relevant experience.'
Fox then secured and completed a training contract with national firm Eversheds (now Eversheds Sutherland). He went on to become legal counsel and then senior legal counsel at international telecoms corporation Vodafone for the next four years, complementing that experience with advisory board memberships and a trusteeship at several not-for-profit bodies. In 2016, he became Kambi group head of legal and regulatory before attaining his present position, in September 2017, of chief legal officer and GC.
Why the in-house route rather than private practice? 'In-house is a better environment for me than private,' he says. 'I don't do well in a hierarchical set-up. I need a long leash to spread my wings and do the things that I'm good at.'
Before discussing Fox's day-to-day work at Kambi, the Gazette asks about the ethical side of betting on sports. The topic of problem gambling is often in the news and, as recently as last month, concerns have been raised about children aged 11 to 16 regularly placing bets. Does Fox feel any guilt about making his living on the back of what can become a social problem?
'In-house is a better environment for me than private. I don't do well in a hierarchical set-up. I need a long leash to spread my wings and do the things that I'm good at'
'There are people who are evangelically opposed to gambling,' he says. 'They point to the risk of addiction and to the very real danger of organised crime becoming involved in match-fixing and raking in huge profits. But we argue that regulation and watchdogs such as the International Betting Integrity Association (IBIA) protect against corruption.
'The IBIA, for example, reported no fewer than 50 cases of suspicious betting patterns to the relevant authorities during the third quarter of 2019 alone.'
The gambling industry is addressing the problem of people who have gone from enjoying a hobby to becoming addicted to gambling – and inflicting all the suffering that addiction brings. These are a small proportion of the millions of punters who have an annual flutter on the Grand National, for instance, but they are nonetheless in dire need of help. Sources of assistance include Gamblers Anonymous, GamCare and BeGambleAware.
BREAKING AMERICA
Chris Fox has managed more than £600m of deals since joining Kambi in September 2016. Looking to the future, from where is future growth likely to come? 'We're seeing developing markets in South America and Africa,' he replies, 'but the biggest opportunity is in the US following the US Supreme Court's repeal of The Professional and Amateur Sports Protection Act (PASPA) in June 2018.'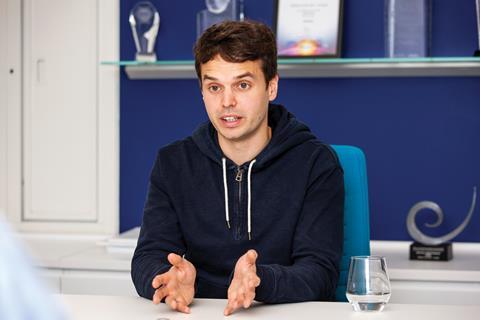 PASPA, which came into law in 1992, effectively outlawed sports betting throughout the US, with the exception of a few states such as Nevada and Oregon. Its repeal opens a market valued at £7.7bn that, it is hoped, will supplant black market betting and allow states to regulate and levy tax on it. It is an opportunity not only for bookmakers and sportsbooks, but also for companies such as Kambi – which, Fox says, was quick to take advantage of liberalisation.
'The team made history by securing a licence in New Jersey and taking the first legal sports bet in the whole of the US. We've secured licences in 14 further states since then. I'm proud of this because all too often involving legal is an afterthought, whereas, post-PASPA, getting licensed in different jurisdictions is driving our sales process.'
Fox also captured the attention of the Excellence Awards judges in 2018 when he was 'highly commended'. What does he do that is so extraordinary? He begins by talking about the importance of building the right team and of retaining their loyalty through empowering them to develop their own careers and skill sets.
'When I joined Kambi, there was just the one lawyer in the team,' he says. 'Now there are 13. I argued that as a regulated company with huge compliance requirements, we needed to boost our legal arm. The business agreed.
'Whenever I'm looking at recruiting a prospective newcomer to the team, we go through three rounds of interviews. I believe that's the minimum amount of interaction required to get to know someone reasonably well. Each interview is a two-way affair, with the candidate interviewing us at the same time we interview them. I also make sure that the other members of the team meet the candidate. After all, they might soon be working together and it's important they should like what they see, that the personality fit is right.
'And it seems to work. So far, we have had just one lawyer leave us to return to private practice. And from a diversity perspective, we have an even split along gender lines. I feel we would have failed if we'd had 13 men, say, or 13 women. Diversity gives multiple perspectives and enables us to take a holistic view.'
Fox moves on to empowering members of the team, whether they are senior or junior in terms of post-qualification experience. '"Done" is better than "perfect",' he comments. 'The legal team is never going to be fully resourced and so individual team members are allowed the freedom to fail. They will make mistakes but are encouraged to work through their mistakes and learn. But obviously, we work hard to minimise errors through our recruitment process, and through our strong legal structure and external support network.
'Complementing that, I take a risk-based approach and will often work behind the scenes to help a junior member of the team handle work on a particular contract. Every individual on the team has responsibility for certain stakeholders – businesses that have contracts with us – and I channel the work towards them depending upon their experience. It goes without saying that I'm not going to give the most junior member of the team responsibility for the most complex contract.
'I also coach and mentor the team on how to present legal advice in the form that top management wants it. Basically, management wants succinct advice assertively delivered so they have the facts at their fingertips without ambivalence. I have monthly catch-ups with two senior counsel and quarterly sessions with everyone in my team. But it isn't always that formal. I have an open-door policy that encourages people to come and speak with me when the need arises.'
Is an open-door policy common? 'No, it's not that usual,' replies Fox. 'I've known otherwise personable people who, upon becoming managers, transform into office-bound demons. I'm determined that's not going to happen to me.'
He may not become demonic, but it is a safe bet that we will be hearing a lot more from Chris Fox.
Pictures: Darren Filkins