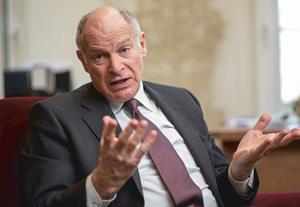 Televising courts is merely the modern equivalent of visiting them, the president of the Supreme Court says in a speech on open justice.
The New York legal market offers huge opportunities to UK law firms, both as a leading financial capital and a gateway to the rest of the US – but it is not for the faint-hearted.

Lawyers face a multitude of challenges when doing business in volatile emerging economies, as we learnt from the International Marketplace Conference.

Opportunities far outweigh the challenges in South Africa, which offers law firms a vibrant market and a base for continental expansion.

The latest data page figures, compiled by Moneyfacts, are now available.

Law firms are constantly evaluating and managing risk but best practice can remain elusive, debated delegates at the annual Risk and Compliance Conference.

One legacy of the recession is that there is a shortage of trained conveyancers now times are improving.

There is a good array of fiction set in the legal world. But why are the stars always barristers and not solicitors?

The legal world could embrace the 'specific formula' approach encouraged by a revolutionary dating app.

Law firm leaders have to realise that the marketplace is increasingly commercial and must respond. Otherwise failure beckons.

Proposal forms offer a great way for insurance brokers to obtain boundless information on solicitors.

Business is picking up after several rocky years. But being too busy for marketing should ring alarm bells.
Three new recruits added to commercial property team.

She spent four years at Gamlins Solicitors.

He joins Knights after leaving his role as European director at Carlyle Executive Search in London.

She was crowned Young Lawyer of the Year last year at the LawNet awards.