101 Questions Answered About Separating With Children
OnlyMums and OnlyDads; edited by Bob Greig, Rebecca Giraud and Dr Angharad Rudkin
Bath Publishing, £23.99
★★★★★
Family law is notorious for being a confusing landscape to navigate for people going through a relationship breakdown. Imagine trying to work out the best way ahead in a situation where you're in emotional turmoil and then face options as befuddling as collaborative law, roundtable meetings, mediation, arbitration, early neutral evaluation, FDAs, FDRs, private FDRs and many more. This book is the antidote to that confusion and makes an excellent handbook for anyone going through the process.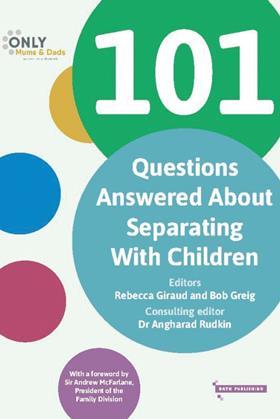 A passion and commitment to help separating couples and their children oozes from its pages, which are full of practical, emotional, psychological and legal advice from a range of professionals. Subjects covered are diverse, ranging from the legal process on divorce, to problematic drinking and drug use in parents, to relaxation exercises for children. There are also emotionally affecting quotes from children whose parents have separated.
This book is steeped in the reality of putting children first. The contributors' humanity leaps out, as does their desire to demystify the processes.
Annmarie Carvalho is a family solicitor who runs Carvalho Mediation & Therapy practice in London