David Gauke is the first solicitor lord chancellor –unless you count Sir Thomas More, which is a tad creative. The Law Society is understandably pleased and naturally wishes him well. Gauke will certainly not be short of stuff to do.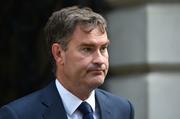 Yet we can hardly let the appointment of a sixth lord chancellor and justice secretary in under six years pass without a gripe. As he grapples with his red boxes, it may be premature for the new incumbent to take his coat off. After all, the ceremonial robes must still be at the dry cleaners.
Smouldering prisons, creaking courts, legal aid deserts, Brexit – David Lidington had barely made a start with an extraordinarily demanding brief.
'So much for the independence and attention that the justice system needs,' was the tart response of crossbench peer and longtime bar watchdog Baroness Deech. And she was hardly alone.
The New Labour mashup that created the lord chancellor/justice secretary hybrid has again come in for criticism as the perception entrenches that this critical cabinet post has been permanently downgraded. 'Middle-ranking', the BBC now calls it.
Still, let us look on the bright side. We used to complain that the lord chancellor ought to be a lawyer, and now he is. We just need to hope this does not turn out to be another cameo appearance.