How the 1945 report of a Conservative-chaired committee laid the foundations of state-funded legal aid.
As so often with public policy, the catalyst for innovation was war. By 1944, the soaring number of matrimonial causes coupled with a national shortage of solicitors and articled clerks had created an 'almost intolerable burden' on the so-called Poor Persons Rules scheme, under which lawyers on local panels were expected to give free help to clients with less than £50 in the world.
Seventy years ago this week, the committee set up in response to the crisis published its report, sowing the seeds of a publicly funded legal aid system in England and Wales.
While the Rushcliffe report is nothing like as celebrated as the 1942 Beveridge report or the 1944 Education Act, it forms just as crucial a part of the postwar welfare state. At the time, the Gazette described it as 'a notable contribution towards solving the problem of providing legal advice and aid for the poorer members of the community'.
From today's perspective, what is striking about the Rushcliffe committee is its cross-party consensus and the speed with which it got down to work. The committee was set up in May 1944, and reported* on 31 May 1945 to a bankrupt and bombed nation still at war with Japan.
The committee's chair, Lord Rushcliffe, the barrister and Conservative politician Henry Betterton, had served in Ramsay MacDonald's national government. Its 20 members included Labour MP Ronw Moelwyn Hughes and Claud Schuster, first baron Schuster, former permanent secretary to 10 lord chancellors. Only one woman was represented: 'Miss Mabel Crout', a Labour former mayor of Woolwich. (Dame Mabel Crout served in local government until 1971, and when she died in her nineties in 1984 must have been the Rushcliffe committee's last surviving member.)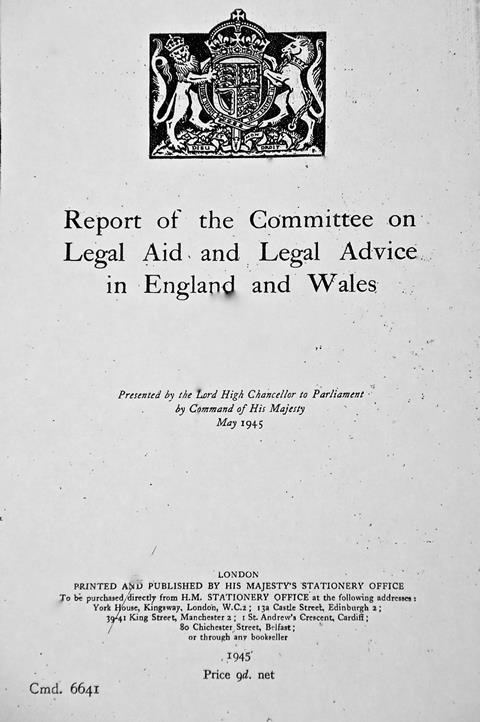 Its remit was 'to enquire what facilities at present exist in England and Wales for giving legal advice and assistance to poor persons, and to make such recommendations as appear to be desirable for the purpose of securing that poor persons in need of legal advice may have such facilities at their disposal, and for modifying and improving, so far as seems expedient, the existing system whereby legal aid is available to poor persons in the conduct of litigation in which they are concerned, whether in civil or criminal courts'.
The committee held 48 sittings and cost the public purse £453.14s.0d, of which £81 was the cost of printing and publishing the report (priced 9d).
It concluded that 'a service which was at best somewhat patchy has become totally inadequate and that this condition will become worse. If all members of the community are to secure the legal assistance they require, barristers and solicitors cannot be expected in future to provide that assistance to a considerable section as a voluntary service'.
It recommended a comprehensive scheme under which legal aid, administered by the legal profession and funded by the state, would be available in all courts.
In particular, aid should be available to a wider income group than 'those who are normally classed as poor'. In a sign of the changing times, it said: 'The term "poor person" should be discarded and the term "assisted person" adopted.' An assisted person will be a man or woman whose net income (after deduction of income tax and certain other items) does not exceed £420 a year. Assisted persons would have to contribute 'what (if anything) he could afford'.
Recommendation 6 stated that 'barristers and solicitors should receive adequate remuneration for their services'.
The scheme would be available in all courts of civil jurisdiction and all tribunals before which solicitors and barristers have right of audience. In High Court litigation the solicitor to an assisted person would receive from state funds his disbursements, other than counsel's fees, in full, together with 85% of his profit costs on a solicitor and client basis.
The Gazette approved, saying 'the scheme thus presents two important advantages: first, the solicitor will have no bad debts; secondly he will be able to advise at the outset what will be the cost of the proceedings to the client'.
So, too, did the postwar Labour government. Rushcliffe's recommendations were given effect in the Legal Aid and Advice Act 1949; the civil scheme began in 1950 with the criminal provisions introduced from 1952.
Of course the Rushcliffe report had its flaws. In keeping with the 'new Jerusalem' spirit of the age, it simply ignored the fact that the public coffers had been empty since 1941 – the war effort was being paid for by lend-lease (which was to end abruptly in August) and sterling-area credits, equally unsustainable in peacetime. And, as with the foundation of the NHS, there was an underlying assumption that once a backlog of urgent need was catered for, future spending would remain level, if not actually fall.
Nonetheless, the report is a nice reminder of an age when the great and good sat down together and got things done. I wonder if any committee set up today 'to make such recommendations as appear to be desirable for the purpose of securing that poor persons in need of legal advice may have such facilities at their disposal' would come up with anything so speedily. Or so bold.
*The Report of the Committee on Legal Aid and Legal Advice in England and Wales, Cmd. 6641, price 9d.
Michael Cross is Gazette news editor
Supporting documents
Click link to download and view these files