Everyone – politicians, commentators and ordinary citizens – has been casting around over the last few days to find others to blame for the circumstances in which we find ourselves, following Russia's invasion of Ukraine.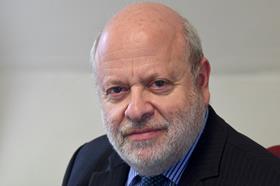 I have read too many articles in which lawyers – specifically law firms in the City of London – are named as among the guilty parties, for allowing President Putin's oligarch supporters to launder their illicit wealth and reputations in our country, while they continue to support the Russian president and do his bidding.
The danger is that this picture of lawyers having grown rich from our enemy's activities will harden into an image as memorable as those of George Grosz's artworks of war profiteers and bloated businessmen after the First World War in Germany. A tipping point will be reached, after which our image will be forever fixed.
Here are just a few examples of the coverage over the last few days:
'As Russian tanks roll across Europe, a true cause for anger and shame is that at no point have we had a public debate about whether we want a future where we are living off immoral earnings and are so frightened of immoral lawyers we no longer dare describe what this country has become.'
Labour MP Ben Bradshaw was quoted in the Gazette: he described the foreign secretary, when briefing MPs on government delays in bringing in effective sanctions against Russia, as saying that the government 'had to make certain their actions were legally watertight, because of the litigiousness of the London law firms representing these men.' Ben Bradshaw added: 'It's absolutely outrageous – the British public have a right to know which legal firms based here in London are trying to prevent the sanctioning of Putin's cronies.'
And, finally from a US newspaper: 'there's an entire ecosystem of investment brokers, property agents, tax lawyers and "reputation managers" who have enriched themselves off Russian money in London.'
We have all the proper answers to these allegations, and repeat them among ourselves: that Principle 18 of the UN Basic Principles on the Role says that 'Lawyers shall not be identified with their clients or their clients' causes as a result of discharging their functions; that everyone has a right to lawful representation; that lawyers are permitted to undertake whatever is lawful on behalf of their clients; that it is not for lawyers to decide what is in the public interest;' and so on.
We are right, completely right. The attacks are wrong and unjustified. But to quote another saying that has emerged in a different context during the sanctions debate: our response is like bringing a pea-shooter to a gunfight. Article 18 of the Basic Principles is not going to persuade anyone at the moment.
The climax to this round of naming and shaming came over the weekend in the joint announcement from the European Commission, France, Germany, Italy, the UK, Canada, and the United States, which introduced further sanctions against Russia, including the removal of certain Russian banks from the SWIFT bank messaging system.
The statement had four commitments, and it is the fourth which should worry us, to the extent that it is worth quoting (my underlining below):
'Fourth, we commit to launching this coming week a transatlantic task force that will ensure the effective implementation of our financial sanctions by identifying and freezing the assets of sanctioned individuals and companies that exist within our jurisdictions. As a part of this effort we are committed to employing sanctions and other financial and enforcement measures on additional Russian officials and elites close to the Russian government, as well as their families, and their enablers to identify and freeze the assets they hold in our jurisdictions ...'
It is doubtless too soon to say whether 'enablers' expressly includes lawyers – the wording is ambiguous - and, if so, what actions will follow. An early newspaper response clearly thought that lawyers are covered, however: 'The joint statement promises action against what leading Kremlin critic Bill Browder described as the City of London's "pin-striped enablers" – the legion of lawyers, lobbyists, accountants and money managers who have grown fat on commissions earned from helping move corruptly acquired fortunes out of Russia and into the western financial system'.
Interestingly, it is reported that this is deliberately a transatlantic taskforce because the US government did not trust the UK to clean up its own act.
What do we do next? Ramp up the promotion of our core principles in the hope that our pea-shooter finds its mark? Clean up our own act through guidance to the profession, in the hope of avoiding something worse – but what exactly would our guidance say? Push the problem onto the government by saying that it should provide a mechanism, maybe in the Economic Crime Bill coming out this week, to decide what kind of transactions are acceptable? None of the alternatives guarantees success, and some are distinctly unappealing.
Jonathan Goldsmith is Law Society Council member for EU and international matters and a former secretary general of the Council of Bars and Law Societies of Europe. All views expressed are personal and are not made in his capacity as a Law Society Council member, nor on behalf of the Law Society
This article is now closed for comment.