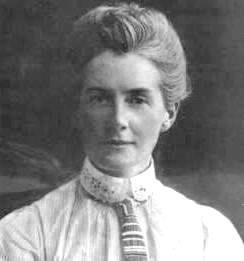 Like all such bodies, the Belgian Bar Council takes a dim view of members punching one another on the nose. So when Maître Sadi Kirschen 'gave way to an act of violence' and decked his colleague Gaston de Leval in the Palais de Justice in Brussels on Christmas Eve, 1918, disciplinary proceedings ensued.
The episode was an undignified sequel to one of the Great War's most controversial legal dramas, the trial and subsequent execution of Edith Cavell, arrested by the German occupation authorities in Brussels 100 years ago today. Cavell, a professional nurse and founder and matron of Belgium's first nursing school, was convicted for her part in an underground organisation helping fugitive British soldiers and Belgians of military age escape German occupation to join the allies.
Her execution was a propaganda gift for Britain and caused a worldwide sensation. On its centenary this October she will be commemorated as the humanitarian who told her priest hours before her death: 'Patriotism is not enough. I must have no hatred or bitterness towards anyone'.
It does no disservice to the memory of a brave and dedicated woman to say that Cavell was both a patriot and knowingly guilty of the infraction under which she was convicted.
But the Germans' handling of her case seems a curious mixture of the legalism, incompetence and plain brutality. It is puzzling that, having decided do get rid of Cavell, the military governor did not summarily execute her for espionage. (Cavell's relationship if any, with British intelligence is a matter of speculation: while MI5 was aware of her activities, I have seen no evidence that she was working for them. However both sides summarily executed civilian 'spies' on little more than suspicion, especially in the fluid stages of the war.)
Rather, the decision seems to have been taken to set an example to resistance activists: Cavell, along with 34 Belgians, including an architect, Philippe Baucq, were arrested on 5 August 1915 and formally put on trial two months later.
This opened up the question of a defence. And hence the involvement of Leval and Kirschen. Leval was legal adviser to the American legation in Brussels, which represented British interests as a neutral power, but was refused permission to act for Cavell. Instead, Cavell's nursing school hastily retained Kirschen, who also represented eight of the others accused. He was not allowed to meet his clients before the trial, or speak with them in the proceedings. The day-long hearing was conducted in German. Likewise, the evidence against Cavell was a deposition signed by her after an interrogation in German in which she admitted helping soldiers escape. The prosecutor called for the death penalty for treason under the German military code.
Kirschen's defence was that Cavell was what we would now call a compulsive do-gooder. He said that, as someone who had devoted her whole life to nursing the sick, she could not have refused requests for help. A psychologist would be better suited to try her, he said. To put it mildly, this was a patronising portrait of a 49-year-old woman who, born into an age when not much was expected of vicars' daughters, had obtained a professional qualification, won civic medals for fighting a typhoid epidemic and set up a pioneering nursing school in a foreign country. When the Germans arrived Cavell refused on principle to register as an enemy alien. She chose to appear in court in her own clothes rather than seeking sympathy for a nurse's uniform.
The court wasn't impressed: Cavell and four others were sentenced to death; 22 to imprisonment and eight were acquitted. What happened next was the origin of the lawyers' feud. The following day, a Sunday, Kirschen left town for his country house without communicating the trial's outcome to the US Legation. He could be excused for not seeing any urgency. Meanwhile, de Leval had been contacted by one of Cavell's colleagues. He asked to see Cavell the following day but was declined permission. He then called at Kirschen's house and, not finding him, left his card.
Meanwhile, the authorities ruled that Cavell and Baucq would be shot at 7am the following day. Cavell had to prompt the prison chaplain who had to break the news but found it impossible to speak. De Leval made one last attempt to save her, drafting an appeal for mercy from the US ambassador, who was sick in bed.
At 7am the next day Cavell faced the firing squad, by all accounts showing astonishing courage.
The British government's reaction was surprisingly temperate, at first. The Marquis of Lansdowne, minister without portfolio, told the House of Lords: 'It is no doubt the case that she may by her conduct have rendered herself liable to punishment - perhaps to severe punishment - for acts that could be taken to be a violetion of the kind of law which prevails when war is going on. But I have no hesitation in saying that she might at any rate have expected that measure of mercy which I believe in no civilised country would have been refused to one who was not only a woman, but a very brave and devoted woman, and one who had given all her efforts and energies to the mitigation of the sufferings of others.'
In general, however, there was outrage, and recruitment to the British army soared. A leading US jurist, the anglophile James M. Beck, wrote in the New York Times: 'The murder of Miss Cavell was one of exceptional brutality and stupidity. It never occurred to her judges that her murder would add an army corps to the forces of the Allies and that every English soldier will right more bravely because of her shining example.'
Beck dismissed claims that Cavell had been given a fair trial, claiming the concept was alien to the German language. 'Gerechtigkeit does not convey the same mental or moral conception as the English word "justice",' he wrote. 'Gerechtigkeit means little more to the Teutonic mind than the exercise of the power of the state.'
His article, which was reprinted and widely circulated by the British government, also attacked Kirschen, saying that the steps Kirschen took to keep the American Legation advised 'were to say the least peculiar'.
This opinion of Kirschen was amplified when De Leval made his own way to the US later in the war and was celebrated as Nurse Cavell's defender. And was to lead to the punch up at the Palais de Justice in 1918. The Bar Council however ruled that De Leval had been 'guilty of the rules of confraternity' and had 'imperilled the dignity of the Bar Council'. He was reprimanded, while Kirschen was merely censured.
It is a pity that lawyers do not emerge with more credit from the Cavell tragedy, but against a ruthless military power it is hard to see how the story could have ended differently.

Further reading : Edith Cavell: Nurse, Martyr Heroine, by Diana Souhami.