Could 'lockdown 3' really be the time to consider changing job – or even specialism? There are plenty of opportunities out there, discovers Katharine Freeland
The low down
When a succession of law firms announced that they would be repaying furlough scheme funds received from government, it was a clear sign that the impact of lockdown and restrictions on the legal sector had not been as bad as leaders feared. Many are busier than ever and the recruitment market, which initially froze, reflects that. But the shape of the legal market has changed, meaning vacancies are not evenly spread. Can – should – lawyers consider changing specialism? Does another region beckon? The drama of the past year means many are willing to question the career path they were on before they had even heard of coronavirus.
After a year of firefighting, law firms are again turning to growth strategies and succession planning. And now is as good a time as any for solicitors – from trainees to partners – to re-evaluate career paths. Whether considering a move from one practice area to another, or a move out of London to a regional hub.
Despite being locked down again, 2021 – so far – has not delivered the shock of total shutdown experienced last March, when entire corporate and commercial teams were made redundant, and many staff, from solicitors to support teams, were furloughed. Almost everyone has adapted to remote working; cases are being heard in the virtual courts; and deals negotiated and concluded over Zoom and Teams. Legal services that are focused on the individual – family, private client, employment – have thrived, while corporate and commercial is making a cautious comeback.
'March 2020 saw recruitment virtually shut down in a number of areas, but the latest lockdown hasn't resulted in the same downturn,' says David Carr, a director at Anakin Seal Legal. 'Now it is more or less business as usual. A good example of the difference between then and now is a top-50 national firm that we deal with which furloughed its entire recruitment function in March 2020 until around August. In stark contrast, not only are they all back working full-time, but we regularly get new vacancies from them.'
Appetite for change
The shake-up of the world as we all thought we knew it in 2020 has provoked sobering reflections. Am I on the right career path? Do I need to live near the office now that remote working is the norm? Am I happy with the working culture of my firm?
Changing to another practice area altogether is rare, although possible. 'There is still a window of opportunity post-qualification, so previous experience as a paralegal or a good seat can open up a route to retrain while it is still fresh – say, within two years – particularly in areas where demand outstrips supply,' says Jonathan Nolan, a director at Douglas Scott Legal Recruitment. 'Identifying a growth area is useful, while declining practice areas or ones subject to change are probably best avoided.'
'If you want to change course, deal with it as soon as possible. It is best to approach the firm you are with, or failing that, a mentor or someone outside the firm that you can trust'

Laura Uberoi, Macfarlanes
Perhaps inertia was never the best policy for a dissatisfied lawyer. A change in specialism may be more realistic than is assumed. Before the pandemic, senior solicitor Laura Uberoi, now at Macfarlanes, made the change from planned qualification into the family team at Farrer & Co to real estate finance, completing the transition with the full help and support of her firm. 'If you feel you have made a mistake and want to change course, deal with it as soon as possible,' she advises. 'It is best to approach the firm you are with, or failing that, a mentor or someone outside the firm that you can trust. Also, try to excel in your current practice area first – or at least approach it with an open mind. It is also important to focus on building up your internal and external networks.'
More common than a complete step change is a move to a complementary practice area – from litigation to arbitration, private client to contentious probate, or personal injury to family. Many law firms are exploring the possibilities of pooling the knowledge locked in each practice area through AI, so they may welcome the learning opportunities that such a move presents. 'When I moved practice areas it created the potential for a cross-over of new clients,' says Uberoi.
There are also a growing number of career openings for solicitors in legal tech teams who are excited more by the business operations of law firms than straight law. A move in-house is also an option for those who would prefer to instruct rather than be instructed, and take more of a generalist approach. The opportunities are out there.
'In-house is back with a bang,' says Nolan. 'Commerce and industry are looking to onboard skills they traditionally outsourced and reduce costs.'
Before making the jump, weigh up whether it is the practice area you do not gel with – or there are other factors clouding the picture: the firm culture, difficult individuals within the team or the work focus. 'Practice areas vary enormously between firms,' says Uberoi. 'Consider this before you make the change.'
A year of 'transformative change'
In 2020 the Black Lives Matter movement shone a spotlight on inequality across the world. Heightened awareness of the importance of championing minorities in the professional classes compelled many businesses, including law firms, to re-evaluate or step up their recruitment and retention programmes, to enable the legal careers of promising minority candidates. This led to a year of 'transformative change' at a trainee level, according to Chris White, head of Aspiring Solicitors, which helps those under-represented in the legal profession – such as the comprehensive-school educated, ethnic minorities, LGBTQ people or those with disabilities or long-term health conditions – gain a training contract. Firms such as Dechert, Norton Rose Fulbright and Clyde & Co, as well as industry heavyweights including AstraZeneca, Barclays and Facebook, have committed to creating opportunities for diverse candidates. In 2020 over half of future London trainees recruited to Dechert came via Aspiring Solicitors.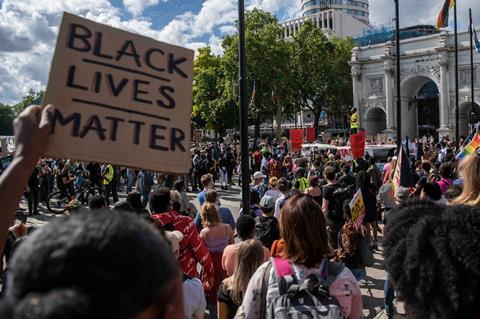 The post-NQ recruitment market is yet to show the impact of such initiatives, with a paucity of diverse candidates at a more senior level that is likely to persist until law firms succeed in reaching out to and retaining this cohort. Expectations of legal recruiters have changed though, and an awareness of and commitment to diversity and inclusion issues is now a prerequisite for instruction: 'For a lot of the larger firms, increasing diversity has been on the agenda for some time but I think the rise of the BLM movement in 2020 has quickened the pace of reform,' says David Carr, a director at Anakin Seal Legal. It is now a matter of course that national and international firms confirm what policies a recruiter has in place on diversity and what diversity and inclusion training they offer their consultants. 'Many firms will not now engage with a recruitment business unless you can demonstrate this criterion,' says Carr. 'This can only be a good thing and hopefully in time it will result in increased diversity within the legal sector.'
Where are the jobs?
For a lawyer who is open to such changes, where are the job vacancies? As a glance through Gazette job postings between 1 July and 31 December 2020 shows, there has been a surge in vacancies in residential conveyancing, family, employment and private client. 'August and December, usually slack times for recruiters, were busier than ever, as people were still at their desks,' says Chris Clarke, a director at CapeClarke. Pent-up demand from the first lockdown, when plans were put on hold, accounts for some of this rise. Other factors include the impact of government schemes – such as furlough and the stamp duty holiday – and confinement and a global health crisis placing stress on family relationships.
'In employment, redundancies, furlough and flexible working, combined with the UK's exit from the EU, have created a perfect storm of Brexit and Covid,' says Nolan. The number of vacancies in this sector may dwindle once furlough issues are resolved, although at the moment there is plenty of work. As experienced employment practitioners are in short supply some leading firms have relaxed their entry requirements, so now may be good time to step up a level.
Private client work has benefited from the introspection thrust upon clients by the crisis, with will-writing, succession planning and estate administration in demand. Family has also been extremely busy. Lockdowns created a surge of child care cases as parents experienced access issues with partners. The need to safeguard vulnerable children also became pressing, while the new divorce portal is making divorce quicker than ever. 'The pace of work for us in the family law team is relentless,' says Suzanne Todd, a partner in the family team at Withersworldwide.

Nationwide vacancies
Recruiters report significant nationwide vacancies in personal injury and clinical negligence work, although this is not the buoyant market of a few years ago. Looking ahead, the government's proposed whiplash injury reforms – initially scheduled to come into force in April 2020 but delayed by the pandemic – potentially reduce that workstream for firms focused on personal injury claimants in road traffic accidents. This has prompted diversification into areas in which costs can still be claimed, such as financial mis-selling, housing disrepair, data breach and cavity wall claims.
The end of the stamp duty holiday in March is likely to stem the soaring demand for residential conveyancing jobs, up to 502 vacancies by 31 December from 91 on 1 July 2020 – a 457% rise. But at the moment demand remains high.
Transactional work, including commercial property and corporate and commercial deals, was initially hit hard in March but has picked up as still-viable propositions are appraised and repackaged for a changed market. 'There are still vacancies available, but levels are considerably lower,' says Carr.
As ever, there are nuances – and the world before Covid played a part in shaping the current market. Fallout from the global financial crisis in 2008 drove practitioners away from qualifying in some practice areas, such as commercial property. 'Since 2013/14, recruiters have struggled to recruit senior commercial property lawyers, as very few qualified in 2009, 2010, 2011,' says Clarke. 'The consequence of that is now, despite Covid, many senior commercial property teams are manically busy.'
Insolvency and corporate recovery are not as busy as might be expected, due to continued government support schemes, but are certainly areas which law firms have targeted for possible expansion. The full implications of Brexit are yet to unfold and are muddled by the effect of the pandemic restrictions, but areas clouded by uncertainty include immigration and some financial services advice.
Regional picture
London remains a recruiting hub, with the number of job vacancies posted in the Gazette between 1 July and 31 December 2020 up to 224, from 91 on 1 July – a 146% rise.
This figure is exceeded by demand in the north-west, which saw a 209% rise in vacancies in the same period, exceeded only by the north-east – which, as the figures show, has fewer lawyers and openings. 'Lawyers in the north-east tend to be more risk-averse than other regions,' says Nolan. Douglas Scott's 2021 annual Legal Recruitment Salary and Benefits Benchmarker survey indicates that around one in five north-east-based legal professionals are actively considering a job change in the next six months, compared with over one in four nationally, and around one in three in Greater London and the south.
The legal market in the north-west revolves around Manchester – the fastest growing tech hub in Europe, according to industry body Tech Nation. Manchester's law firms and alternative legal services providers are expanding fast. The presence of world-class universities, law tech operators and a stable, high-quality talent pool make for considerable pulling power, especially for those interested in the interface between tech and law. 'Business confidence is driving demand for lawyers and competition for talent, plus there has been an uplift in personal wealth, employment levels and house prices,' says Nolan. A cohesive planning strategy, high levels of foreign investment and lots of development opportunities also underpin Manchester's appeal.
Who will blink first?
Many law firms have managed to steer through the pandemic by imposing pay cuts, cutting bonuses, freezing recruitment and taking up the furlough scheme and other government support. The legal sector is known to be more resilient to the ups and downs of the economy than other industries, and now is no exception.
'Candidates who break cover first can steal a march on their peers and face less competition when looking to secure the best possible opportunity to progress their careers'

Jonathan Nolan, Douglas Scott Legal Recruitment
'There is optimism about the year ahead, firms still want to grow and build market share,' says Nolan. Talented individuals are still in demand at both national and international firms, while boutique and mid-tier firms are seeing an opportunity to offer alternative employment models to potentially disaffected lawyers from the larger firms. The regions should benefit from the rise of homeworking, freeing up candidates mentally to think of possibilities outside of their daily commute.
Douglas Scott's annual survey indicates that candidates are slightly more risk-averse than 12 months ago – understandably so, given the uncertain times that we are in. In some legal sectors – employment for instance – it may, counter-intuitively, be a good time to make that jump.
'Candidates who break cover first can steal a march on their peers and face less competition when looking to secure the best possible opportunity to progress their careers,' says Nolan.
Katharine Freeland is a freelance journalist