It was a hand-built Jensen Interceptor Mark III grand touring car that first nudged Matthew Tossell towards a career in law. He was seven years old and had been walking with his father along a beach near the south Wales town of Port Talbot when an Interceptor growled by. 'What's that?' he asked in awe. His father told him and added that a local solicitor was behind the wheel. An impressed young Tossell responded: 'That's what I want to be when I'm grown up.'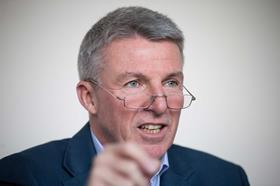 He did indeed become a solicitor, qualifying 32 years ago, and is now senior partner at leading Welsh law firm Hugh James. But has he fulfilled the other half of his boyhood ambition? He shakes his head. 'A Jensen Interceptor, sadly, is not the most practical of family cars.'
He has achieved much else, however. While Hugh James managing partner from 1999 to 2011, he grew the firm from fewer than 200 to some 800 people from Cardiff and its environs. He also increased income by more than 340%. At the same time, he established a Hugh James training academy and was active in a number of charities, in particular ones that help disabled or severely ill children. And upon stepping down as managing partner, he launched a new venture, Involegal, which merged all the firm's volume legal services into one company.
Tossell has worked all his professional life in Wales and has taken a keen interest in changes to legislation arising from the country's devolved powers. He also has strong views on the benefits – or otherwise – of allowing a legal system separate from England to evolve in Wales.
England and Wales law is a brand that is respected throughout the world and so why remove ourselves from the community?
It has been an impressive career, but Tossell's progress has not been without hiccups. He left school aged 16 to work, in Port Talbot, at what was then one of the world's largest steel works. An evening class tutor recognised Tossell's potential and persuaded him to return to school. This he did, 'working hard to catch up' and winning a place at Cardiff University to read law. He began articles in 1983 with what is now Hugh James and qualified, two years later, into the firm's property department, where he went on to specialise in commercial property development and financing.
He says: 'I was heavily involved in the regeneration of Cardiff Bay.' This was a multi-billion-pound project, begun in 1987, to transform Cardiff's derelict docks into a mix of open space, housing, commerce, leisure and industrial development. 'I represented a number of initial key investors,' he continues, 'including Nippon Electric Glass (NEG) in its acquisition of one of the largest (50 acres) but most contaminated sites in the development area that was valued at more than £200m.'
This was a complex acquisition upon which to cut his teeth, with contamination, including lead and other toxic materials, dating back to the 17th century. 'We developed the use of the piecrust model,' says Tossell, 'to minimise the risk of NEG becoming liable for pre-existing contamination beneath the surface of the ground.' A piecrust (or surface) lease is a transaction where only the upper part of the ground, the part nearest the surface, is leased. 'We would have meetings stretching over three days and would sometimes wake up to find we had all slept with our heads on our desks. We had funding and other deadlines to meet, but got the job done in just four months.'
Employing around 600 people, NEG began, in November 1995, to manufacture and supply glass components for the cathode ray tubes used in television sets to display images. However, 10 years later cathode ray tubes had been rendered obsolete by liquid crystal display and plasma screens, and the plant was shut down.
More recently, the firm has been involved in a number of strategic investment schemes, such as the proposed £280m development of a world-class motor racing track near Ebbw Vale; a new £84m conference centre in Newport; and the proposed £1.2bn Swansea tidal lagoon power project.
The 1990s was also the decade in which Tossell became involved in another innovative area of law firm practice – the provision of volume legal services to the banking, insurance and corporate sectors. Since its inception in 1999, this part of the firm's business has evolved into Involegal, a company owned by Hugh James and led, as chief executive, by Tossell since 2011. That was the year he stood down as managing partner and consolidated all the firm's volume service departments under the Involegal umbrella.
Involegal employs around 200 staff, including business analysts, software developers, customer service advisers and project managers to process clients' volume needs. Tossell explains: 'We might handle a remortgaging or will-writing service for a major bank. It was quite innovative when we started back in 1999 and a number of large law firms entered the market. There are only three or four left now. Profit margins are low and depend upon volume, so if the business model is not entirely correct there are problems sustaining cashflow.'
Is Involegal just another example of commoditising legal services in the interests of generating bulk business? 'Commoditisation is not a bad thing,' Tossell insists. 'It allows lawyers to do the lawyering and takes away the non-lawyer work for other trained professionals to undertake. We believe that the way Involegal is structured enables us to give clients a more efficient and cost-effective service.'
We move on to the particular challenges and opportunities of being a firm based in Wales. Are there problems recruiting and retaining talent? 'There is local competition as well as the lure of London at the far end of the M4, but Hugh James hasn't struggled,' Tossell answers. 'We offer recruits high-quality work, whether the clients are individuals, corporations or multinationals. We are by no means isolated here. We have clients nationwide, with special arrangements for Scotland.
'What is more, we are a big fish in south Wales and people are keen to have us on their CV. That's one reason why we get so much interest from paralegals and law students looking for training contracts. But, as in the rest of the UK, there are too many law graduates looking for a job.
'Where retention is concerned, our policy is to develop people internally from the start. We are willing to push everyone as far as they want to go. We have directors in central services who started as juniors and some 70% to 80% of partners – like me – began their careers here.'
Has devolution led to many substantive changes to legal practice? 'It has led to the Welsh government introducing its first tax in almost 800 years,' he notes. 'From April 2018, a Land Transaction Tax will replace Stamp Duty Land Tax (SDLT) in Wales. Lower-price Welsh properties will attract less tax than the equivalent SDLT, while higher-price properties will be subject to more tax than the SDLT. English lawyers handling the sale or purchase of properties across the Welsh border should be aware of this change.'
Other changes include the Renting Homes (Wales) Act 2016, which aims to cut through all the current confusion around the different forms of tenancy by, among other measures, requiring all rented properties to be registered with the government and all landlords to issue clear tenancy agreements.
What does Tossell think about the gradual divergence of the English and Welsh systems? 'There is political pressure to push for a separate jurisdiction,' he replies. 'And lots of academic lawyers are quite animated about achieving it. But as a business lawyer, I'm opposed to it. England and Wales law is a brand that is respected throughout the world and so why remove ourselves from the community? We don't want all the red tape around dual registration, either. The more changes there are, the more complicated doing business will become. We have to consider the impact on our commercial clients.'
What does the future hold? Is Tossell to be rendered obsolete by robots as artificial intelligence (AI) comes to dominate legal services? He responds: 'There will always be a demand for face-to-face advice and support and I can't see AI replacing it. There is value in grey hair and creative solutions spring from an in-depth knowledge of a client's business and its particular needs.
'That said, a lot of firms – and not only in Wales – are struggling under the burden of increased regulation. Access to justice is a big problem, too. The Jackson reforms, LASPO (Legal Aid, Sentencing and Punishment of Offenders Act 2012) and the government's unswerving commitment to slashing justice budgets have all taken their toll.
'Although not immune to these threats, we are taking measures to survive and prosper in the new legal services regime. We have forged close links with Cardiff University's law school and helped shape its law degree course by offering salaried work placements for third-year students. We are constantly investing in new technology to keep up to date with evolving client demands and find new ways to improve efficiency without compromising service excellence.
'We have also implemented Lean principles within our workplace,' he adds. A Lean business model is a client-focused strategy that strives to eliminate any wasted time, effort and money while still satisfying customer requirements. Lean practices stress continuous improvement and total quality management. 'Few law firms have committed to the Lean business model,' Tossell says, 'but we have experienced huge benefits for our employees and clients alike.
'Looking ahead, we have got our growth strategy nailed down and ready to be launched internally in the new year. The strategy includes opening two new offices – one in London and, closer to home, a move to the prestigious gateway development around Cardiff's Central Square in September 2018.'
EDUCATION
Law degree, Cardiff University, 1979-82;
Law Society Finals, College of Law, Chester, 1982-83
ROLES
Hugh James, Cardiff, 1983 – qualified, 1985; partner, 1987; managing partner, 1999-2011; chief executive, Hugh James Involegal, 2011-present; senior partner, 2017-present