Paul Tennant talks to Paul Rogerson about his exceptionally eventful spell as chief executive of the Law Society
The Law Society's outgoing chief executive was last week dubbed 'the quiet man' by The Times newspaper. Paul Tennant takes this as a backhanded compliment. As well he might. Two of Tennant's recent predecessors, Catherine Dixon and Desmond Hudson, alternated with the office-holders in acting as the public face of the organisation. In neither case did this turn out particularly well. In 2016 Dixon quit in high – and very public – dudgeon, over the organisation's alleged failure to reform its governance structure as quickly as she had hoped.
A few years earlier Hudson – along with the then president, Nick Fluck – suffered a vote of no confidence by the membership, after being accused of entering an agreement with the government over criminal legal aid cuts without a mandate. Hudson stayed on as CEO, but retired the following year.
'Times Law called me the "quiet man" of Chancery Lane, and I think that's probably the best way to do this job,' Tennant tells me at the Opening of the Legal Year. 'I was president of a professional body many years ago [the Chartered Institute of Housing] and I was always very mindful that the voice of the organisation is manifest in the office-holders. I am not a lawyer; I was very much appointed to implement a change programme and that is what I have focused on. Trying to help the organisation work in a new operating environment – and then with Covid thrown into the mix too.'
Tennant has certainly been visible internally, holding regular all-staff meetings and cutting an avuncular figure in dealings with the Gazette and other Chancery Lane staffers. The Wearsider can always spare a minute to discuss the travails of his beloved Sunderland FC, now seemingly on the up after years in the doldrums.
Tennant's principal legacy, if it can be so described, is visible too. Visitors to 113 Chancery Lane will not discern a great deal of difference in the pre-Victorian and Edwardian halls and grand vaults which are its architectural signature. Behind the scenes, however, a warren of nooks, crannies, boxrooms and attics decorated in 1960s brown and 1990s blue has been transformed. Now employees step 'behind the arras' into a modern, open-plan office environment purposed for agile working.
As working patterns transform, hybrid working is already a reality at the Society. At 113, there are now more than enough desks for everyone; along with personal lockers, and newly fitted kitchens and lavatories too. 'Hot desking' is not the preferred term at this time of contagion, but 'neighbourhoods' have replaced mere offices.
'We've seen some early numbers which suggest that the profession has held its ground and in some respects is doing well coming out the other side'
They say politicians need to be lucky, but – though 'lucky' is hardly the right word here – so too do CEOs. As Covid loomed, the timing of this transformation could not have been better. The Law Society's adjunct next door, 114 Chancery Lane, suffered significant fire damage six weeks before the first lockdown (120 firefighters attended the blaze). Now, the space in 114 is simply not needed and the building is up for rent.
But, beyond the fixtures and fittings, what does Tennant himself consider to be his biggest achievements? 'First, let me say that it has been a great privilege to work with an institution that has the history, profile and worldwide brand of the Law Society. I think we have focused on being more member-centric, investing in technology and platforms that give us the ability to build capacity and meet future needs. We've worked hard as a staff group to build great skills and capacity, and I think we are seeing the result of that, in particular with regard to the policy agenda.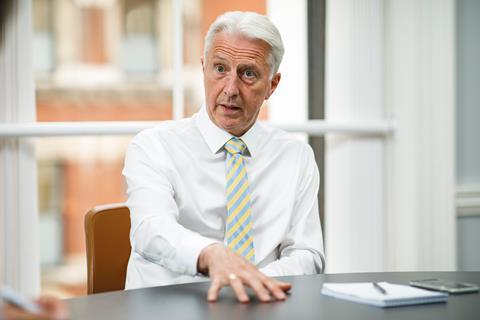 'Now it is about maintaining that momentum – ensuring the organisation is absolutely fit for the future. We don't know what we will face – in terms of government, funding structure, for example – so we need to keep focusing on being the best we can be.'
The ink on the Legal Services Act 2007 was barely dry when a Damoclean sword appeared above the Law Society which has never really been put back in its scabbard. That piece of legislation brought in the separation of powers with a newly created SRA – but the representative body continued to receive a cut of the PC fee to sustain its activities. There have been those – including in government – who believe membership and the fee that comes with it should be voluntary; though that prospect seems to have receded for now.
'Irrespective of the funding structure, you have to be supported [by members] because you are good at what you do, that has always been a driver for me,' Tennant stresses. 'Embracing change gives you more chance of controlling the future than if it is imposed upon you.'
But what does 'member-centric' actually mean? As the profession continues to polarise, how can Chancery Lane credibly serve multimillionaire City partners, as well as embattled criminal defenders, and all points in between?
'We have different roles to play and tasks to perform in different parts of the profession and at different times: whether that be accessing foreign markets, dealing with the aftermath of Brexit or, on the other side of the coin, helping people with conveyancing for example,' replies Tennant.
'The one thing I do have a concern about is trying to be all things to all people; that is a very hard proposition to deliver. By talking to members, we can discern what matters to them and we focus on that. I think that also allows us to 'dip in and out' – some issues will be a constant, with others we need to get in and get out.
'One of the things that came out of Covid, for example, was recognising that we collected, curated and communicated information to the members quickly. I think the profession appreciated that. You build relevance because people see that you are able to move quickly.'
As the pandemic abates and legal business gets back to something approaching a 'new normal', how well are law firms placed to prosper? 'As we came out of the recession of 2008, the profession bounced back really well,' he replies. 'And I suspect we will see the same this time.'
'It is about maintaining that momentum – ensuring the organisation is absolutely fit for the future. We don't know what we will face – in terms of government, funding structure, for example – so we need to keep focusing on being the best we can be'
The auguries are good. Indeed, the City giants have never had it so good. Equally significant is the fact that forecasts of looming financial apocalypse among smaller firms have proved pessimistic. In April last year, a survey found that 5,000 firms feared they could go to the wall within months. That this did not happen is a tribute to their own resilience, as well as the Society's efforts to sustain them. (I should add the obvious caveat here – as legal advice deserts proliferate, the predicament of solicitors dependent on public funding remains grave.)
'We've seen some early numbers which suggest that the profession has held its ground and in some respects is doing well coming out the other side,' Tennant concludes. 'The issue for me is making sure that we look after all members, because some small firms may not have had the same capacity and capability to withstand the threats and invest in technology, and a lot of their footfall will have dried up. There will be a long tail of recovery for some parts of the profession and we must – and do – recognise that.'
Home from home
Paul Tennant was appointed permanent CEO of the Law Society in June 2018, after a spell as interim chief executive following Catherine Dixon's departure. He previously worked for various housing associations, including as chief executive of Orbit Group.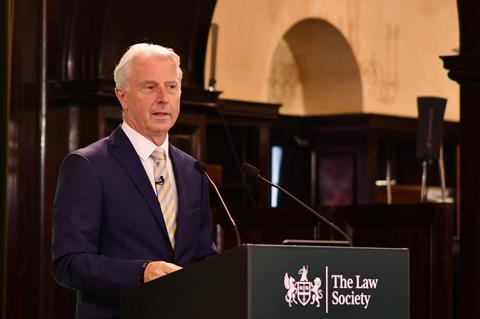 It is to the housing sector that Tennant will return, as CEO of Abbeyfield. Abbeyfield is a charity for older people providing housing and residential care. Its mission is to alleviate loneliness and enhance the quality of life of those living in its properties.
'I wasn't looking to move, Abbeyfield was just an opportunity that arose and I have a real passion for what it does and wants to achieve,' says Tennant. 'I've been with the Law Society for nearly five years and I think it's a good time to give someone else the chance to lead the Society into the next phase of its transformation.'
The Society is in the process of appointing a successor to the £300k a year post.