The Special Educational Needs and Disability Tribunal is a thorn in the side of local councils. Campaigners and disability charities are determined to keep it that way.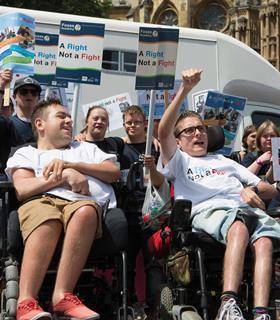 The low down
Disputes heard by the Special Educational Needs and Disability Tribunal have more than doubled since 2015, with no impact on the likelihood of appellants succeeding. In 92% of cases, the decision is for the children, young people and families who have taken their local authority to court. Many disputes are already years old – a third of them concern the refusal of local authorities even to assess a child or young person. This long record of overwhelming failure has not led cash-strapped councils to review their approach. Stories abound of families with no legal representation facing barristers on the other side. Why?
It is probably just down to the location of suitable brownfield sites with space for school buses and taxis to pull up each morning, but visit a few purpose-built special schools and you notice that many are in a tucked-away location. Out of sight and, from the point of view of overstretched local authorities, expensive. Attending such a school is not the only reason children with special educational needs (SEN) might be out of sight. They might have been excluded from a mainstream school because of 'behavioural' problems that can arise from their needs not being met.
The tension between, on the one hand, children, young people and their families' needs, and, on the other, what local authorities wish to provide, accounts for the steady rise in cases heard by the Special Educational Needs and Disability (SEND) Tribunal. Almost a third of cases relate to a local authority's refusal to assess the needs of a child or young person. Over half are disputes on the content of an individual's education, health and care plan (EHCP).
The Special Educational Needs and Disability Tribunal offers disabled people a powerful and effective remedy

Polly Sweeney, Rook Irwin Sweeney
Disputes over assessment, the content of EHCPs and their delivery can be as complex as the needs of the children and young people they cover, but one thing stands out from the SEND Tribunal: 92% of the appeals decided were in favour of the appellant last year.
Being such an apparently effective tool for appellants has not raised the public profile of the tribunal; but it has been a thorn in the side of local authorities and government.
Polly Sweeney, partner at public law practice Rook Irwin Sweeney, says: 'I practise across a range of jurisdictions acting on behalf of disabled people, including the Administrative Court, the Court of Protection, the county court, and more informal routes such as complaints to the [ombudsman]. In comparison with other remedies available to disabled people who want to challenge decisions about the provision available to them, the SEND Tribunal offers a powerful and effective remedy.'
EHCPs, brought in by the Children and Families Act 2014, are at the heart of the provision of services to children and young people with the most severe disabilities, so they are also at the heart of disputes with local authorities. The plans replaced statements of special educational need, the power of which lay in the legal enforceability that important parts of their content carried. An attempt was made to remove such strong legal duties when statements were replaced with EHCPs, but following a campaign by disability charities and families, the duty was retained for education items in 'section F' of the plans.
It is still the case, then, that an assessment of needs leading to a plan that contains specific provisions is a powerful tool. But the tribunal's effectiveness has placed it on the frontline of councils' need to find savings, and the number of registered appeals has rocketed – doubling since 2015, even as the appellant success rate continued to rise from an already high 89%.
Steve Broach, barrister at 39 Essex Chambers, says: 'Most of the disputes underlying these appeals appear to continue to be driven by the limited resources available to local authorities. I have also noted what seems to be an increase in the number of disability discrimination claims by schools.'
Simpson Millar partner Samantha Hale, whose firm has taken 400 appeals to the tribunal this year, also notes a rise in tribunal appeals concerning post-16 and post-19-year-olds, after the 2014 act extended the period covered by EHCPs to age 25 in order to smooth the transition to adulthood. Previously, the end of school had always represented a cliff-edge in the provision of services.
In line with the founding purpose of tribunals, the SEND Tribunal should be a forum in which the adversarial style of disputes is at least inhibited, and unrepresented parties can set out a case and be fairly treated. Hale notes that local authority choices on representation vary, which can affect appellants' experience. Some local authorities use their own SEN officers only; others instruct in-house legal teams. But where an external barrister or law firm has been instructed, proceedings are more likely to turn 'adversarial'.
Families who are in a position to pay will have a much wider choice of advice and support than those who cannot

Steve Broach, 39 Essex Chambers
Parents, represented or otherwise, relate incidences of aggressive advocacy from the legal representatives of local authorities, whose SEND Tribunal legal spend in 2018/19 was estimated at £40m by website Special Needs Jungle. In 2016, such an approach was put in the spotlight when solicitor Mark Small lost contracts worth hundreds of thousands of pounds from councils following a series of 'gloating' tweets after a 'win' at the tribunal. Those tweets struck a chord with parents who had faced lawyers acting for the local authority.
But on addressing such an imbalance, the SEND Tribunal does garner some plaudits. 'The [First-tier Tribunal] is set up to be as informal as it can, but it is still a court of law,' observes Bren Prendergast, a respected SEND advocate who supports parents with training. 'There is a continuum with families stretching from a "meeting" where grievances can be aired through to something for which you need a lawyer and bank of professional witnesses. Social media often creates polarised discussions which can scare parents into spending vast amounts of money, often unnecessarily. Yes, it is an evidence-driven process, but how much evidence is required depends on the facts of the individual case.'
Broach says: 'The tribunal is accessible to families if the parents have the capacity to engage with a technical process, which can be emotionally draining for any parent. Many families understandably feel that they need specialist representation to manage the process, particularly in complex cases – for example if there is a dispute as to placement, where the law is relatively detailed. It is in this situation that unfairness comes in, as families who are in a position to pay will have a much wider choice of advice and support than those who cannot.'
Hayley Mason, solicitor at law firm SEN Legal, observes: 'More local authorities than ever before are using their own legal representation so parents are considerably disadvantaged if they don't have their own.'
And, of course, the parents of a child with a disability may also be learning-disabled.
Online hearings - ending delays and cutting costs
Lockdown has forced more SEND Tribunal hearings online. The experience has been mainly positive. 'The SEND Tribunal was already trialling the use of IT pre-Covid,' advocate Bren Prendergast says. 'So the appeal I had on the first week of lockdown was swapped seamlessly to a video hearing. I was impressed… Timelines are becoming a bit stretched but that, I believe, is due to volume rather than Covid. I personally have not had a single tribunal-dictated postponement since lockdown.'
'The SEND Tribunal has dealt with the effects of Covid-19 brilliantly in comparison to many other courts,' says Hayley Mason, solicitor at SEN Legal. 'They were quick to move to virtual hearings and we have not seen anywhere near the level of vacated hearings or delays since doing so that we were seeing with hearings in person.'
Benefits include the elimination of travel time and expense for parties, expert witnesses and representatives, and greater predictability around hearing dates.
'There are some who might have difficulties,' Simpson Millar's Samantha Hale cautions. 'For example those who rely on lip reading to aid communication – depending on the screen size or connection this might not be very clear. It is also dependent on households having a device and internet to be able to dial into a hearing all day, which needs to be somewhere private. I've not seen any cases where this isn't possible, but there is a potential there could be and I am not sure how this would be managed if that were the case.'
'From a more personal point of view,' Prendergast adds, in remote hearings 'there is often one parent in a room on their own – so lonely and quite scary. There is no ability for me to hold their hand, or sit by them, instead I rely on using a chat platform to keep in touch.'
Asked about local authorities' use of lawyers in the tribunal when faced with unrepresented families and young people, Lawyers in Local Government's head of public affairs Helen McGrath says: 'SEND Tribunal hearings are a complex, niche area of local authority law and practice. Given the legal time and resources required (in an increasingly high-pressured environment) to give full consideration to proceedings, it is often more cost-effective and correct in these cases to instruct a barrister who is likely to have far more practical experience.'
Might representation even backfire for a local authority? 'Even the best barrister cannot make a case where evidence is lacking,' Prendergast says. 'There are some [local authorities] who routinely use barristers, but without carefully preparing the appeal. In my experience of these situations, the barrister has often been helpful to the parent's appeal as, due to their ethics, they are upholding the law.'
Legal duty is a point McGrath stresses: 'An advocate's duty [is] to assist the court in the administration of justice and follow the Law Society, Bar Council and CILEx guidelines on good practice toward litigants in person. [This] safeguards effective justice and the right to a fair trial.'
What about the quality of decision-making? 'The quality of SEND Tribunal decisions is generally good,' Broach says. 'Most successful appeals to the Upper Tribunal tend to involve points of law, rather than poor-quality reasoning.'
Mason, though, sounds a note of caution: 'We have seen very questionable decisions in relation to "content" appeals [relating to what is specified in a plan] where the panel does not want to name the parental or LA school [preference]. They are instead taking to naming a "type" of school that none of the parties have put on the table, increasing costs and causing time delays.' (Such a result can be counted as a decision 'for' the appellant, so the 92% success rate for appellants should be seen in that light.)
The tribunal, Mason adds, also needs to keep an eye on the length of proceedings. 'We are also noticing particular judges dragging cases on for an additional day and often then on to written submissions,' she says, 'when proceedings could be dealt with in a day if they had tighter control on witnesses. This delay has a significant financial and emotional effect on families.'
Hale says delays in reaching a decision are also increasing. 'The biggest issue is decisions coming out on time,' she notes. 'I assume it's system overload and Covid. Normally we'd expect a decision in 10 working days. Now it's three to four weeks.'
That delay may come on top of months or years where there has been no suitable schooling, or no school place at all, for a child.
Education, though, is just part of an EHCP. In the past it was the only area the tribunal would make a decision on. But in April 2018, as part of a two-year trial (which has been extended to 2021), the SEND Tribunal's powers were extended to allow it to make non-binding recommendations on the health and care aspects of EHCPs. 'This gives parents and young people a "single route" to raise all their concerns about an EHC plan in one place,' Sweeney says. 'Parents and young people are now able to seek recommendations on the health and/or social care elements of an EHC plan – but only if there is an educational element to the appeal. This allows a child or young person's needs to be looked at holistically – a central purpose of Part 3 of the Children and Families Act 2014 which has yet to be realised.'
However, Sweeney says the pilot is not without problems: 'In particular, securing the participation of health bodies in the process when it is not a party to the proceedings.' There was some scepticism at the outset of the pilot, given the non-binding nature of rulings, but the feedback so far is that parties are abiding by the decisions made.
We come back, though, to the staggering success rates for appellants – 92%. Surely such a failure rate should lead more local authorities to reflect on their approach to assessments of needs, EHCPs, provision of services and disputes.
Mason says costs are a factor: 'Obtaining costs recoveries in the tribunal is becoming almost impossible. While the tribunal has a power to order costs against a party if they are considered to have acted unreasonably in bringing, defending or conducting the proceedings - the bar is higher than ever.'
Sweeney also points the finger at the costs regime: 'If a parent is successful in the appeal, there is no sanction against the local authority, no reimbursement to the parents of the costs of the support and assessments they have been forced to pay for on a private basis. There will not even be an apology.'
And despite the high chance of success, the cost of bringing a case can be a deterrent, even where legal aid is available. 'The fact that legal aid will not pay for representation at tribunal – the only legal help available is for case preparation – is seriously problematic,' Broach says.
'What concerns me most,' Sweeney concludes, 'is that what the tribunal isn't achieving, as demonstrated by the statistics, is any improvement in local authority decision-making on the ground. It is widely acknowledged there is a crisis in SEND. I am not sure it is the proper purpose or function of the tribunal to "fix" that crisis, but there is a real issue about accountability within the system that needs to be addressed. Parents repeatedly report that they are forced to go to tribunal to secure an assessment, an EHCP, or quantification/specification of provision, in circumstances where the local authority is plainly not following the law.
'While the parents have a right to go to tribunal, and will most likely be successful, forcing parents down this route comes at huge emotional, and often financial, cost. And of course while a case is waiting to be decided by a tribunal, that is time where a local authority is not having to fund provision which a tribunal will, according to the statistics, most likely decide was needed for that child.'