From fighting money laundering to keeping an eye on dodgy estate agents, the regulatory burden on conveyancing solicitors is growing. Marialuisa Taddia reports
THE LOW DOWN
There are still property lawyers who can recall conveyancing as a simple transfer of title – when basic searches came back and funds were checked, the job was all but complete. But residential property deals have become complex and fraught, transacted for fees that have barely shifted to reflect the extra work. Next year there is even more to consider. A new regime for property agents is set to place a responsibility on solicitors to spot illegal activity by agents. That is in addition to their own duties to prevent money laundering. Solicitors also have a role in effecting a 'cultural change' in the conveyancing process, whereby agreements between the parties should reduce the risk of a sale falling through. And what of freelance solicitors? Could their uncertain status undermine trust?
'We live in interesting times,' Warren Gordon said as he opened a gathering of senior property lawyers in London. Gordon, chair of the Law Society's Property Section committee, was referring to a blizzard of regulatory and other changes hitting practitioners in residential conveyancing.
From a new regime for property agents to a crackdown on money laundering, there is much upheaval.
The British public dislikes estate agents even more than lawyers, surveys suggest. But estate agents will soon be brought into line by a new independent regulator that will 'significantly improve consumers' experience of renting, letting, leasehold, and the home buying and selling process'.
In July, the Regulation of Property Agents Working Group (RoPA) published its recommendations for a new regulatory framework that will cover estate agents across the UK, and letting and managing agents in England only. An independent regulator would oversee the introduction of mandatory qualifications, a new code of practice and a licensing regime for agents that will include a 'fit and proper' test. RoPA, which consists of industry and consumer experts, was set up in October last year by the minister for housing and homelessness Heather Wheeler MP.
Before the confirmation of the 12 December general election, Lord Best, chair of RoPA and an independent cross-bencher of the House of Lords since 2001, said that the proposed new regime for property agents is a 'priority within government'. He was adamant that 'it will happen', although it would take a 'couple of years' for the legislation to get on to the statute book.
The consumer in this world is often clueless. They believe the agent is on their side and gives them good advice

Lord Best, chair of the Regulation of Property Agents Working Group
Property portals such as Rightmove and the short-let sector, most notably AirBnB, would be exempted, but RoPA recommended that 'the legislation required to regulate property agents should allow for future extension to the scope of regulation' to include landlords, freeholders and developers, as well as retirement housing managers and right to manage companies.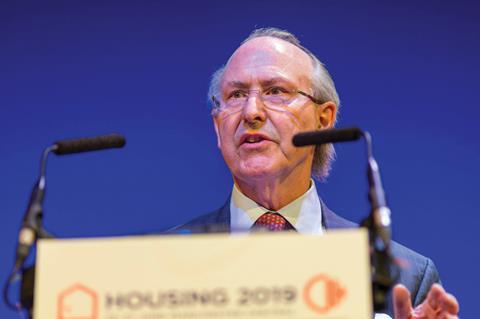 How would this affect practitioners? Best says most property solicitors will not be affected directly, albeit they will be indirectly: 'The consumer in this world is often clueless and believes the agent is on their side and gives them good advice.'
RoPA recommends that solicitors and other professionals 'be obliged' to report an agent to the new regulator if they have evidence of possible illegal behaviour. Best says this obligation is 'not so different' to the duty to report suspicious transactions to the National Crime Agency (NCA) under the Proceeds of Crime Act 2002 and Terrorism Act 2000. 'You already have duties to report bad behaviour,' he told delegates at the Law Society's National Property Law Conference in October.
Best observed that government-authorised consumer redress schemes such as the property ombudsman provide 'quite a restricted opportunity to raise standards' because they can only respond to complaints if these are raised by the consumers themselves.
Trading Standards currently enforces most of the laws governing property agents, but they are, Best said, 'rule-followers rather than rule-makers'. Whereas a 'new regulator would have greater flexibility to react quickly to new ruses and ambiguities in property agents' practice,' RoPA has said in its report.
There would also be a qualification requirement for agents to practise, regardless of experience, and the training should be approved by the new regulator. RoPA recommended that in order to be licensed, property agents should be qualified to a minimum of level 3 of Ofqual's regulated qualifications framework (equivalent to A-level). Company directors and managing agents should have at least level 4 (equivalent to BTEC professional diploma level). There should also be mandatory CPD for licensed agents.
Best has received hundreds of emails from estate agents, vowing they will not 'go back to school to take some tedious qualification'. But there would be 'no grand-parenting', he said: 'Experience will not exempt agents from formal qualifications.'
As for the new regulator, this would be a public body, reporting to the secretary of state for housing, communities and local government.
The outgoing government was also looking at other ways of reforming and modernising the home buying and selling process, to make it 'more efficient and less costly'. This was a 2017 election manifesto pledge, says Matt Prior from the Ministry of Housing, Communities & Local Government (MHCLG).
Prior has led government work on the buying and selling process, which currently takes an average of 20 weeks, including 12-14 weeks from offer to completion plus an extra week if there are leasehold properties in the chain.
In the UK, people move on average every 20 years, mostly only one or two more times after their first move. Not only are consumers 'inexperienced' in this process, but the market is 'disaggregated', with 4,000 conveyancing firms, the biggest of which only has a 6% market share. This means it is 'very difficult' for change to come from within the sector, Prior argues.
Yet about one million homes are bought and sold each year. 'The process isn't so broken [that] it doesn't work at all,' he adds.
FREELANCE FACTOR
Solicitors can now provide 'reserved' legal services on a freelance basis. This has proved controversial, and for property transactions a big concern is that freelancers would not have adequate indemnity insurance, preventing consumers from accessing the compensation fund.
A prescriptive approach to the accounts rules has also been eased. They have shrunk from 40 to seven pages. Under rule 11, the SRA now explicitly allows the use of third party-managed accounts (TPMAs) as an alternative to firms holding client money, albeit under certain conditions, including ensuring that clients are aware of any fees for the use of these accounts and who will bear these costs.
TPMAs differ from traditional escrow accounts in that in a TPMA the money is not held by the solicitor or firm, but instead by the third-party provider in their name. As it is not 'client money' the provisions in the accounts rules relating to it do not apply. This is why TPMAs can reduce insurance premiums and contributions to the compensation fund, as well as cut the risk of possible breaches of the SRA rules and threats from cyber-criminals, according to Geoff Dunnett, legal services director at London-based fintech company Shieldpay.
The number of concerns about the misuse of money or assets reported to the SRA has increased in recent years, with a significant proportion relating to property fraud and misappropriation of money in conveyancing. In 2017, £10.7m of client money was reported to the SRA as lost to cyber-crime – this dropped in 2018, the SRA says, probably due to 'under-reporting'.
Earlier this year, FCA-regulated Shieldpay published a white paper recommending the development of 'a common standard and supervisory approach to TPMAs' across professional regulatory bodies, arguing this is in the interest of consumers. More than 50 law firms use Shieldpay's TPMA solutions and corporate escrow facilities as an alternative to managing client money in-house – among them international firms White & Case and Cooley.
In October 2017, the ministry launched a public consultation on improving home buying and selling. In its response, published in April last year, it concluded that there is no 'silver bullet', but rather 'a number of practical changes, some big and some small, which when taken together will make the experience so much better'.
For example, the government had been considering the introduction of 'reservation agreements'. Currently, 25%-33% of all transactions fall through as a result of buyers and sellers withdrawing after an offer is accepted, and this costs £270m annually.
To avoid gazumping, the buyer and seller would 'enter into an earlier agreement' that would require them to put down a cash deposit. They will lose this sum unless they show 'good reasons' for pulling out, such as job loss, bereavement or the inability to secure a mortgage.
A number of practical changes, some big and some small, when taken together will make the [conveyancing] experience so much better

Ministry of Housing, Communities & Local Government
However, 'people like the fact that they can pull out at the last minute', Prior says, arguing that 'a culture change' is needed before these contractual agreements are formally introduced. Hence MHCLG has commissioned behavioural insight research that is due to be published by year-end. If a new government gives planned field trials the green light, these could start as early as the first quarter of 2020. Supporters hope these agreements will in due course become 'a normal part of the buying and selling process', Prior says.
Tackling referral fees is another way of improving the process. The consultation revealed strong support (81% of organisations and 77% of the public) for further government action to improve referral fee transparency.
In September, the ministry updated its how-to-buy and how-to-sell guides with new guidance on referral fees, emphasising that consumers should be told of any referral fees 'up front' and that they do not have to feel obliged to choose the services the estate agent, developer, or mortgage broker/lender recommends.
In February, the National Trading Standards Estate Agency Team (NTSEAT) published new guidance on referral fees received by estate agents across the UK, 'with the aim of making previously hidden fees open and transparent to consumers'. The team has been tasked with monitoring compliance with its guidance in the 12 months following launch and reporting to the ministry.
Prior says the government was 'agnostic' on whether or not conveyancers should pay referral fees to estate agents in exchange for recommending business, but in its consultation response it said that subject to compliance progress it will 'give further consideration to the case for banning referral fees'.
HM Land Registry is a big piece in the residential property jigsaw. It has the ambition to become the 'world's leading land registry for speed, simplicity and an open approach for data', according to a customer charter launched in October last year. One way of achieving this is to reduce the number of requisitions (the requests for further information or action its caseworkers have to send conveyancers before an application can be completed).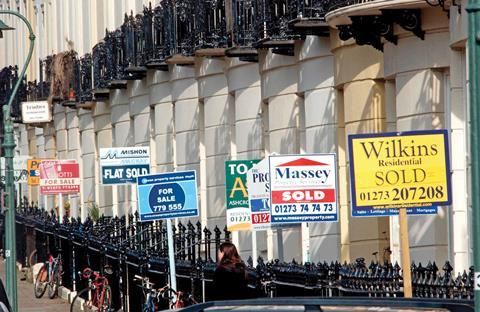 Reducing errors and omissions from customers is one of the priorities of the organisation's five-year business strategy to 2022. When it was launched in November 2017, there was an average of 5,500 requisitions per working day, costing £2m-£3m a year, with more than half of these on the same five points, including restrictions, discharges, and variations and discrepancies in names, says Andrew Robertson, head of customer policy and service performance at HM Land Registry.
Requisitions have since decreased to just under 3,600, as has the average requisition rate (18.3% compared with 20% in 2017/18). Although 40% of requests for information are unavoidable, the organisation has been working on reducing the rest. Since last October it has been delivering free webinars to help professional customers, including solicitors and conveyancers, to identify and avoid common issues that lead to requests for information.
It is not only customers that need to do better. 'Caseworkers often go off-piste' and 'requisitions are being raised in error' Robertson acknowledges. 'We know that we need to address our own issues of inconsistency.' Caseworkers underwent new training during 2018/19 to improve consistency, while the use of non-standard forms of requisition has been reduced to 'virtually zero', according to the organisation's latest annual report for the year ended 31 March 2019.
In March, the registry also began publishing data showing the number of enquiries raised for its top 500 conveyancers, by volume of applications. And it may soon start 'sharing requisition data' with the Solicitors Regulation Authority. This is not for 'punitive regulatory purposes' but rather to 'cast a light on the capabilities' of the profession, says Robertson.
The new 'collaborative' approach to change is working, he argues, pointing to the fall in the number of requisitions. The organisation used to have a 'parent-child approach' to its customers, Robertson says. 'We don't want to be in that place anymore.' He adds that his colleagues think 'we should get tougher and we should reject more', although this previous way of doing things did not improve the quality of applications, he concludes.
The driver for all these changes is stated as better consumer protection, and while some government plans may change with a new administration, this is not hindering SRA activity.
Under new rules introduced last December, firms advertising residential conveyancing (among other services) have an obligation to publish information on prices and services, as well as complaints procedures, on their websites. The rules were introduced in response to recommendations made by the Competition and Markets Authority in 2016 to make legal services more accessible and affordable. Currently only one in 10 people and businesses takes advice from a solicitor or barrister.
The regulator's first web sweep of 500 randomly selected firms (a large proportion of which undertook conveyancing) found that only 25% were fully compliant with the new rules. Roughly half (58%) were part-compliant, and the rest (17%) were not complying at all and were given two months 'to get their house in order'.
Another SRA consumer-friendly initiative is the clickable logo (or digital badge) to show online visitors that a firm is regulated and what consumer protections this brings. Use of the logo was initially voluntary but became mandatory on 25 November along with the new professional and accounts rules. By early October 45% of SRA-regulated firms had already uploaded the logo on to their websites, observes SRA director of regulatory policy Chris Handford, who argues that the benefit is immediate – 80% of consumers said they had 'greater confidence' in a firm with a badge on their website.
Around 60% of firms the SRA regulates are involved in residential conveyancing and will be significantly affected by the new regime for the profession introduced last month.
The rules are now published in a new format: the much revised SRA Handbook has been replaced with the SRA Standards and Regulations (the latest version of the handbook was 450 pages and, as Handford concedes, had become 'a bit of a beast'; its successor is 120 pages).
These set the standards of professionalism and remove prescriptive rules, leaving it to solicitors' own judgement to decide how to apply and maintain them. 'Prescription can hamper innovation,' Handford told the conference.
Money laundering
Money laundering through property, especially in London, is a high-profile concern. In October, Transparency International UK called for a 'radical overhaul' of the UK's anti-money laundering supervisory regime, after its latest research found that at least £325bn of 'suspect' funds had flowed through the UK. Nearly 600 UK individuals, institutions and businesses, including 81 law firms, 'helped corrupt individuals, unwittingly or otherwise, obtain, move and defend their ill-gotten gains,' according to Transparency International UK.
Anti-money laundering is an increasing area of focus for the SRA,' Handford says. Last year, the SRA became subject to the supervision of the Office for Professional Body Anti-Money Laundering Supervision (OPBAS). The new anti-money laundering watchdog, which sits within the FCA, was launched on 1 February 2018 by the government to ensure that the 22 professional body supervisors (PBSs) in the UK 'meet the high standards set out in the Money Laundering Regulations 2017 (MLRs)', with powers to investigate and sanction those which do not.
Last year, OPBAS completed its first-year assessment of each of the professional bodies it supervises, including the SRA. It found that 80% of PBSs lacked appropriate governance arrangements, as well as appropriate staff competence and training; 91% were not fully applying an appropriate risk-based approach; and 86% had enforcement tools but preferred to offer support. OPBAS also found inconsistent approaches to intelligence and information-sharing, and there were also concerns about record-keeping and internal audit procedures. OPBAS asked all PBSs 'to develop a suitable strategy to address our findings through individual plans' and has been monitoring implementation of these strategies.
Alison Matthews, director of quality and risk at Shoosmiths, notes that this additional layer of scrutiny above the SRA 'means that the SRA will scrutinise us even more'.

The SRA's latest AML 'thematic review', published in May, focused on 59 firms involved in trust and company service provider work. A high number of these firms (26) were referred into the SRA's disciplinary processes (although there was no evidence of actual money laundering or involvement in criminal activity).
The investigation revealed a lack of understanding of key tenets of the regulations, such as the difference between 'source of funds' and 'source of wealth'; and the meaning of 'politically exposed persons'. Also, some firms did not have a firm-wide risk assessment in place or could not produce evidence they had carried out client due diligence or training on beneficial ownership.
The SRA created a new specialised AML unit, headed by Colette Best, director of AML supervision, which led to a review of 400 other firms. They were asked to demonstrate compliance with the MLRs by sending their risk assessments. The report, published at the end of October, found 21% of firms were not compliant, and most (64%) were using templates. The SRA said it would soon be writing to the 7,000 firms that fall under MLRs to ask them to confirm if they have a risk assessment in place.
Further thematic reviews by the ALM unit could involve high-end conveyancing. The team is also tasked with increasing the quality and number of Suspicious Activity Reports (SARs) sent to the NCA.
The SRA recently launched its '#staySHARP' campaign to raise awareness of the threat of money laundering in the sector, in particular the need to report suspected money laundering activity to the NCA by submitting SARs.
Matthews warned property practitioners that 'there is no easing of the pressure on solicitors to increase the number of reports'.
Legal professionals submitted less than 1% of total SARs to the NCA in 2017/18 (2,660 of 463,938).
Four in 10 of the SARs from the legal sector related to conveyancing: residential property is more commonly targeted by money launderers than commercial property because of the faster turnover of house sales.
Residential property lawyers will also soon need to update their policy and procedures ahead of the fifth EU Anti-Money Laundering Directive (5MLD). Commenting before the general election was called, Matthews said there was 'no reason to think [the implementation deadline] was going to slip'.
In April, when it launched its three-month consultation on the transposition of the directive, HM Treasury said that it was the intention of the government (then led by Theresa May) that the new provisions would come into force in national law by 10 January 2020 in line with Article 4 of the directive.
5MLD stems from the European Commission's Action Plan, launched in February 2016 to fight terrorism financing following a series of terrorist attacks in the EU, including in Paris.
The focus is on increasing transparency of beneficial ownership information and strengthening the rules on enhanced due diligence, according to Matthews. 5MLD will, for example, expand the scope of HM Revenue & Customs' Trust Registration Service, which went live in 2017, to include all 'expressed' trusts and will allow public access to the register to those that can show 'legitimate interest'.
Those 'interesting times' seem set to continue for conveyancers.
Marialuida Taddia is a freelance journalist
Join the Law Society's Property Section to stay up to date, support your professional development and network with your peers through a range of benefits, which include events, webinars, podcasts, online learning and publications. To join, visit Join the Property Section.