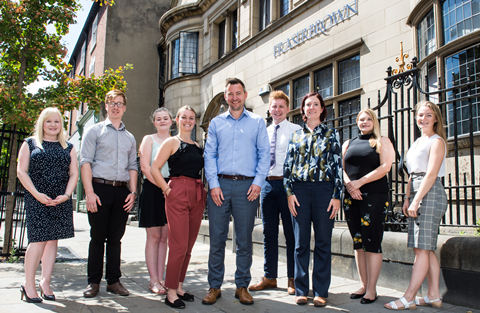 East Midlands firm Fraser Brown Solicitors has bolstered its residential property team with the appointment of Georgia McGuire, Helen Ford, Natalia Shuttlewood, Nicholas Raynor, Megan Ward, Georgie Lloyd, Anna Fussey and Alex Jepson.
The team is the largest of its kind in the East Midlands and is made up of 33 professionals situated across Fraser Brown's four offices in Nottinghamshire and Lincoln.
Georgia McGuire joins the residential property team as a solicitor from Sills and Betteridge LLP. Georgia, who studied law at the University of East Anglia, will be responsible for working on a range of transactions including freehold, leasehold and commonhold sales and purchases, land registry, re-mortgages and transfers of equity.
Nottingham-based Natalia Shuttlewood, who has five years of conveyancing experience, has also been appointed as a senior paralegal and will work on providing right to buy transactions, new build transactions, transfers of equity and other services.
Nicholas Raynor has been appointed at Fraser Brown as a paralegal and has a degree in law and criminology from Nottingham Trent University, and will be joining the team to further a career in real estate.
Megan Ward, who has a degree in law from the University of Lincoln, and Alex Jepson, who studied psychology and criminology at Anglia Ruskin University, have joined the team as a junior paralegal and a junior case worker respectively.
Head of residential property Richard Wollacott, said: 'Each new member of the team is vital to helping us achieve our growth plans and continuing to deliver a first-class service for our clients. They are all very valuable assets to the company and I'm looking forward to working with them in Nottingham.'