Any law firm worth its salt should be capitalising in some way on England's unlikely progress in the World Cup.
For north London outfit Southgate Solicitors, which shares a name with the team's unassuming but popular manager Gareth of that ilk, things are much easier.
Hasan Hadi sent us this picture to reflect the firm's support for their namesake and his team. He told Obiter that the Southgate name has yet to see a stampede of flag-waving clients, but it's been a nice fillip to share their moniker.
He added: 'On Saturday we will be hosting a local gathering of people to watch the game with some food and drinks. I am tempted to get some Gareth masks but I think that's taking it a bit too far.'
Meanwhile, one boss's pledge to his football-loving employee has seen Birmingham firm I Will Solicitors reach relative online fame.
Following Tuesday's win over Colombia, legal executive Ihsan Ali tweeted his disappointment at having to work during the Sweden game on Saturday. His managing director Haroon Rashid responded with a pledge he could have the day off if the follow-up tweet received 50,000 retweets – plus 1,966 extra for good measure.
Ok, Ihsan after all your requests we will give you the day off on Saturday to watch England if this tweet gets 50,000 plus 1966 retweets (Now get back to work!) #WorldCup #ItsComingHome #England https://t.co/n28V8meQco

— I Will Solicitors (@IWillSolicitors) July 4, 2018
The post is unlikely to reach those heady heights, but did pass the 1,000 mark overnight and that should be enough to let Man United fan Ali see the match.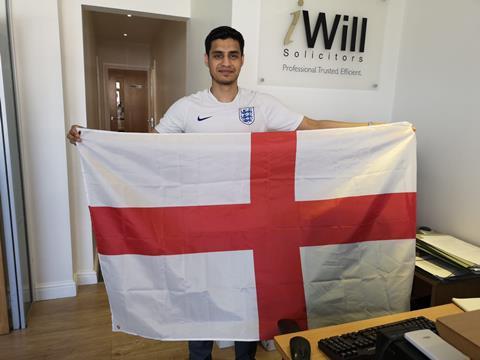 Haroon told Obiter: 'Our tweets normally get retweets in double figures at best, so the response has been amazing. I've told Ihsan he doesn't have to work during the match – we were finding a couple of clients cancelling appointments anyway. If England reach the final and we get those 50,000 maybe I'll buy him a ticket!'