Preserving aircrews' confidence in international rules for investigating accidents outweighs broadcasters' rights to video footage of the Shoreham air disaster, the High Court has ruled. It was turning down a request for the release of a Go Pro recording made in the cockpit of a vintage Hawker Hunter jet which crashed while flying a display at the Shoreham Air Show in August 2015. The recording was shown earlier this month to jurors in criminal proceedings arising from the crash.
In BBC & Press Association v Secretary of State for Transport, the BBC and Press Association news agency sought an order under the Civil Aviation (Investigation of Air Accidents and Incidents) Regulation that would enable the Crown Prosecution Service to release the footage in accordance with Crown court rules. Mr Justice Edis said that he had been asked to decide whether disclosure would produce benefits outweighing any adverse impact on future air safety investigations.
In the judgment, he noted that regulations governing the investigation of accidents, which have their origin in the 1944 Chicago Convention on International Civil Aviation, are designed to enable people involved in accidents to co-operate with investigators freely and without fear. In effect they block any release for other purposes of evidence provided to investigators unless the High Court agrees that the benefits of disclosure would outweigh the adverse impact.
The media organisations argued that release of material produced in evidence to the media is an essential element of open justice. However the Air Accidents Investigation Branch and the British Airline Pilots Association argued that releasing the footage would damage the 'just culture' of air accident investigation.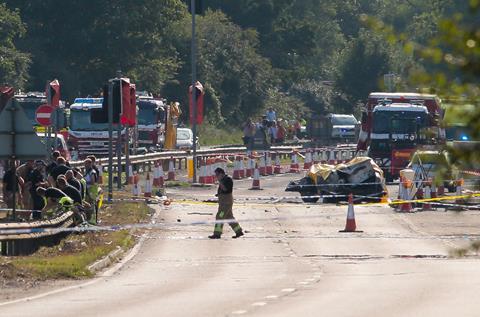 Edis J accepted that use of the footage would probably help reporting the trial 'but not by very much'. Dismissing a pilots' association charge of 'sensationalism' he said: 'It is a legitimate part of the media's job to try to ensure that their product attracts attention.' However he noted that much footage is already available of the disaster.
Overall he concluded: 'I am not satisfied that the benefit of disclosure to the media outweighs the adverse impact on future safety investigations it will have. It is a matter of real importance that the international air investigation world accepts that the UK complies with its obligations under [EU Regulation 996 and supplementing UK regulations], and treats those obligations seriously.'
Pilot Andrew Hill denies 11 charges of manslaughter by gross negligence. The trial at the Old Bailey continues.
Jane Phillips (instructed by Reynolds Porter Chamberlain) appeared for the claimants; David Manknell (instructed by the Government Legal Department) for the secretary of state and Martin Chamberlain QC (instructed by Reynolds Dawson Solicitors) for the British Airline Pilots Association.