A managing partner at a Bradford solicitors' firm who along with his brother formed a fictitious business to claim thousands of pounds in interpreters' fees has been jailed.
Mohammed Ayub and Mohammed Riaz, along with fellow Chambers Solicitors employee Neil Frew, were found guilty following a trial at Sheffield Crown Court in November last year.
Between September 2010 and October 2014, the trio conspired to create a sham company – known as Legal Support Services (LSS) – to claim expenses from the Legal Aid Agency.
The prosecution stated that the three men were involved in the claiming of disbursement payments to an agency for the provision of interpreters for immigration and asylum contract work, when in reality, no such agency existed or was used.
Ayub (pictured) was principal solicitor and Frew was immigration manager and a partner at the firm, which in October 2010 received a Legal Aid Agency contract for immigration work. During the trial, the jury heard that money had been paid into LSS accounts over four years, but the company, run by Riaz, had no records of ever paying any corporation tax, VAT, or utility bills.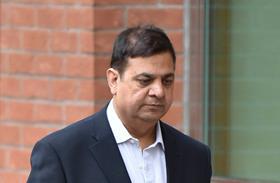 During a sentencing hearing at Newcastle Crown Court last week, prosecutor Simon Kealey QC said there was 'no definitive figure' for the loss to the LAA but said in 'broad terms' it was between £194,000 and £234,000. He said the fraud had greater harm in that 'the offence involved the public purse at a time when the court will know there is a significant stress upon finances'.
Philip Hackett QC, for Ayub, said Judge Robert Spragg could not rely on the prosecution's figures, which he claimed had been put forward 'recklessly'.
He said he had received confirmation from the LAA that it would be recouping the full amount for disbursements included in the contract, a figure of around £386,000. He said that there would be no loss to the LAA, adding that in fact, they would 'make a profit.'
Sasha Wass QC, representing Riaz, said while her client had set up LSS that was the full extent of his involvement. She added: 'He is not a solicitor, he had no meaningful involvement in the business at all.'
Representing Frew, Patrick Harrington QC, said his client had played 'nothing like a leading role' in the fraud and stood to make no financial gain.
Judge Spragg told the defendants: 'You pretended you were using LSS so you could cream off money the company would have been entitled to claim. It may well be right that the money will be recovered, but that was hardly your intention when it was taken. This kind of fraud has a significant detrimental effect on the legal aid fund, which is already under strain.'
Ayub was sentenced to three and a half years, Riaz for two years and nine months while Frew was handed a two-year suspended sentence.
Sentencing Ayub, Spragg said: 'This was an abuse of a position of responsibility, particularly for you. You were managing partner, you had overall responsibility for the firm. You clearly played a leading role.'
The Solicitors Regulation Authority intervened in Chambers Solicitors late last year.
Chambers Solicitors in Bradford has no connection whatsoever with Chambers Solicitors of Slough, Berkshire.