National firm Weightmans has reported a decline in net profit over the last financial year, in which the firm hired 13 new partners.
Net profit was £10.3m, down 6% on last year's figure of £11m. Profit per equity partner also dropped 6%, from £295,000 to £276,000.
However overall gross profit rose 3% to £38.7m, on revenue up 2.2% to £97.1m.
As well as the partner hires, the firm said it has 'invested heavily in its offices, technology and people during the last financial year'. It has consolidated five offices, three in the South East and two in Manchester, into two offices in London and Manchester.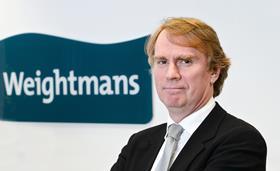 Managing partner John Schorah said: 'This extraordinary volume of office moves and refurbishments has been understandably costly for the business - we have had an unusually high number of lease events to contend with in the course of one year and that was always going to affect profit in the short term.'