Partner, Onside Law, London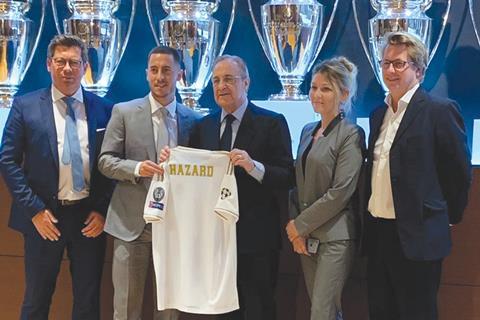 Who? Oliver Hunt (pictured far right), partner, Onside Law, London.
Why is he in the news? Assisted footballer Eden Hazard on his transfer from Premier League football club Chelsea to Spanish giant Real Madrid.
Thoughts on the case: 'It was a privilege to work on such a high-profile matter. I have handled Eden's legal affairs since he joined Chelsea in 2012. The move to Real Madrid was the culmination of many years of hard work so very rewarding. My role extended beyond typical legal advice as I formed part of his overall management team and we handled complex negotiations with both Chelsea and Real Madrid. The documentation was handled in Spanish and English, and we had to ensure compliance with the relevant football regulations. Holding up his unveiling at the Bernabéu while I checked through the paperwork was tense, but the day will live long in the memory.'
Dealing with the media: 'In football there is always a huge amount of speculation (and indeed "fake news"). Often only those very close to the deal really know and it is funny to listen to media stories which are often way off the mark. Interest in high-profile sports matters can be intense so I prefer to avoid direct dealings with the media. Friends have contacted me when my name has popped up in the past in the Daily Mail and even the New York Times, but I rarely give interviews or comment publicly on a deal. The rise of social media has made it easier to publicise your involvement in a deal without having to answer awkward questions when people are fishing for confidential information.'
Why become a lawyer? 'I was always better at subjects such as English, history and the use of language at school, so the law was an obvious choice. My school housemaster told my parents that he had doubts I could make it as a lawyer, which made my mind up that I should go for it. He was wrong so I thought I'd prove it.
Career high: 'Advising Eden on his Madrid move is probably the pinnacle of my career to date. I also advised Rory McIlroy on his contract with Nike in 2012, which at the time was one of sport's most lucrative endorsement deals, and Ryder Cup Europe on the bidding processes for the 2018 and 2022 Ryder Cups.'
Career low: 'As a trainee at Nabarro being asked to amend a fax at 3am to change the language from "attaching" a document to "enclosing" the document. It was 3am and I felt the use of "attach" in a fax was more accurate in any case.'