Law firm Blake Morgan has announced the appointment of eight newly qualified lawyers who have successfully completed periods of recognised training with the firm.
Blake Morgan's trainee programme is recognised for its excellence in the legal industry, having climbed the rankings again this year in The Guardian UK 300 - a comprehensive list of employers that graduates would most like to work for.
In the latest round of NQ appointments, the firm welcomes Amy Fullerton to private law, Charlotte Marshall to employment and Matthew Blakebrough to the corporate team in its London office. On the south coast, Daniel Conway joins the corporate team, Emma Ferdinando joins employment and Lizzie Dennis joins commercial litigation. The Oxford office welcomes Madeline Mould to employment and Leoni Dempsey to its real estate team.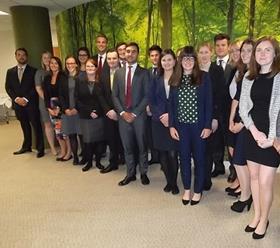 Blake Morgan also retained 100% of its trainees in the March 2017 qualification process, meaning that overall 94% of trainees have qualified with the firm in 2017.
Blake Morgan runs a number of initiatives to attract the best young talent and give trainees opportunities to succeed in a nurturing training environment. The new recruits will be encouraged to progress their career to associate, senior associate and partner with the support of a personalised professional development plan. Each newly qualified lawyer will be invited to attend ongoing technical legal and business skills training to help them achieve their career goals at the firm.
Commenting on the appointments, Tony Coyne, training principal said: 'At Blake Morgan we are committed to investing in our people and are delighted to announce the appointment of our newly qualified lawyers.
'We have been impressed by each of their achievements and their enthusiasm to take on extra responsibility. They have all shown great talent and will be a real asset to the firm. We wish them every success for the future and a long and exciting career at Blake Morgan.'