Christopher Hanratty, who joined Watsons Solicitors in 1984, specialised in personal injury, employment law and commercial property before becoming managing partner in 2002.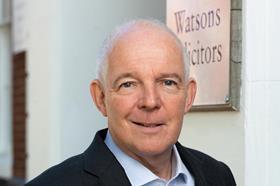 Under his leadership, Watsons has navigated multiple recessions and a global pandemic to position itself as one of the most highly respected law firms in the North West.
Latham Parry, who has been a partner at Watsons for six years, has been appointed as Chris' successor.
Chris, who will continue as a consultant to Watsons, said: "Now is the right time to retire from the partnership.
"Over the last 30 years we have seen monumental changes in the way that legal services are provided and delivered.
"Over this time we have succeeded in creating a strong firm with good local presence, and I feel that following the best part of 20 years as managing partner it is time now to hand the reigns over to some fresh ideas and implementation."
Latham, an employment law specialist, said: ""The wealth of experience that Chris gave to the firm as well as the years of service, have been invaluable.
"We thank him for everything he has done to take us this far. We now move forward with a great management team, good financials and excellent staff.
"Watsons is in a strong position to move forward."
Watsons Solicitors, which has been established for more than 60 years, specialises in family law, employment law, wills and probate, personal injury and conveyancing.
The team of experienced solicitors each hold various accreditations and memberships of professional bodies relevant to their expertise, while the firm's partners oversee all areas of work.