I completed the Bar Vocational Course initially. I did some paralegal work while I looked for a pupillage. I was asked by my head of department if I would consider cross-qualifying to solicitor. The stability of being a solicitor, as opposed to a barrister, appealed to me. I also gained my higher rights of audience.
I worked in private practice from 2001 to 2016 at Browell Smith & Co and then Thompsons Solicitors, representing the legally aided and union members respectively. I then worked at a boutique employment law firm, and freelanced for a year. This June, I will have been in-house for four years. When I first started, I was involved in chronic bronchitis and emphysema work, then moved quickly into immigration from 2001 to 2006. Then I shifted to employment law from 2006-2017. I knew legal aid cuts were coming in immigration, and I had always had an interest in employment law. When I moved to Thompsons, I mainly specialised in discrimination and protected disclosure cases.
Like many employment lawyers, in 2016 I was made redundant. A colleague encouraged me to look in-house. He thought that was the way most firms would be obtaining their legal advice in the future and that I would be well suited to that environment. I had not really thought of looking in that direction, but I did want a role with more job security. I was also attracted to the variety of work that being in-house could offer. I love that every day is totally different. It pushes me out of my comfort zone, and I am constantly learning, something that was lacking when I was in private practice.
Going from private practice to in-house was a huge shock. I had advised clients and companies for so long at arm's length. It was quite overwhelming being right in the thick of decisions that so quickly had a direct impact on the business. I also realised pretty fast that I had to be forceful with my opinion, but temper how I communicated with people. I am much more mindful of how I draft emails, how I interact with colleagues and also which battles to pick. It is so important to build trust with colleagues so that they feel comfortable coming to you before an issue reaches catastrophe level. I am much more commercially minded now, and know that my opinion will be much better received if I present a variety of options to the decision-maker.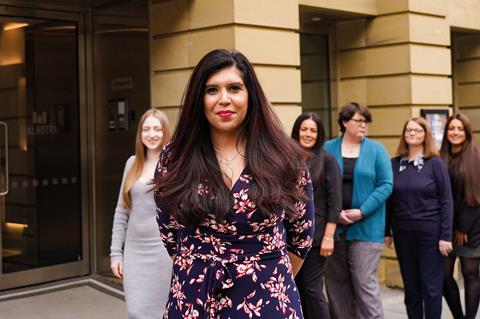 I was the only lawyer when I started in 2017. I was also managing the HR department at Malhotra Group. However, both departments have since grown in size, so we decided to split them. The legal department now has a team of three. I am head of legal, and we have a newly qualified solicitor who has been trained in-house and a trainee solicitor. I have taken on a much wider spectrum of work since I started working at the group. Far less work is outsourced now.
We are much more involved in the insurance side and health and safety. The legal department now has much more interaction across the group and completes most of the property work such as lease negotiations and debt recovery in-house. The group has 14 care homes, 14 leisure sites and a large commercial property portfolio, so there is always enough work to keep us on our toes. I feel like we are seen as a source of proactive advice rather than reactive problem-solvers, which means that I am much better placed to protect the group's interests at an early stage.
Many women have inspired me. On a personal level, my grandma was the most inspiring woman I have ever known. She empowered me to strive for excellence and not conform with societal expectations sometimes imposed on Asian women. I have a core group of close friends who are also peers. They inspire me every day to be a better person and professional. The person who inspires me the most in business is my friend, author and entrepreneur Sophie Milliken. Sophie is so giving with her time and knowledge to people around her, and helped me when applying for my current role, from reviewing my CV to coaching me for interview. I also have the benefit of working with many strong female peers at Malhotra Group, particularly in our care sector, which operates under the trading name of Prestwick Care. One of my favourite jobs each year is compiling our gender pay gap report and seeing how empowered the female-led managerial teams are within the business.
Anu Kaura is head of legal and group in-house lawyer at Malhotra Group plc