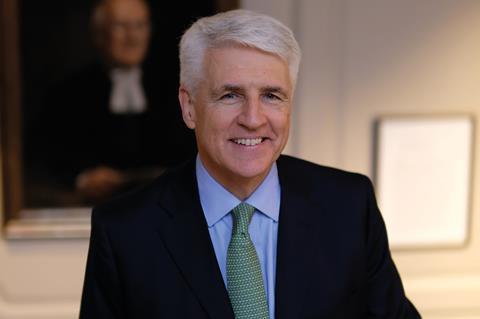 In April 2020, the Bar Council predicted that 80% of chambers would collapse within a year without urgent financial aid. More than a year on, the pandemic persists – as do the vast majority of chambers. Were the early warnings overblown, or is the future of the bar still at risk?
'I wouldn't underestimate the effect of the pandemic on publicly funded sets that get a lot of their income from work in the Crown court,' says Derek Sweeting QC, chair of the Bar Council. 'But a lot of those predictions – which were really cries for help – were made at a time when government schemes for supporting the self-employed didn't apply easily to the bar.'
I wouldn't underestimate the effect of the pandemic on publicly funded sets that get a lot of their income from work in the Crown court

Derek Sweeting QC
Bounce-back loans, the furlough scheme and initiatives to support criminal barristers helped sets stay afloat, he says. 'The view looking forward is not necessarily the view looking back. But if the implicit question is "was the bar crying wolf?", I don't think so. People were genuinely concerned.'
Thirteen months down the line, Sweeting is grappling with the longer-term effects of Covid-19: enormous court backlogs, a 'crisis around pupillage', and a government keen to enshrine remote hearings in law.
'The end of the health emergency isn't going to be the end of the justice emergency because of the inherent problems we had when we entered the pandemic, most obviously court backlogs.' Remote hearings will help to tackle the crisis, Sweeting says, citing the master of the rolls' plans to scale back 'cosmetic' hearings in favour of decisions on the papers.
However, Sweeting is suspicious of the notion that technology is a 'panacea for other problems'– particularly funding. 'I don't think financial resource considerations should drive the debate. They're an important part of it, but we shouldn't lose sight of what the tried-and-tested advantages of in-person hearings are.'
Virtual justice is just one of the issues that Sweeting has tackled during his first five months at the helm. Pupillages – or rather, the enormous pool of pupillage applicants – is also on his agenda. 'There are far too many people doing bar courses and paying a great deal of money when the attrition rate… is so high,' he says. 'I can't think of many other instances where you would train with such a low prospect of success.' According to Bar Council figures, 3,301 candidates applied for just 246 positions via the pupillage gateway this year.
'I don't think the idea that we should have a vast pool for some sort of diversity reason is a good one. We need to be honest about how many people are likely to get pupillage.' Careful distribution of scholarship money would be a good start, he says.
However, Sweeting also has a more radical idea. There are 'obvious attractions' to the solicitor training contract model, he says, in which large firms recruit candidates in their final year of university and fund them through their legal training.
'It's a different model but it's one that might offer some real advantages if it were applied to the bar and adapted for our particular needs. Having a cohort of people who knew they were going to be paid for, and were going to a set because they have a pupillage already, would be a step forward.'
While keen to draw inspiration from solicitors, Sweeting rejects the perennial argument for fusion of the legal profession. 'That question was being asked right at the start of my career which began in 1983 – people were making predictions about what was going to happen to the legal market. And the one common theme in most of these predictions is that they've been wrong.'
Aside from major 'practical business' benefits, Sweeting says the distinctive role of solicitors and barristers is 'very attractive' internationally. 'It goes with all the things that make English law, and England and Wales as a jurisdiction, a powerful combination. How many contracts have QC clauses in them to determine things which are intractable? How well understood is the rank of QC and the role of barristers? I think it's a selling point for us internationally, particularly the QC rank which came close to abolition at one stage.'
With seven months left as Bar Council chair, Sweeting is hopeful that lawyers will be mingling again soon, including at an in-person bar conference in November. 'There is a feeling that things are going back to the new normal', he says. Quite what form the 'new normal' will take, however, remains to be seen.