For years the government has repeatedly been warned about the grave consequences of the dwindling number of legal aid practitioners. This week, such concerns were echoed by two powerful voices.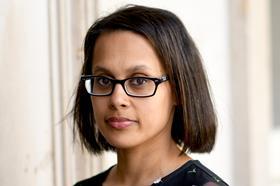 The first belongs to the four chief inspectors of the criminal justice system, who published an update to last year's 'state of the nation' report on Tuesday. Last year they said urgent and significant action was needed to eliminate the chronic backlog of cases. This week they said recovery remained 'elusive'.
They welcomed measures to support court recovery. HM Courts & Tribunals Service invested £250m to support court recovery in the last financial year, and the spending review provided an extra £477m for criminal justice. The financial cap on judicial sitting days was removed, Nightingale courtrooms were extended and 'super courtrooms' were opened in Manchester and Loughborough. More than 70% of all courtrooms are now equipped for virtual hearings. A campaign to recruit 4,000 new magistrates is under way.
If the political ambition is to have many more cases in the Crown courts, my question is who's going to try them, who's going to prosecute them and who's going to defend them if there aren't some pretty profound steps taken to enhance the capacity at every stage?

Lord chief justice
So far, however, the impact of these measures has been minimal, the inspectors said. 'More needs to be done across the criminal justice system to enable all parties to work collectively to address the issues,' they said. 'For example, increasing the capacity of the courts is one factor in addressing the backlogs, but without an increase in resources for prosecution and defence, [courts] will be required to cover increased volumes of cases with the same resources.'
The second voice was that of the lord chief justice.
Discussing legal aid before the House of Lords constitution committee on Wednesday, Lord Burnett of Maldon said there had been a substantial reduction in the number of specialist criminal barristers. The position for solicitors 'is as bad if not worse'.
The lord chief justice described Sir Christopher Bellamy's legal aid review as a serious and thoughtful piece of work. 'I publicly encouraged the government to accept his recommendations and get on with it,' he said.
Lord Burnett was careful not to comment on the dispute between the government and the criminal bar due to the 'no returns' action. 'But I would echo again the need to deal with this problem,' he continued. 'If it isn't dealt with, the number of solicitors and barristers will continue to decline at a time when police numbers are going up and there is enormous pressure on the police and prosecuting authority to bring more cases into the criminal courts.
'That's the question. Who's going to do them? The reservoir of lawyers is limited. The real issue which was not appreciated properly was that a system has to have built into it some resilience. If you never have any spare capacity at all, then the minute you need it you're finished. And particularly when you have to recognise that augmenting the capacity isn't an overnight issue. Getting an additional cohort of lawyers into both sides of the profession will take time.
'Looking forward, if say in five years' time the political ambition is to have many, many, many more cases in the Crown courts, my question is who's going to try them, who's going to prosecute them and who's going to defend them if there aren't some pretty profound steps taken to enhance the capacity at every stage?'
Responding to the inspectorate's report, a government spokesperson said: 'Thanks to the almost half a billion we have invested and the extra measures we have taken to bring down the Crown court backlog – including extra courtroom capacity and increasing sentencing powers for magistrates – the number of outstanding cases is falling and we have now eased the restrictions across our prisons which kept staff, prisoners and the wider community safe.'
The Ministry of Justice pointed out that the Crown court backlog stood at 57,800 cases in March, down from a peak of 60,700 in June 2021. The magistrates' court caseload has fallen from 445,000 in July 2020 to 364,400.
The latest figures do not, of course, reflect the impact of the criminal bar's action, which began on 11 April. Joining them next week will be dozens of London criminal defence solicitors, who will refuse to take on poorly remunerated work, starting with burglary cases.
Criminal lawyers are already voting with their feet. Bar Council data shows that the number of self-employed barristers doing any publicly funded criminal work has fallen by over 8% since 2019/20. Meanwhile the number of firms with a criminal legal aid contract has been falling since 2012. There were 1,652 criminal legal aid firms in April that year. A decade later there are 1,067.
But if Dominic Raab won't listen to the frontline practitioners, perhaps he will listen to the lord chief justice.